Summer days are meant for enjoying the great outdoors. But there are now so many things competing for your attention. From your mobile phone to your busy schedule, it can be hard to make the time to enjoy your backyard.
And the same can be said for children. There are more and more demands for their time, from video games to scheduled activities. According to the American Council on Exercise, "interaction with technology, urbanized living, academic pressures and other factors have combined to create historically low rates of youth physical activity."
In fact, children might just have four to seven minutes of unstructured outdoor time per day. By comparison, studies show that children can log seven hours or more a day of screen time.
However, outdoor activities and exercise is key to helping children grow into happy, healthy adults. Spending time outside can help improve children's mental, physical, and emotional well-being.
But how do you get your children off screens and outdoors? The first step might be creating a fun, safe environment that's intended for fun.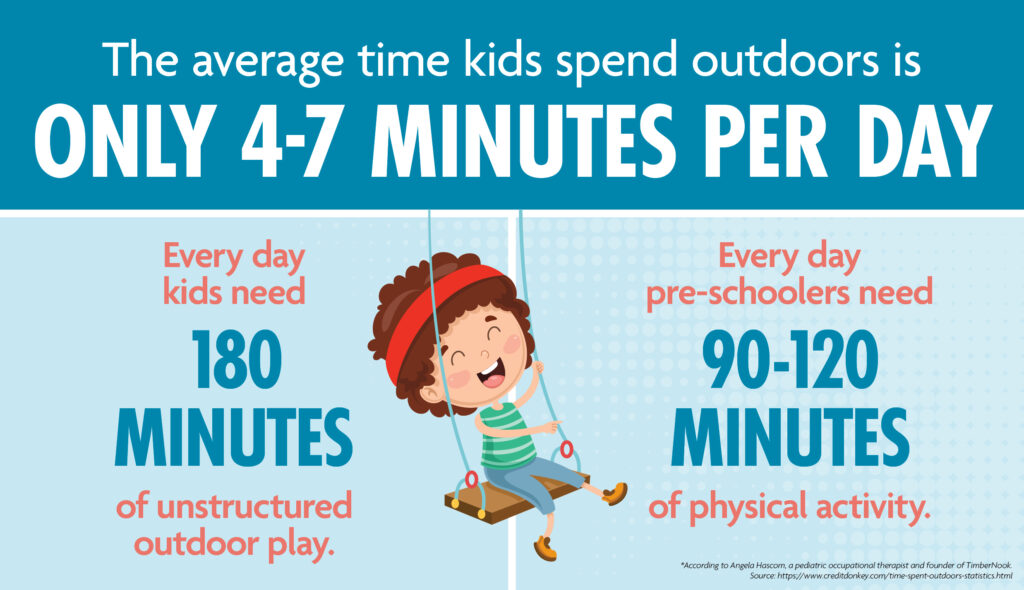 How much activity do kids need
A child that takes part in regular physical activity is often a healthy child. Active play, organized sports, walks, and other forms of movement can improve physical health and mental well-being.
However, research reports that 80 percent of parents overestimate how much their children move on a particular day. The same study found that 75 percent of parents overestimate the intensity.
Physical activity guidelines state that children and teens log at least 60 minutes every day of the week. When it comes to intensity, the activity should be moderate or vigorous.
But getting kids outside and moving is not about working out, at least in the way adults often think about it. You don't need to send your children out on an hour long run to improve their health.
Your kids can be active throughout the day in many ways. Small spurts of exercise, whether it's playing at a park or riding a bike, can be done in small increments.
One way to encourage your children to be active is to provide the space and equipment that invites movement. Small items like jump ropes, hula hoops, and balls are great to have in the backyard. Bigger items, such as a basketball hoop, bike, or even a backyard swim spa, provide the opportunity for continued movement and socialization.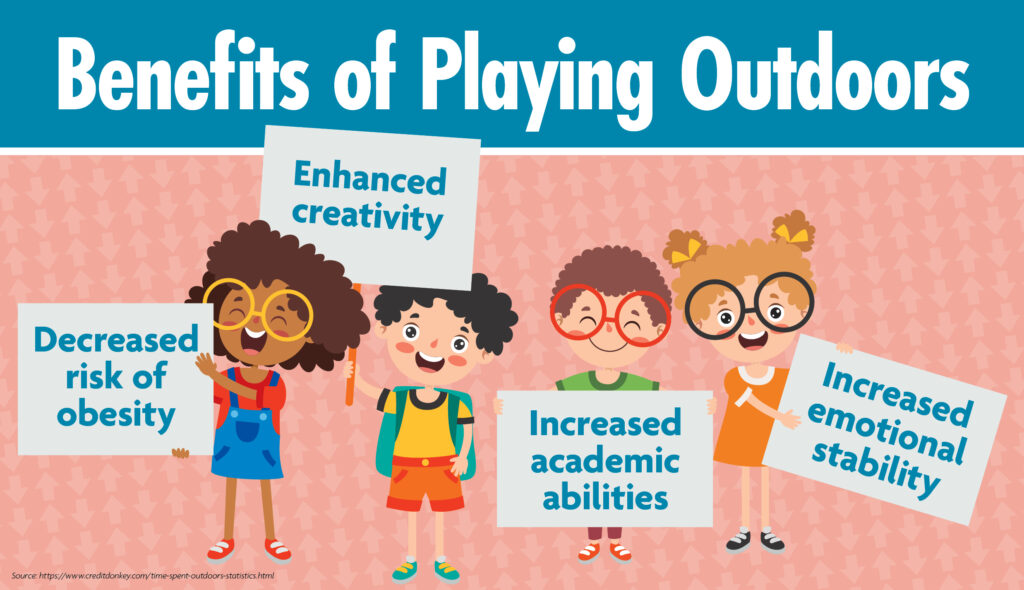 10 ways to encourage outdoor play
Playing and other outdoor activities can help children develop a broad array of skills that will not only benefit them now but later in life. Regular physical activity has been shown to improve behavior, mental health, and reduce the risk of obesity. In addition, children who are active are more likely to continue exercising in adulthood.
And parents play a vital role in encouraging their children to be outside.
These ideas will help you get your kids outside and have fun in the process!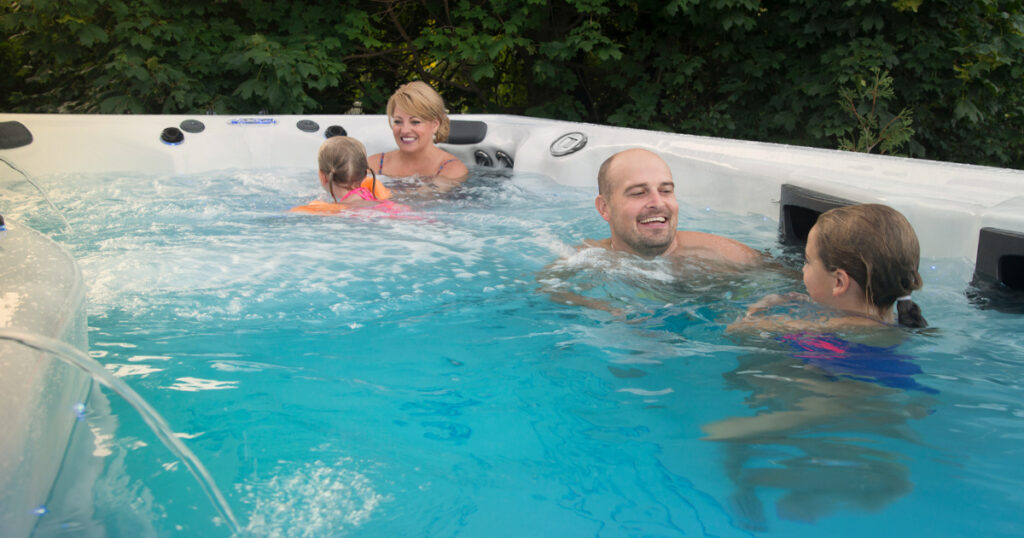 Join them outside
As a parent, there are days when you feel like your children do not want to be around you. However, research shows that it's just the opposite. In a survey of 2,000 school-age children, 73% of children wish they had more time to connect with their parents. And the top activities that kids want to do with their parents? They are outside! Among the activities kids identified as those they wish they could do more of with their parents were exercise (36%), playing sports (35%), and going to the beach (37%).
While a beach day does not always fit in the schedule, you can take a walk around the neighborhood, go for a swim in a swim spa, or play a game of catch.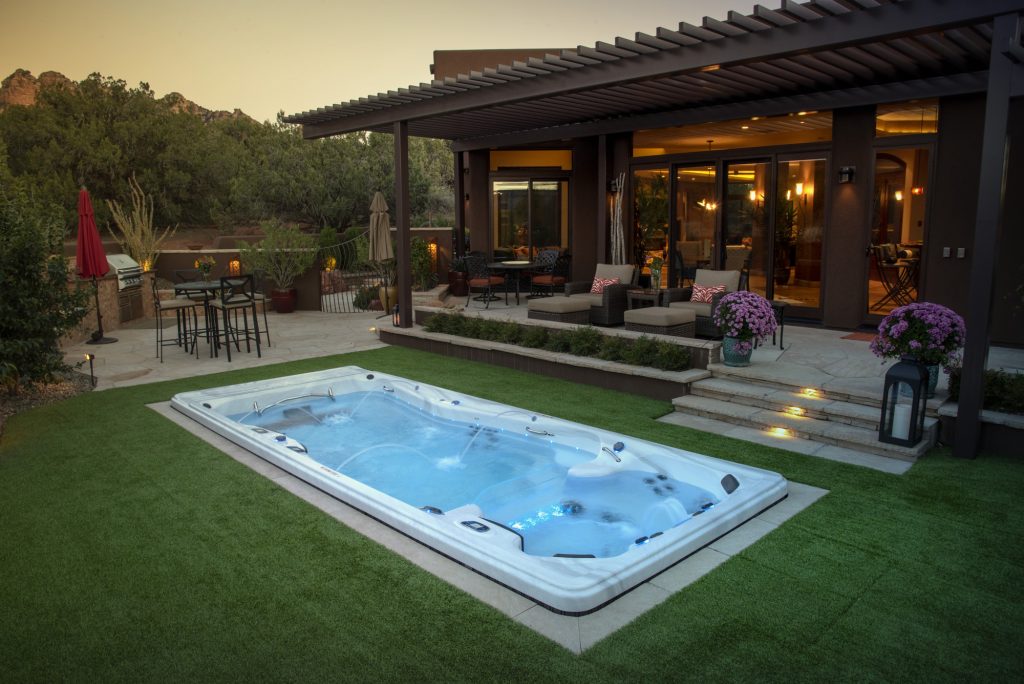 Invest in your backyard
Creating an inviting outdoor living space is not just about increasing the value of your home. When you invest in your backyard, you are also making room for family time and entertaining friends, while also improving your mental health.
Research shows that even simple interactions with nature, whether listening to a fountain or breathing fresh air, can lower your blood pressure and cortisol levels. The result is a calmer mind and body.
However, it's harder to realize those benefits when you do not like your space. Investing in a space you will love will make it easier to want to be outside. It might be as simple as adding comfortable patio furniture. However, features like a privacy fence, deck, and a Michael Phelps swim spa can create the ultimate backyard family space.
But how do you create the perfect backyard? Check out our free guide to transforming your space into an oasis.
Invite friends
Most any activity is better with friends, and that includes playing outside. If you want to find ways to encourage your kids to go outside, find ways to make it a social experience. You can schedule a playdate and create an open invitation for friends in the neighborhood to visit.
Why is it important to make it social? Friends might need a nudge to try a new activity or use their imagination.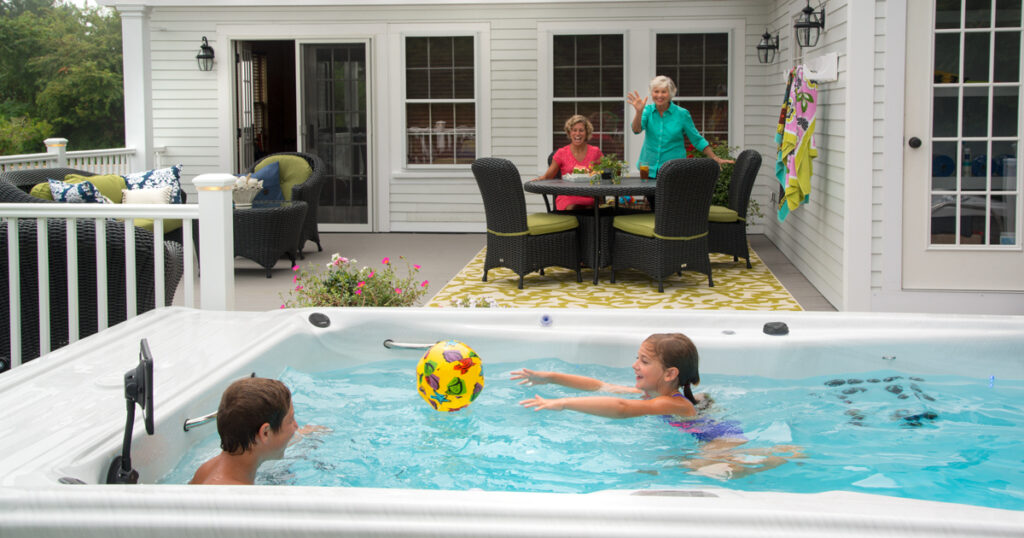 Make your backyard fun
The best way to make sure your kids have fun in your backyard is to create a space that's fun. A Michael Phelps Signature Swim Spa brings home all of the fun of an outdoor residential pool with the relaxation of a hot tub. Bonus: You can use it year-round, even in the winter.
What is a swim spa? It's an alternative to a traditional pool that has self-contained plumbing and heating systems. A water current allows for stationary swimming, and a generous swim area offers space for floating, splashing, and water games.
Swim spas are particularly excellent for children. The space is low on intimidation but full of fun with LED lighting and waterfalls. Kids can easily find the wall of the swim spa and take it at their own pace.
Explore your community
Many times, we get so caught up in our day-to-day routines that we forget to enjoy what our communities have to offer. From trail systems to botanical gardens, many cities have stunning outdoor spaces that are perfect for family fun.
If you are trying to encourage outdoor play, make a bucket list of parks you'd like to visit. Each week, you can visit a new one and see what amenities each has to offer. At the end of the season, you can vote on your favorite space.
Another way to explore your community is to head out on two wheels. A family bike ride on a local trail or even to a favorite ice cream spot can be a great way to get some fresh air on a summer afternoon.
Join a club or team
Sometimes you just want your kids to go outside and play. However, they might need a little more encouragement.
Joining a club or team sport might be a way to spark your child's love of getting active and being outside. According to Missouri University Health Care, youth sports "help teach adolescents accountability, dedication, leadership and other skills."
Children who participate in sports often learn skills, like teamwork and problem solving, that translate off the field. In addition, they can learn to get along with peers and work toward a common goal.
Make it a part of the schedule
Children are used to routine, whether it's the structure of school to a bedtime routine. But it can be hard to want to add to your routine when it already feels overscheduled. However, adding outdoor activities to the schedule can make sure it becomes part of your day.
There are easy ways, too, to add going outside to your schedule. Encourage your kids to play outside after dinner while the adults clean up. Or, ask that they play for 20 minutes after school. During the summer, going outside can be a part of their "before TV" checklist.
Move everyday activities to the outdoors
You don't have to make going outside an event. As you think of ways to get your kids outside, consider moving the things you do every day from the living room to the patio. Your child might enjoy swinging in a hammock as he reads or coloring in an activity book. Older children might enjoy doing yoga in the grass. Dining outdoors can also be a way to enjoy time together as a family.
Plant a garden
Do you want to grow your children's love for the outdoors? It does not have to be just fun and games (although that helps).
Planting a garden can be the perfect outdoor activity for your kids. It helps promote well-rounded development in youth, from eating healthier to developing STEAM skills. Other benefits to gardening with children include better memory and focus, lower stress, and improved confidence.
You can start small by planting in a raised bed or even containers. Encourage your children to grow vegetables they like to eat or even try something new.
Summer chore chart
Household chores can help children develop responsibility, teamwork, and self reliance. While we often associate chores with things we need to do inside the home, they can also be outdoor tasks. Children can help with weeding a garden, picking up sticks, and water plants in pots. As they get older, they can also help with mowing the lawn and cleaning up after a pet.
An outdoor chore chart is a great way for kids to get fresh air while doing physical activities — a win-win. More than that, though, parents might discover that the kids spend more time outside while doing the chores. They might procrastinate by kicking a soccer ball around the lawn or decide to play a game once they are finished.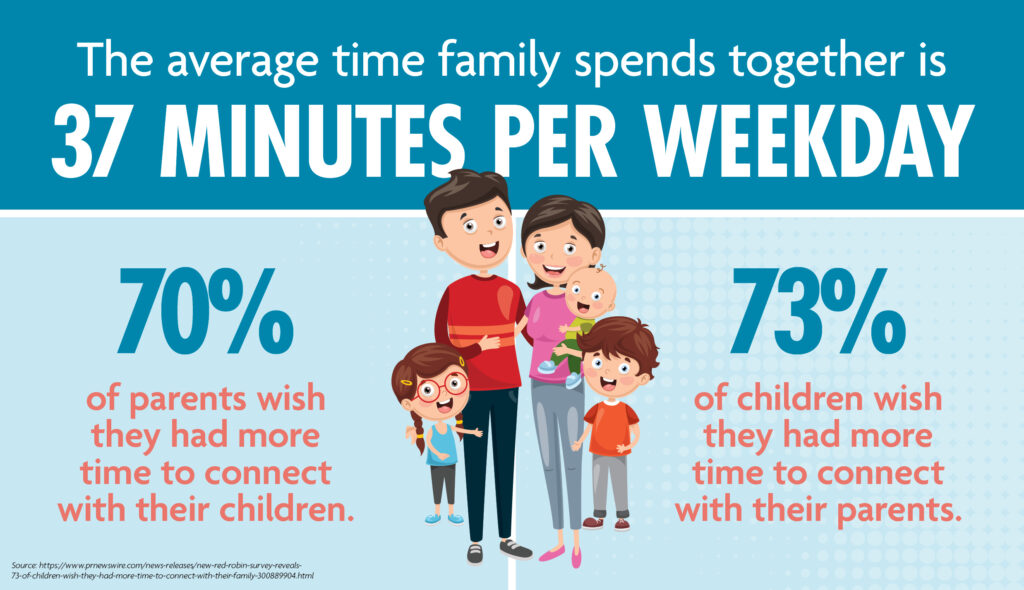 Outdoor safety tips for families
Enjoying your backyard space and other outdoor areas is important. However, there are safety tips to consider to make sure it remains a positive experience.
Hydration
When your children are playing outside, it's important to make sure they are drinking plenty of water before, during, and after the activity.
Why is hydration important? It helps regulate body temperature and prevent dehydration.
Protect your skin
There are benefits to being out in the sun. Vitamin D can improve your mood, as well as benefit your musculoskeletal, cardiovascular, neurological and immune health.
But you can have too much of a good thing. It's important to protect your family's skin when outside. If your children are playing in the swim spa, consider buying rashguards and sun hats. Sunglasses can also help.
If they are just playing outside, apply sunscreen and reapply it on a regular basis.
Watch the forecast
When you are encouraging your children to go outside, it's important that they are safe and avoid extreme heat. Be mindful if they have been outside for an extended period of time or participating in strenuous activities. Kids might not notice the signs of heat exhaustion, which include nausea, fatigue, and headache.
If the weather is going to be particularly hot, try to schedule outdoor play in the morning or the evening. Or, make sure they take time to hop in the swim spa to cool off.
How to buy a swim spa
Are you ready to enjoy the outdoors year-round — even in the winter? Having a Michael Phelps Signature Swim Spa at home allows you to enjoy the benefits of a pool without the maintenance. You can click here to get more backyard ideas and picture what a Michael Phelps Signature Swim Spa would look like in your space. Or, contact your local Master Spas retailer to learn more about swim spa ownership. Wondering how much a Michael Phelps swim spa costs? You can request a quote here.