Are you ready to talk a good game? Summer days are meant for spending time outside — and having fun. Whether you are hosting a backyard barbecue or inviting everyone to cool off in the swim spa, there are plenty of ways to enjoy the season.
Spending time outside is important. Not only can you soak up some vitamin D and get in some activity but it's a way to reconnect with family. Family-friendly outdoor games are a way for everyone to spend time together and enjoy your backyard. From classic yard games like badminton to newer favorites like spikeball, you can turn off the screens and turn up the play.
But sometimes you just want to take the fun to the next level. And with a Michael Phelps swim spa, your backyard will never be more fun. You can swim, splash, and spend time as a family in the summer and beyond. You can use a Michael Phelps swim spa year round, no matter where you live.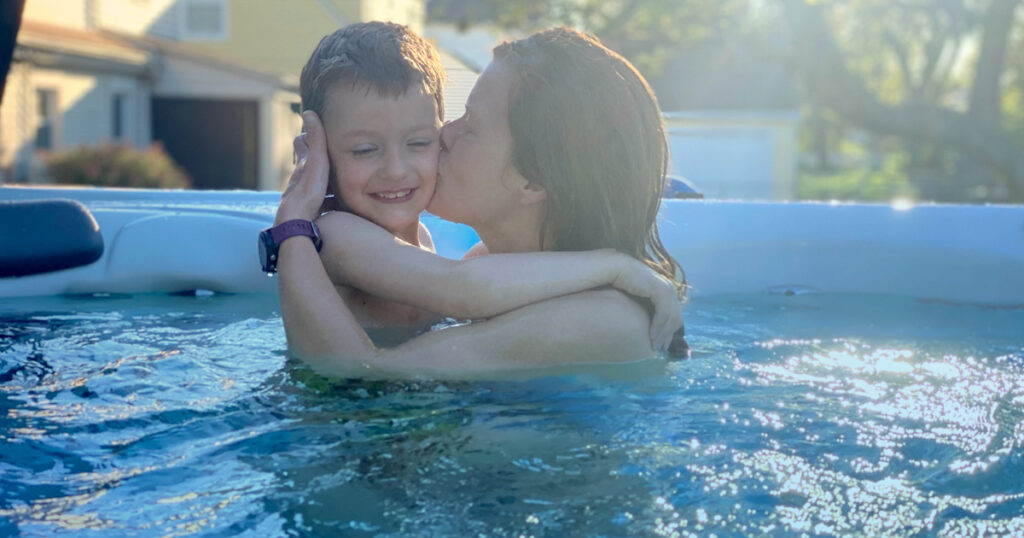 Entertaining in your backyard
The summer months are meant to be spent outdoors. You can enjoy them more, though, when you spend them outdoors with family and friends. Before your loved ones arrive, though, you want to make sure that your backyard is ready for fun and games.
But how do you get your home ready for entertaining? A few simple tasks can go a long way to making your space inviting.
Clean up the lawn. Maintaining your lawn might seem obvious but it's important. Be sure to cut the grass and even trim before guests come over. Pick up any branches or trip hazards. And, if you have pets, be sure to clean up after them.
Cut back shrubs and flowers. Shrubs and flowers add color and texture to your outdoor space. But after a few years, they can start to overtake your backyard space. When you are playing outdoor games, be sure that any bushes aren't going to interfere.
Light walkway and steps. Adding lighting to your outdoor space can enhance the design and the safety. Pathway lights can brighten walkways and take away tripping hazards. You can also install spotlights to light up the lawn for night games.
Prep the patio. Use a garden hose to spray down your patio, driveway, and walkway. It's also important to make sure that you have enough seating, especially if you are planning on a barbecue. Wipe down any furniture and swap out cushions for a fresh look.
Clean, clear water. For Michael Phelps swim spa owners, hosting a party can be as easy as opening up the cover. However, if you plan to invite people over, you want your swim spa water to be clean and clear. The night before, be sure to check the chemicals and balance as necessary. You can also raise the chlorine levels to the higher end of the recommended range, which is 1 to 3 ppm.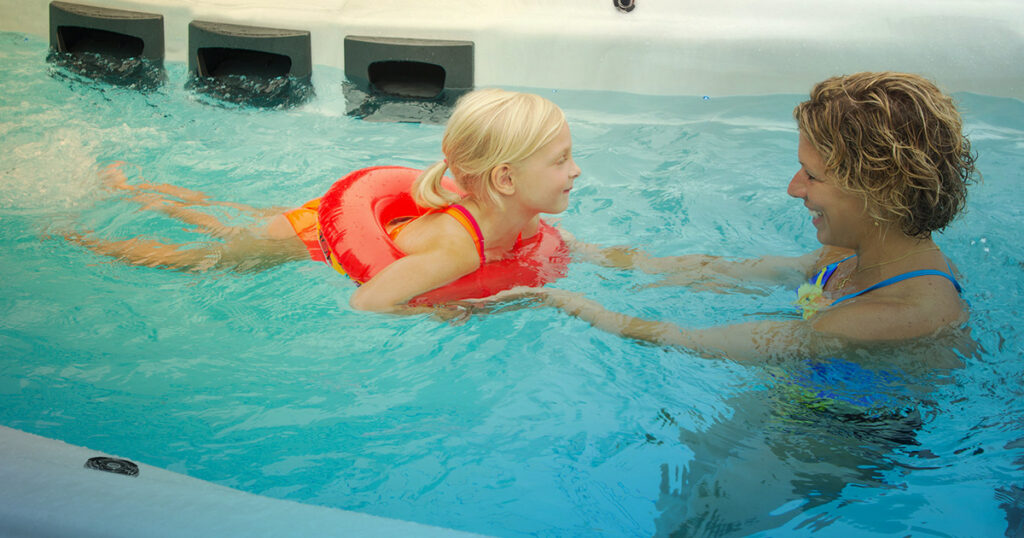 Fun backyard games for all ages
Whether you're playing on grass or in the water, these 13 backyard games are guaranteed to entertain.
Badminton
Do you enjoy some friendly competition? Badminton is a classic backyard game that is sure to be a hit at your next summer party. Set-up is easy — put up the net, grab a racket, and serve the shuttlecock. Similar to tennis, the goal is to hit the shuttlecock back and forth in the grass. You can play a one-on-one match or go for doubles.
Rubber horseshoes
Horseshoes is an outdoor game that has been around for centuries, and the National Horseshoe Pitchers Association of America was founded in 1926. While traditional horseshoe pits are more permanent, rubber horseshoes can be quickly set up without damaging your lawn.
Bocce
The first version of bocce ball was played during the Roman Empire. But it's still as much fun in the 21st century. Bocce is played with eight large balls and one smaller target, which is called a pallina. There are two teams, and each team has four balls. The goal is for the teams to get their balls closer to the pallina.
Lawn bowling
Ready to roll? Lawn bowling is easy to set up and easy to play. You can purchase a set or go the DIY route, using bottles and a ball.
Swim spa basketball
Too hot to hit the court? No worries. You can still play a game of H-O-R-S-E without working up a sweat. An inflatable hoop is made from vinyl — just like your favorite float — and it is perfect for playing basketball in your Michael Phelps swim spa.
Bean bag toss
Another summer classic, bean bag toss is a super fun lawn game to play this summer. Players take turns tossing bean bags into a hole on the opposite board. Also known as cornhole, you can make the game as friendly or as competitive as you want. You can even host a backyard cornhole tournament with your friends.
Frisbee
Tossing a frisbee is a summer pastime for many people. Kids can play with frisbee when they are bored or toss it to their favorite pup. While you need to head to a larger space for frisbee golf, there are still plenty of games you can play using the disc in your backyard.
Flamingo ring toss
You can't go to a county fair without playing at least one game of ring toss. Bring home the fun of the carnival with your own DIY ring toss. Instead of bottles, you can use lawn flamingos. The player who tosses the most rings around the flamingos wins.
Beach ball squirt races
How to play: The object of the game is to move your beach ball to the other side of the pool using only your water squirter. You cannot use your hands to move the ball when playing this game. The first player to reach the other side of the pool with the beach ball wins. You can also play this game as a relay race.
Water balloon fight
This is the ideal game to play on a super hot day. The goal is to try to hit your opponents with water-filled balloons. You won't even mind losing.
You can also use water balloons to play a game of toss and see which pair can throw the balloon the longest without popping it.
Spikeball
Spikeball has been growing in popularity over the past few years. It's easy to see why, too. The game is easy to play, whether you are on the beach or in your backyard. It combines two familiar games — foursquare and volleyball. There are two teams, which serve and hit the balls. The first team to reach 21 points wins.
Croquet
Are you feeling particularly posh? Croquet is a game that could be reserved for the U.K. countryside or summer afternoons in the Hamptons. However, croquet is the perfect backyard game for any sunny day. The goal of croquet, which dates back to the 1800s, is to hit a series of balls through a course of wooden hoops. Players score points for hitting the balls through the right order.
Torpedo!
A Michael Phelps swim spa offers endless ways to have fun. But you can make playing in the water an adventure with dive toys. Mini torpedoes are a sure-fire way to keep your kids entertained as they play in the water. Simple to play with, kids can "launch" them toward the bottom of the spa and then retrieve them. They can take turns seeing who can retrieve the mini torpedoes the fastest or get a certain number before the timer runs out.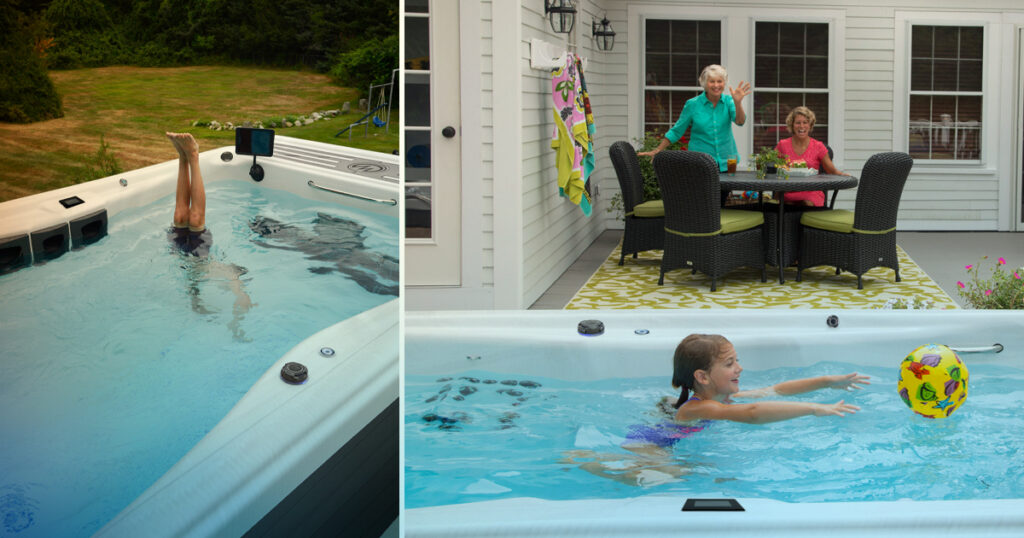 Michael Phelps Signature Swim Spas
There might not be anything more enjoyable than spending a summer afternoon in the water. A Michael Phelps swim spa provides everything you need to enjoy the last days of summer, whether you want to play water games, entertain friends, or just relax.
Combining the benefits of a backyard swimming pool with the therapy of a hot tub, the entire family will enjoy spending time in the water.
A Michael Phelps swim spa has an adjustable water current, which provides resistance for swimming in place. You can adjust the speed of the water to fit your goals and fitness level. If you don't want to swim in place, you can walk, jog, or exercise against the flow of water. Children can swim, too, or splash around with friends.
Hot tub seats with hydrotherapy jets offer a therapeutic massage. With multiple seats and jet patterns, you can relieve pressure, improve circulation and soothe aching muscles. Sit back with friends as the kids play in the swim area.
But you don't have to limit the fun and relaxation to the summer. Master Spas designed Michael Phelps swim spas to be used year-round, in any climate. The swim spas have heaters and full-foam insulation, which allow you to maintain a water temperature up to 99 degrees. The MP Momentum Deep is a dual-zone swim spa, and the hot tub side can be set up to 104 degrees.
How to buy a swim-in-place pool
Are you ready to enjoy the benefits of swimming, recreation, and relaxation year-round? Having a Master Spas swim spa at home allows you to train at your pace so you can swim your best. You can click here to get more backyard ideas and picture what a Master Spas swim spa would look like in your space. Or, contact your local Master Spas retailer to learn more about swim spa ownership. Wondering how much a swim spa costs? You can request a quote here.