When Indiana resident Lisa first brought up the idea of investing in a swim spa, her husband said no. "A big no."
And then Nick came back with some questions.
Like many prospective swim spa buyers, Nick wanted to know the real story of what it's like to own a swim spa. He didn't want to go through the buying process wondering, "Will I regret buying a swim spa?"
But the more he learned about swim spas, the more he learned that his concerns were not going to be an issue.
"The swim spa was a big decision," he says in a Master Spas video.
"It really has been something that has been helpful to our lifestyle more than we thought it would be," Lisa says.
How can a Michael Phelps swim spa change your lifestyle?
A Michael Phelps swim spa is a pool alternative that provides endless opportunities for exercise and relaxation. You get the benefits of a pool with the therapy of a hot tub, all while helping create your ultimate backyard.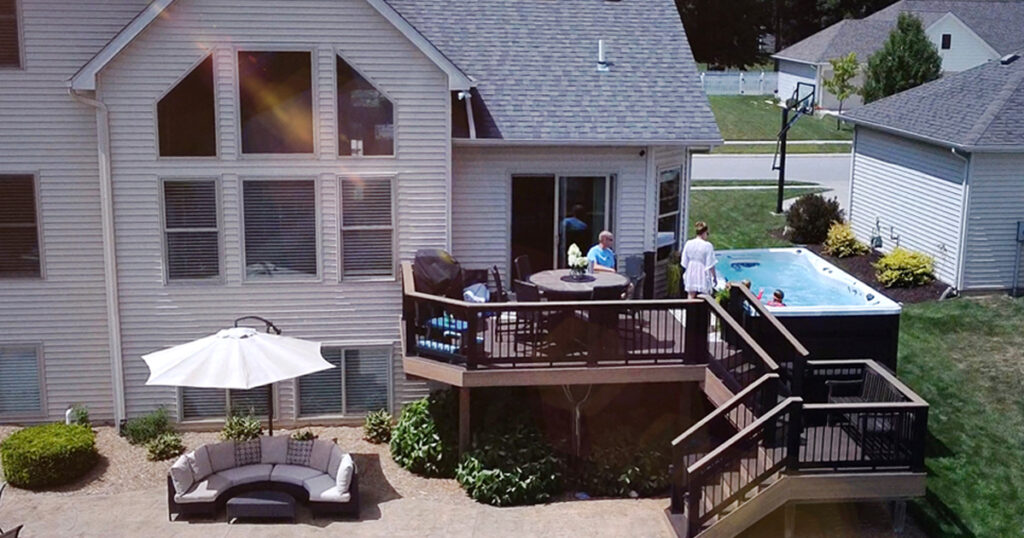 Swim spa buying considerations
Are you ready to swim year-round?
Swim spas are the perfect way to stay fit and have fun at the same time. You can swim anytime you want — no worrying about pool hours or sharing a lane.
Or, if your exercise of choice is water aerobics, you can workout in water that's set to your preferred temperature. The buoyancy of water takes pressure off joints, so you can reach fitness goals without feeling any discomfort.
You can also spend more time with your family, because unlike a pool, you can use it year-round.
But before making the investment, there are some things you will want to know about the process and ownership experience.
These questions will help guide you through the processing of buying a swim spa.
What kind of swim-in-place pool do I want?
When it comes to swim spas, there are two main categories — jetted spas and propulsion units.
But each creates an endless swim current so that you can swim in place. The strength and quality of the water current can vary among manufacturers. You want to make sure that the water current is smooth and that you have good visibility as you are swimming in place.
Michael Phelps swim spas have a strong, wide current of water. The shape of the spa maximizes the flow and return of water to keep it steady — not choppy or uneven.
Another consideration is whether you want a single-temperature swim spa or a dual zone unit. The MP Momentum Deep is a dual-zone swim spa, with separate areas for exercise and relaxation. The swim side of the spa can be kept at a lower temperature for swimming and recreation. The hot tub side, which has hydromassage jets and seating, can be kept at a warmer temperature for therapy.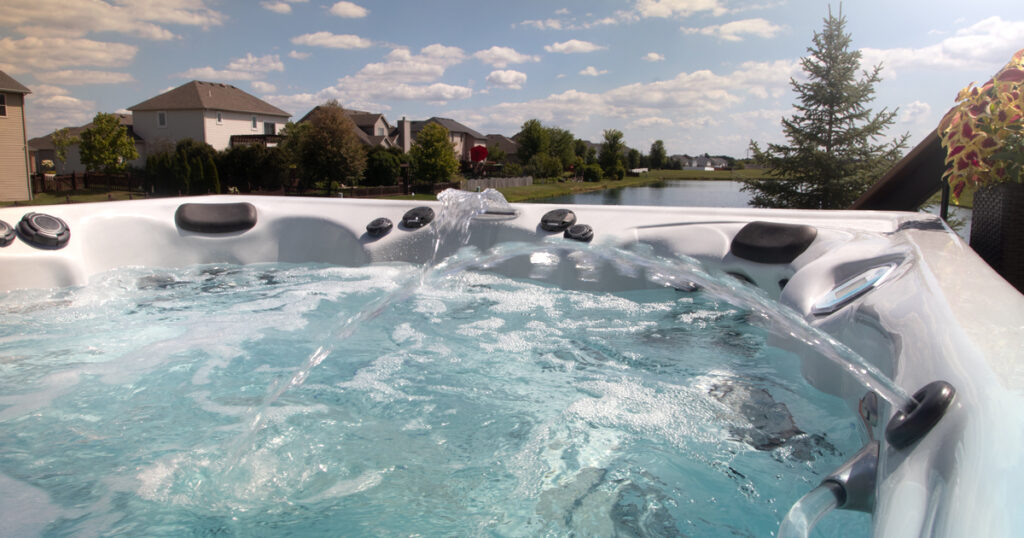 How much space do I need for a swim spa?
Swim spas are designed as a pool alternative, affording people with even small backyards the opportunity to swim and relax at home.
The amount of backyard space required for a swim spa really comes down to one thing: the size of the spa. All Michael Phelps swim spas are 8 feet wide and range in length from 17 feet long to 19 feet long.
You also need to plan for about 3 feet of access on each side of the spa. Why? You want to be able to access the spa's components in the event you need service.
Another consideration is the cover of the swim spa. You can choose from a rolling swim spa cover or the traditional bi-fold cover, the latter of which is more energy efficient. You want to plan for how the cover will open and the clearance when using a lifter, if you choose that option.
How do I choose the best location for my swim spa?
A swim spa can help transform your backyard into an oasis. Among the primary considerations for any buyer should be the location of the spa. You want it to complement your existing space but still be convenient for soaking year-round.
The layout of your backyard, though, will influence where you install your swim spa. An existing concrete patio might seem like a natural place to position the spa. Mature trees or hedges can offer privacy and protection. But some might choose to install a swim spa away from trees because of the leaves and twigs that might fall.
Another consideration is how much sunlight your swim spa receives during the day. If possible, view this location during different times of day when weather permits — this way you'll know how much sun exposure the spa will get.
But the best location for any Michael Phelps swim spa will be one that invites you to spend time in the water. After all, you are considering a swim spa because you want to swim, exercise, and relax in the comfort of your backyard.
How will I get in and out of the swim spa?
As you move through the buying process, it's important to think about how easy it will be to get into and out of the swim spa. Michael Phelps swim spas are 60 inches tall and have a water depth of about 51 inches.
Do you think you'll install your swim spa on a concrete pad? You'll need a set of swim spa steps with a handrail for added safety. And a tip: If you are pouring new concrete for the spa, be sure that there is enough room on the pad for the steps.
A semi-recessed or in-ground spa might not require additional steps. Your Master Spas retailer can guide you further if you choose a custom installation style.
Making it easier to safely enter and exit a Michael Phelps swim spa is the non-slip flooring system. The flooring offers traction and padding, and it is applied to each step and the bottom of the spa.
How will I use a swim spa?
Before you make a purchase, it's important to think about your personal needs and how you plan to use the swim spa. Your answers can help shape your buying decision.
What are your goals for using the swim spa? Do you want a way to exercise regularly, relieve stress or boost energy? Are there medical conditions that would benefit from regular use of an aquatic treadmill? How much time will be spent in the swim spa per week or month?
A swim spa features an endless water current that can be used for swimming and aquatic fitness. There are contoured seats with hot tub jets for hydromassage and relaxation. And the generous swim area can be used for family fun, whether you want to float on a sunny afternoon or splash around with the kids on winter break.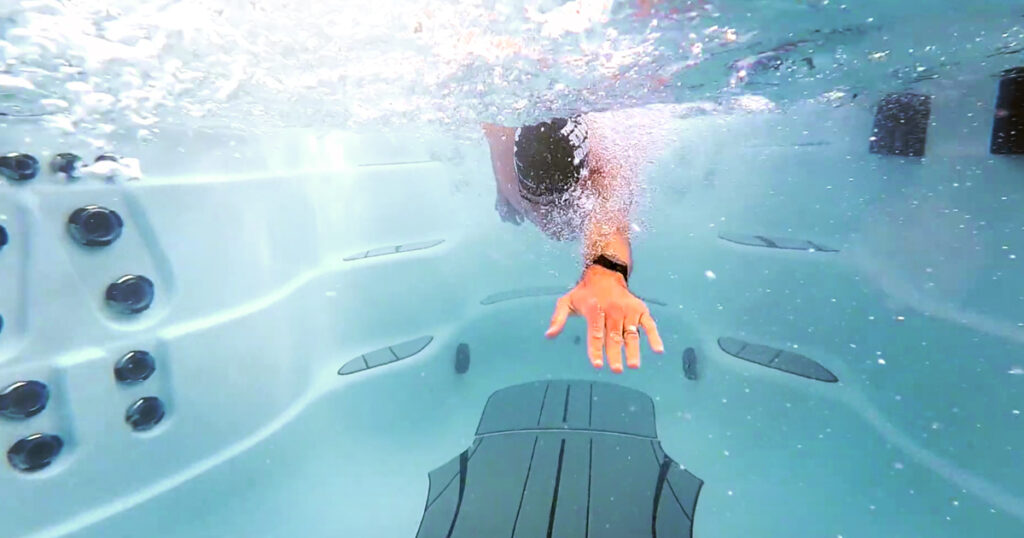 How fast can I swim in a swim spa?
Avid swimmers can pace themselves in a Michael Phelps swim spa. You can swim as fast as 54 seconds per 100 meter pace in the swim spa. But the swim system has settings from zero to 100 so you can adjust the speed based on your fitness and desired workout.
What type of maintenance is required?
Many swim spa shoppers have questions about the required maintenance. Is taking care of a swim spa hard? Is it a lot of work? What kind of chemicals do I need?
The answer is that taking care of a swim spa is not difficult. Michael Phelps swim spas utilize a mineral filtration system, EcoPur Charge. This mineral filtration system takes advantage of natural elements, such as copper and zinc, to keep your water cleaner and with fewer chemicals. The result? You can spend more time enjoying your swim spa and less time on maintenance.
Owners can expect to check their water every few days, balancing the chemicals as needed. You should add a non-chlorine shock and rinse your filters once a week. You should use a specific filter cleaner once a month.
How often should you drain your swim spa? Master Spas recommends changing the spa water every six months.
How well is it insulated?
When shopping for a swim spa, be sure to check the insulation. This is one of the most important factors to consider when purchasing because it directly affects the cost of operating your spa.
Michael Phelps swim spas feature an energy-efficient full foam insulation. The insulation prevents heat from escaping while also protecting spa components.
What kind of warranty can I expect?
Warranties are basically promises that manufacturers make about their products, which is why they're so important.
Every Master Spas swim spa is built to exacting standards and undergoes rigorous testing before ever leaving the factory. An industry-leading warranty backs our attention to detail and quality engineering, so you can relax and enjoy your new swim spa.
Warranties can vary based on the model but will cover equipment, spa shell, and the skirting.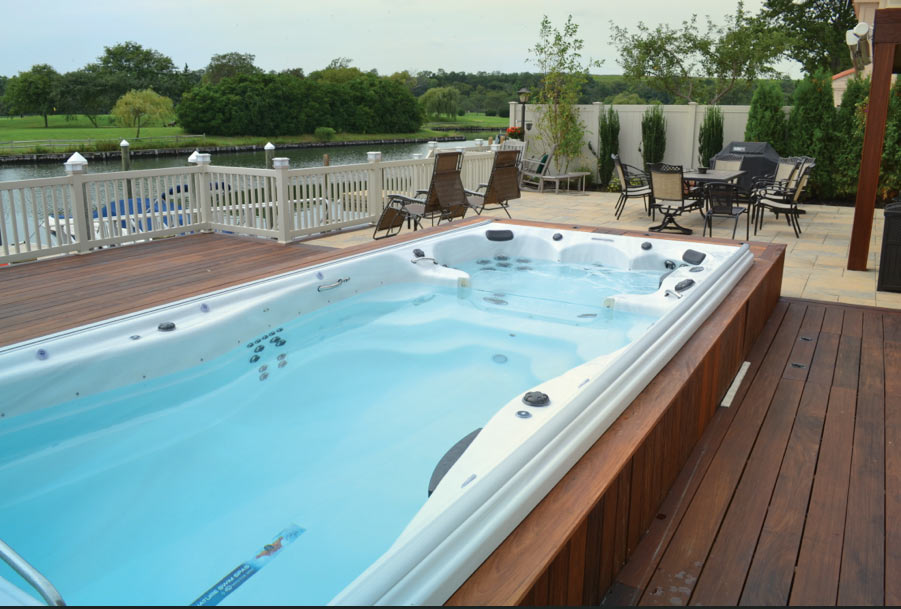 What are the options for delivery and installation?
Delivery and installation are usually included in the purchase agreement of your swim spa. However, it's important to discuss the path of delivery with your Master Spas retailer. Some swim spas installations are straight-forward, with the crew using a forklift. Backyards with limited access or special cases might need a crane.
Be sure to communicate with your retailer so that there are no surprises on delivery day!
The delivery crew will place your spa in the proper location and help with set-up. However, the installation will have to be completed by a licensed electrician. The electrician will hook-up the spa to a dedicated breaker, based on the electrical requirements.
Once the electrical is hooked up, you can fill the swim spa. How long does it take to fill a swim spa? It depends on the water flow from your spigot and the size of your spa. If you are in a hurry, you can have water delivered via a truck.
Will I regret buying a swim spa?
Dee was worried that adding chemicals to the swim spa would be complicated. But the Pennsylvania homeowner said that "the whole process has been amazing."
"I can honestly say it's the best purchase we have ever made," Dee says in a review of their Master Spas swim spa.
Terry, from Kansas, shares Dee's sentiment.
"I never imagined I would love a swim spa so much!" Terry writes. "It is a great investment and a super fun way to exercise while enjoying the privacy of your own backyard. More importantly, it can be used year round so that makes it the best choice for me."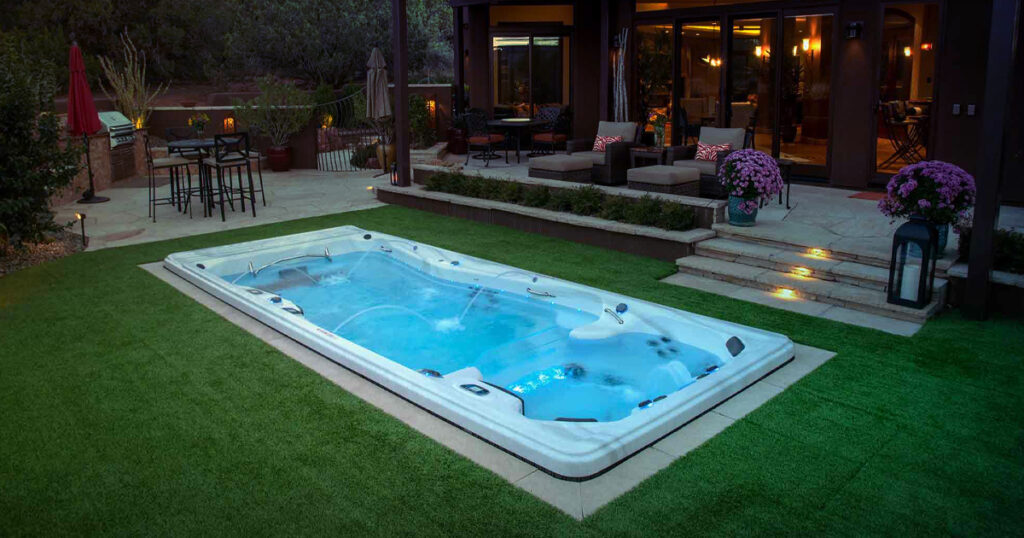 How to buy a swim spa
Are you ready to realize the benefits of water exercise and hydrotherapy? A pool-spa combo from Michael Phelps Signature Swim Spas allows you to enjoy a water feature in your backyard year-round, no matter where you live. You can click here to learn more about water fitness in a Michael Phelps Signature Swim Spa. Or, contact your local Master Spas retailer to learn more about spa ownership. Wondering how much a pool-spa combo costs? You can request a quote here.