Your backyard is not what it once was. It has gone from a space to grow grass and host a barbecue to something more. You want a space where you can escape the stress of daily life and spend time with family. As you design a space that fits your lifestyle, you might be wondering whether you should install an in-ground swimming pool.
While you might love the idea of a pool, you are not sure whether you want to make the investment. An in-ground pool requires a spacious backyard. In addition, the price tag and upkeep can be factors in your decision.
But you can still have a place to soak or splash without a backyard swimming pool. Hot tubs and swim spas have grown in popularity, bringing peace and enjoyment to homeowners' backyards.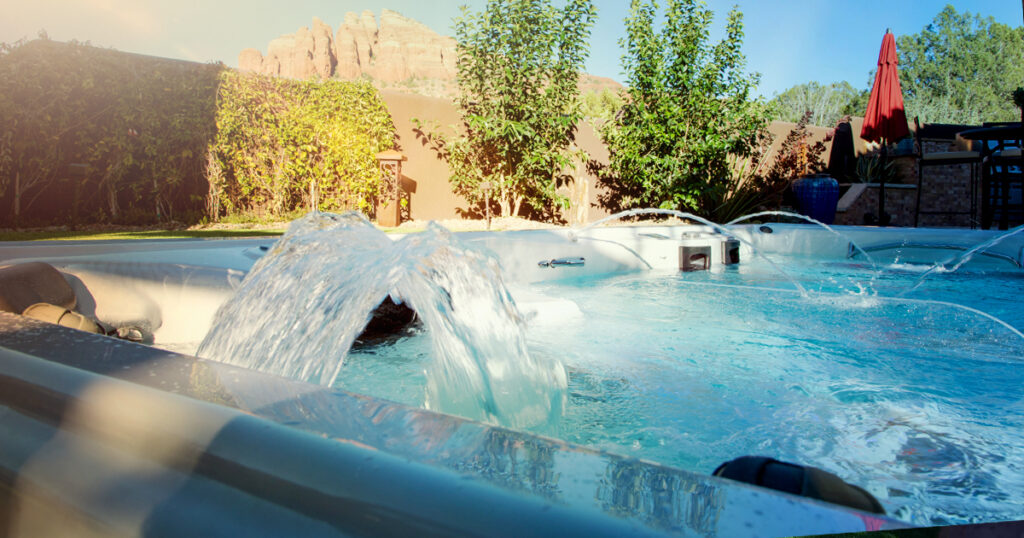 A backyard pool alternative
Swim spas are becoming an increasingly popular alternative to the backyard swimming pool. Like the name implies, swim spas combine the benefits and fun of a swimming pool with the therapy of a hot tub.
Swim spa features
Michael Phelps Signature Swim Spas have a propulsion system to create a current of water for stationary swimming. A sort of treadmill for swimmers, the endless swim current mimics swimming upstream. The speed can be adjusted based on your fitness level and skill. Also, there is built-in seating and hydrotherapy jets for relaxation.
Swim spas are designed to be used year-round. The plumbing, heater, and components are built-in. The temperature can be set in the low 80s for swimming or in the 90s for relaxation and aquatic therapy.
Homeowners often find that swim spas are easier to maintain. With less water and mineral filtration systems, they require less time and chemicals to maintain. Michael Phelps swim spas have a mineral filtration system — EcoPur — that uses natural elements like copper and zinc to keep the water clean.
Swim spa dimensions
The shape and design of an in-ground pool can vary. However, they are typically twice as long as they are wide. Standard pool sizes are 10 feet by 20 feet, 15 feet by 30 feet, and 20 feet by 40 feet.
Michael Phelps swim spas are designed to fit in most outdoor spaces, even small backyards. The swim spas are 8 feet wide and between 17 feet and 19 feet long. The swim spas are 60 inches tall with a water depth of about 54 inches.
For comparison, if you are deciding whether you should get a hot tub or swim spa, Michael Phelps hot tubs range in size from 7 feet by 7 feet to 9 feet by 8 feet. All Michael Phelps hot tubs are 38 inches tall.
Homeowners can choose to install the hot tub or swim spa on a concrete pad, next to a deck, or in the ground. However, swim spas are portable and can follow you if you move to a new house.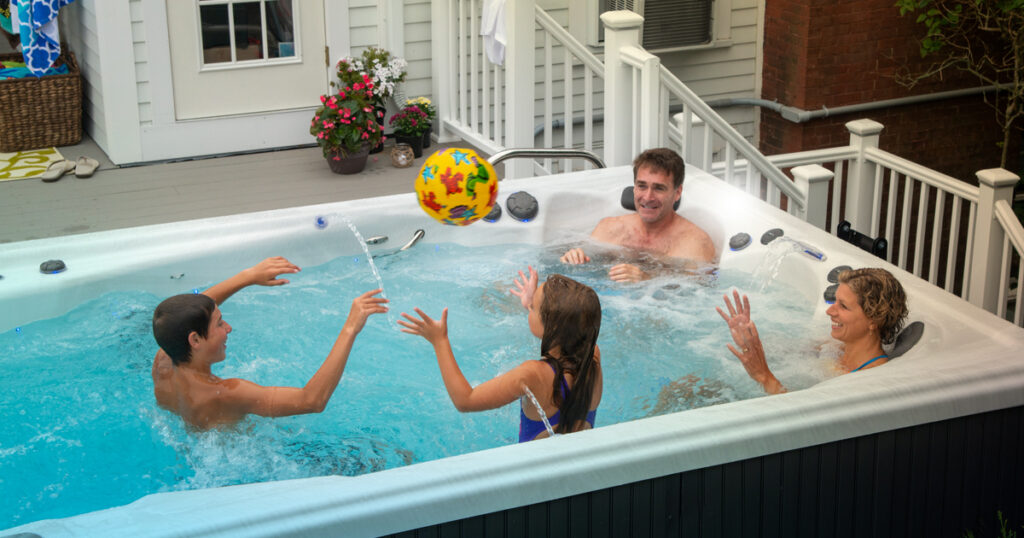 How to use a swim spa
What do you look forward to about swimming in a pool or soaking in a hot tub? You can enjoy those activities and more in a swim spa.
Michael Phelps swim spas can be used for stationary swimming, water exercise, splashing and playing, and relaxation. The swim side of the spa is often used for fitness and recreation, while the hot tub side is designated for hydrotherapy.
In addition, swim spas also have LED lighting and waterfalls.
Swimming
If you are debating whether to get a hot tub or a swim spa, the opportunity to swim year-round can be a big deciding factor. You can swim laps at your own pace or choose a pre-programmed workout. In a Michael Phelps swim spa, you can set the speed of the current between zero and 100. The top speed is equivalent to 54 seconds per 100 meter pace.
Speed is not the only thing that matters when it comes to swimming in a swim spa. The WaveXP system creates a smooth, wide current of water that is ideal for swimming. You can find your "sweet spot" and enjoy your workout.
Water exercise
The swim area is not just for swimming, though. You can go water walking, aquajogging, or rowing. The space is also perfect for water aerobics, stretching, and strength training.
A hot tub provides space for stretching in warm water. However, other exercises might be more challenging in a hot tub.
Family fun
Whether you choose a hot tub or swim spa, spending time in the water can be a way to reconnect with family and friends. A Michael Phelps swim spa, though, will offer more room for entertaining, playing, and floating.
Hydrotherapy
Hot tubs and swim spas both have hydrotherapy jets, which deliver a soothing massage to areas where you experience tension. Out-of-water jets target your neck and shoulders, while others are designed to relieve pain and soreness in your back and legs. Select Michael Phelps hot tubs do have full-size lounge seats. By comparison, Michael Phelps swim spas feature the Xtreme Therapy Cove. The jet placement targets the hips, hamstrings, and calves.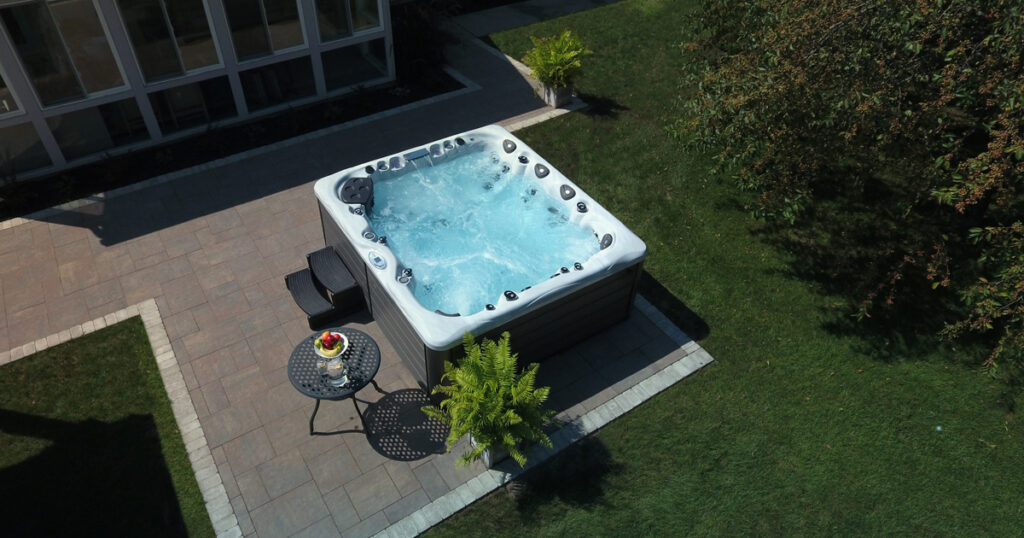 Hot tub and swim spa comparison
There are a lot of similarities between hot tubs and swim spas. Both allow you to create a backyard oasis that you can enjoy year-round. You can enjoy the benefits of hydrotherapy, relax and unwind, and spend time with family.
However, there are a few differences that can influence whether a swim spa is worth it for you. A swim spa is an alternative to an in-ground pool and will be larger than a hot tub. It can be used for swimming in place, water aerobics, or relaxation. Most swim spas can be set to a water temperature of up to 99 degrees.
Unlike a swim spa, hot tubs are designed for pure hydrotherapy. The water temperature can go up to 104 degrees, and there are more jets for massage. Michael Phelps hot tubs seat six to eight adults.
If you are considering whether to buy a hot tub or swim spa, ask yourself these questions:
Do you enjoy swimming but struggle to fit into your schedule? With a Michael Phelps swim spa, you can skip the commute to the gym and swim at home.
Have you always wanted a pool but worry about the cost and maintenance?
Do you like water fitness classes but want to be able to exercise on your own? You can exercise in warm water and move at your own pace
Do you want to be able to enjoy the water year-round? You can benefit from installing a Michael Phelps model, whether it's a hot tub or swim spa.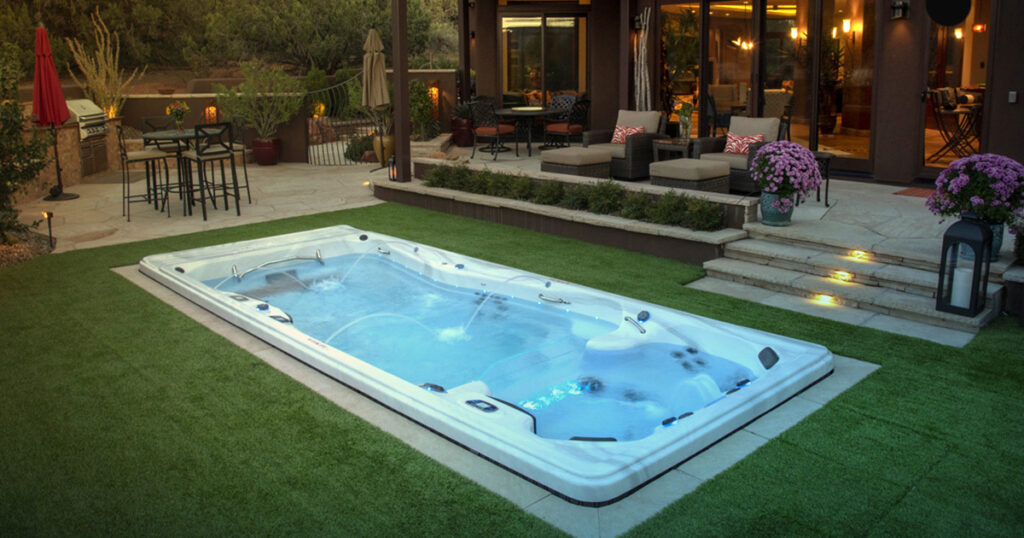 Hot tub and swim spa combo: Dual temperature units
A Michael Phelps swim spa shares many features with a hot tub. However, do you find yourself struggling to choose between the two?
The MP Momentum Deep is a dual-temperature swim spa that has two bodies of water that can be adjusted independently from one another. An acrylic divider separates the two bodies of water, and each has its own control panel. You can use the swim area for fitness, recreation, and relaxation. You can turn up the temperature on the hot tub side and enjoy the massage jets.
The hot tub side of the MP Momentum Deep has room for four adults, and there are a variety of jet patterns. Take advantage of the Master Blaster foot therapy jets or enjoy the therapy of the StressRelief Neck and Shoulder Seat.
The swim side is spacious enough to swim all four strokes. A non-slip flooring system and built-in steps make for easy entry and exit.
How much does a hot tub and swim spa cost?
Are you ready to enjoy the benefits of swimming, recreation, and relaxation year-round? Having a Master Spas swim spa at home allows you to train at your pace so you can swim your best. You can click here to get more backyard ideas and picture what a Master Spas swim spa would look like in your space. Or, contact your local Master Spas retailer to learn more about swim spa ownership. Wondering how much a swim spa costs? You can request a quote here.