When it comes to transforming your backyard into an oasis of relaxation and recreation, few additions can match the allure of a swim spa. Not only does a swim spa combine the benefits of a pool with the therapy of a hot tub but it can be used year-round. You can enjoy swimming, water exercise, recreation, and relaxation whether it's in the middle of summer or during the winter months.
A swim spa, though, can do more than complement your lifestyle. It can elevate your outdoor living space. Incorporating a swim spa into a deck, whether it's an existing structure or new build, can help you create your dream backyard.
Careful planning and thoughtful choices can help you design a deck that seamlessly complements your swim spa while adding value to your outdoor living space.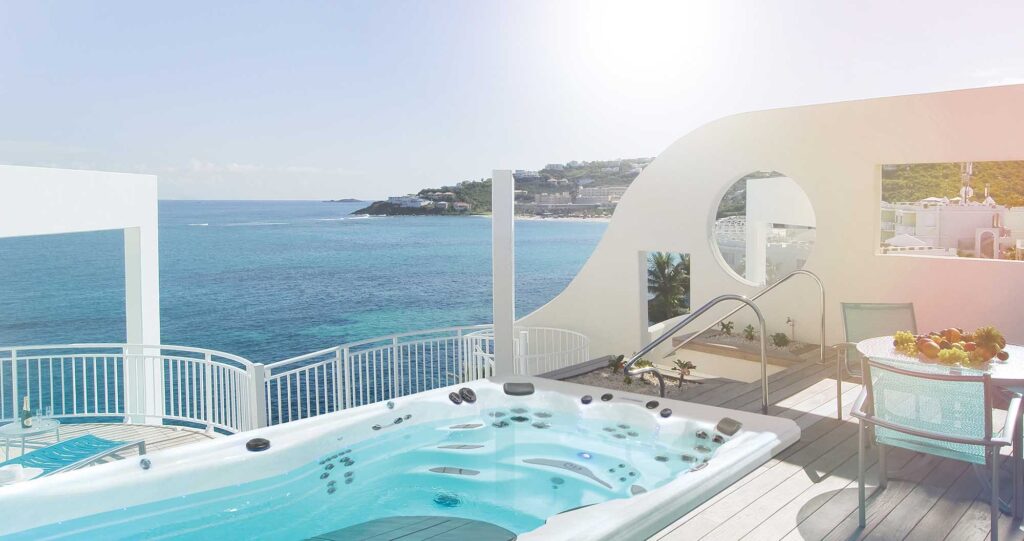 Backyard decking considerations
You want to choose a decking material that not only enhances the beauty of your backyard but also provides a safe, comfortable, and long-lasting space to enjoy with family and friends.
As you explore decking options for your swim spa, it's important to consider durability, moisture resistance, maintenance requirements, safety and the look.
Durability
A backyard deck is exposed to the element — sunlight, wind, rain, and snow (depending on where you live). However, a deck that's incorporated into a swim spa installation will have more exposure to water as you swim, splash, and enjoy your Michael Phelps Signature Swim Spa.
The water will also be treated with chemicals, such as chlorine and oxidizer. However, Michael Phelps swim spas use a mineral filtration system, which requires fewer chemicals compared to other systems. Natural elements such as zinc and copper purify the water and work alongside the chemicals to keep the water clean and clear.
Deck maintenance
You want to spend time enjoying your backyard, especially when you make the investment in a swim spa. Who wants to stain and seal a deck when you can be sitting in the hot tub therapy seats?
When choosing the decking material, consider the time and effort it takes to maintain it. A traditional wood deck might require more upkeep than a composite or PVC material.
Safety considerations
Safety should always be a priority, especially when building a deck around a swim spa. Opt for a decking material that provides a slip-resistant surface, even when wet. Certain hardwoods, such as ipe or tigerwood, have natural oils and characteristics that make them less prone to becoming slippery. Alternatively, composite decking often comes with a textured finish that provides traction and reduces the risk of accidental slips.
Aesthetics
The appearance and design of your deck play a significant role in your overall backyard landscape. Consider the architectural style of your home, your personal taste, and the desired ambiance you want to create when choosing the decking material. Options such as wood decking can provide a warm and natural look, while composite or PVC decking materials offer a range of colors and grains to suit any aesthetic preference.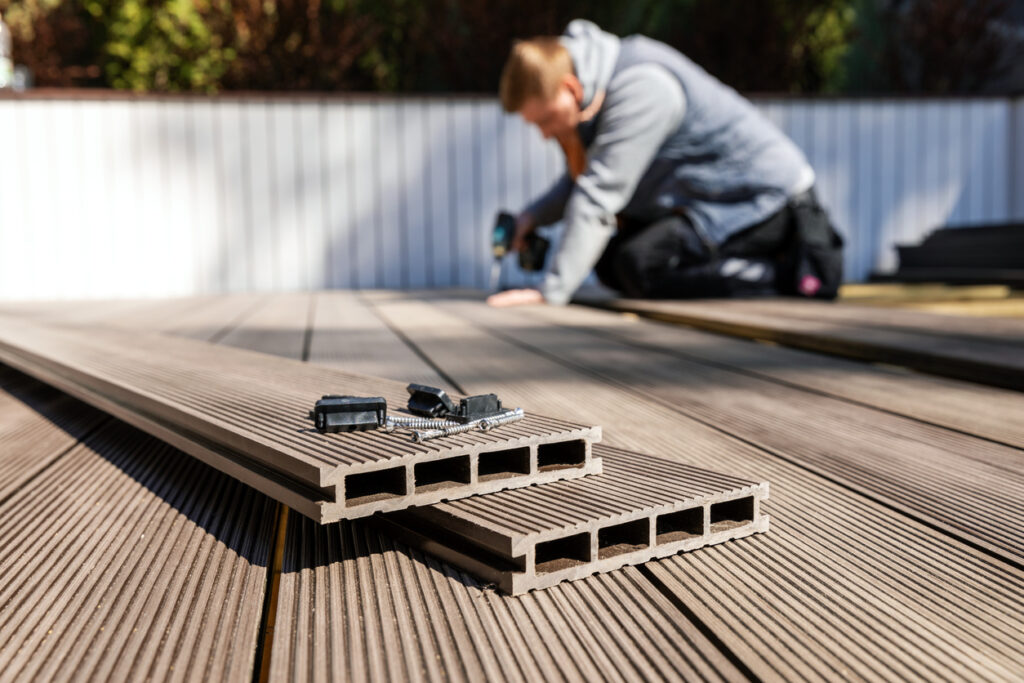 The best decking for swim spas
With so many decking materials available in the market, it can be overwhelming to pick the right one. Each decking material has its own maintenance needs, long-term costs, and overall investment value.
Whether you opt for the classic appeal of wood, the low-maintenance benefits of composite, or the exotic look of tropical wood, your backyard deck should enhance your enjoyment of your swim spa for years to come.
Composite decking
Composite decking is a low-maintenance option that is resistant to fading, staining, and rotting. It offers the look and feel of real wood without the associated maintenance. It alo comes in various colors and styles.
Natural wood decking
Wood decks have a timeless appeal and can add warmth and character to your outdoor space. Pressure-treated lumber is a popular and cost-effective choice for decking. It's resistant to rot and insects but does require regular maintenance like staining or sealing to prevent weathering. Cedar and redwood are also wood options with natural resistance to decay.
Hardwood decking
Tropical hardwoods like ipe, tigerwood, and cumaru are known for their durability and resistance to decay and insects. They have a beautiful natural appearance but can be expensive and may require periodic sealing or oiling to maintain their color.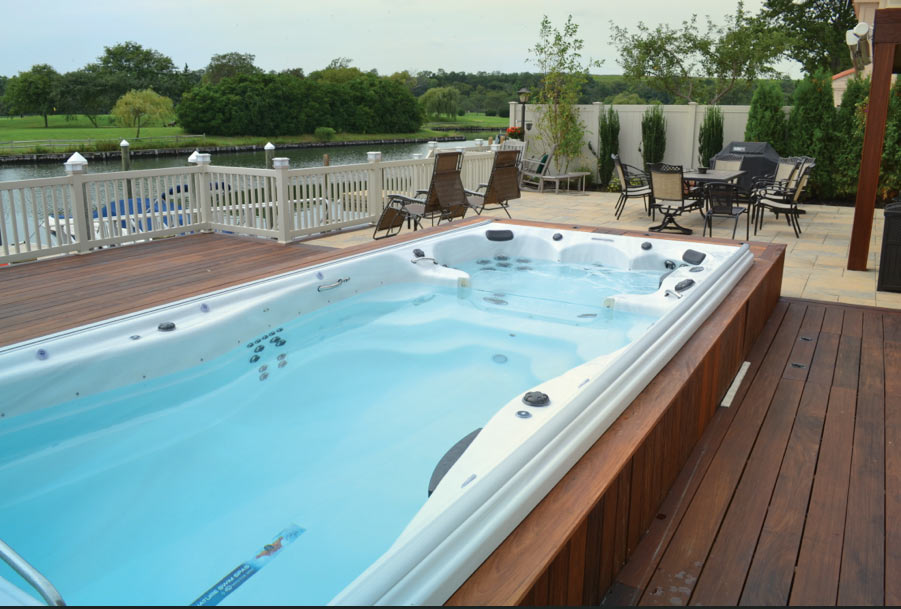 Swim spa deck ideas
Designing a swim spa deck that complements your outdoor oasis is essential for maximizing your enjoyment and relaxation. You can choose a multi-level deck, sunken design, or even incorporate seating and bar tops.
With the right swim spa deck design, you'll have a stunning and functional space where you can unwind, entertain, and make the most of your Michael Phelps swim spa experience.
Multi-level decks
One of the most popular swim spa deck ideas is the use of multi-level decks. This design adds depth and dimension to your outdoor space while providing separate areas for different activities. For example, you could have a lower deck level that houses your swim spa, complete with ample space for lounging and easy access to the water. On the upper deck level, you might include seating areas, a dining space, or even a cozy fire pit for chilly evenings. Multi-level decks not only maximize your outdoor space but also create an aesthetic appeal that is sure to impress your guests.
Sunken deck
If you prefer a modern look, consider building a sunken swim spa deck. Sunken decks are a visually striking choice that provides a seamless transition from your deck to the swim spa. By partially or completely submerging the swim spa into the deck, you create a luxurious atmosphere.
A sunken deck can offer privacy and can mimic the appearance of an in-ground pool. Many homeowners incorporate trap doors, which provide access to the equipment in the event the swim spa needs service.
A swim spa that's partially submerged into the deck can create a custom look, even eliminating the need for steps. This design is a great option, too, for backyards with a slope. It can also create a more minimal look for those who don't want the spa to overwhelm the overall look of the backyard.
Built-in seating and bar tops
Transform your swim spa deck into the ultimate entertainment area by incorporating built-in seating and bar tops. Built-in seating can provide comfortable lounging areas where you can relax before or after your swim. Include additional storage space underneath the seating for swim spa chemicals, your must-have swimming gear, and even towels. Bar tops are perfect for hosting outdoor parties and gatherings, as they offer a convenient place to set drinks or serve snacks. By combining seating and bar tops, you can create a versatile space that is both functional and beautiful.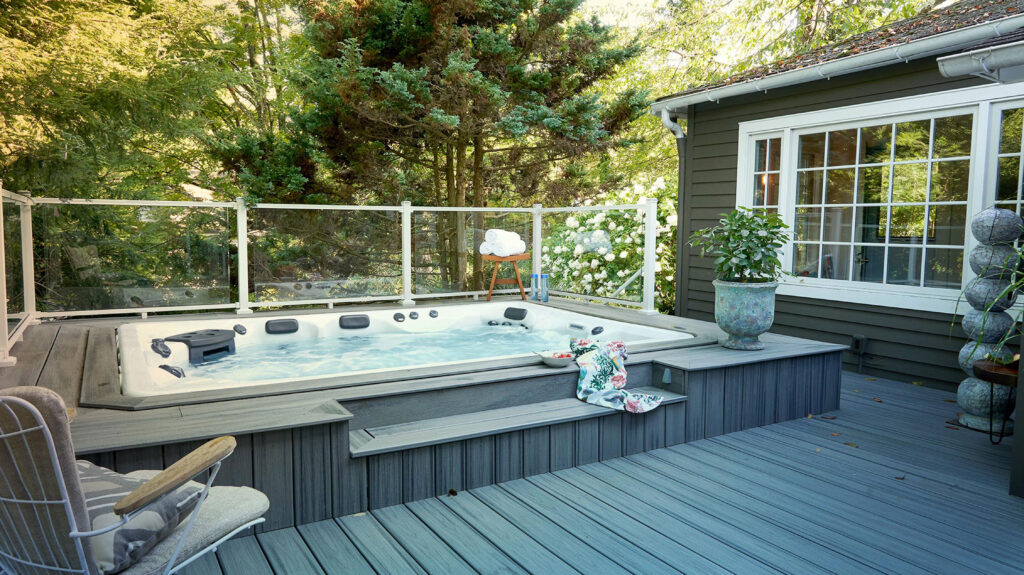 How to buy a Michael Phelps swim spa
Do you want to be able to swim, exercise, and relax at home? Having a Michael Phelps Signature Swim Spa allows you to swim on your schedule while adding a fun factor to your backyard. You can click here to find out more about the benefits of hydrotherapy and relaxing in a hot tub. Or, contact your local Master Spas retailer to learn more about swim spa ownership. Wondering how much a swim spa costs? You can request a quote here.