The leaves are raked, and bushes have been cut back. You have weeded your garden beds one last time. And you have even put away your garden hoses and tools for the season.
But while it feels like the end of outdoor living and time to cozy up on the couch, it's never too early to consider how you want to improve your backyard for 2024.
On average, Americans spend about 14 hours a week outside — whether it's going for a jog at a local park or planting flowers in the front yard. But if recent years have shown us anything it's that spending time outside and actually living in your backyard can elevate your lifestyle.
Outdoor wellness rooms, fire features, and even a Michael Phelps Signature Swim Spa can help you make the most of your backyard, creating a comfortable and inviting living space that feels like an extension of your home.
If you're thinking about updating your outdoor living area, here are some of the best trends to consider for 2024.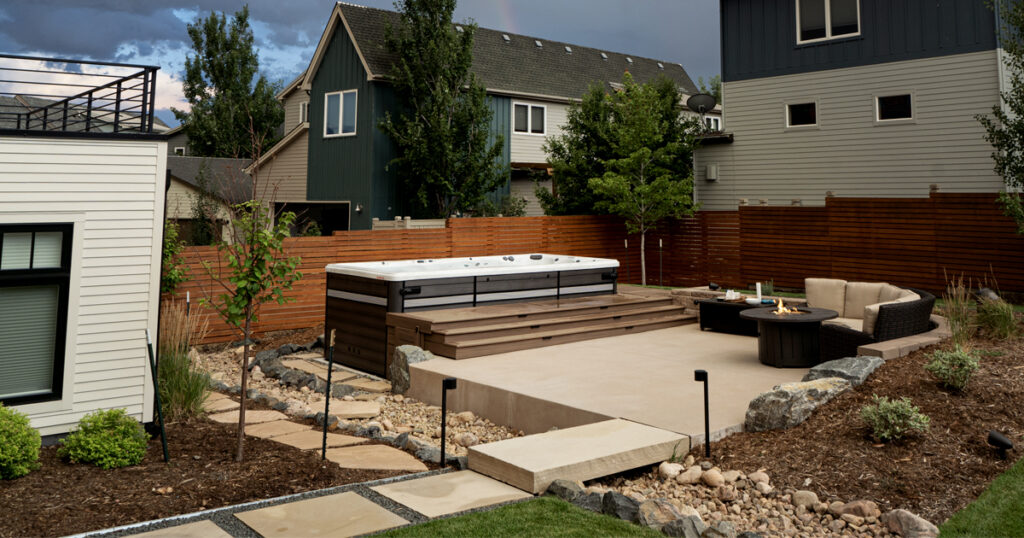 Outdoor living ideas for 2024
In the ever-evolving landscape of outdoor living, sustainability, innovative design, and technological integration have become pivotal in shaping how you use your backyard space.
Whether you're revamping your backyard, balcony, or terrace, consider these trends to make the most of your outdoor living experience. You can create an inviting and stylish outdoor oasis that reflects your personal taste and values, allowing you to enjoy the beauty of the great outdoors right at home.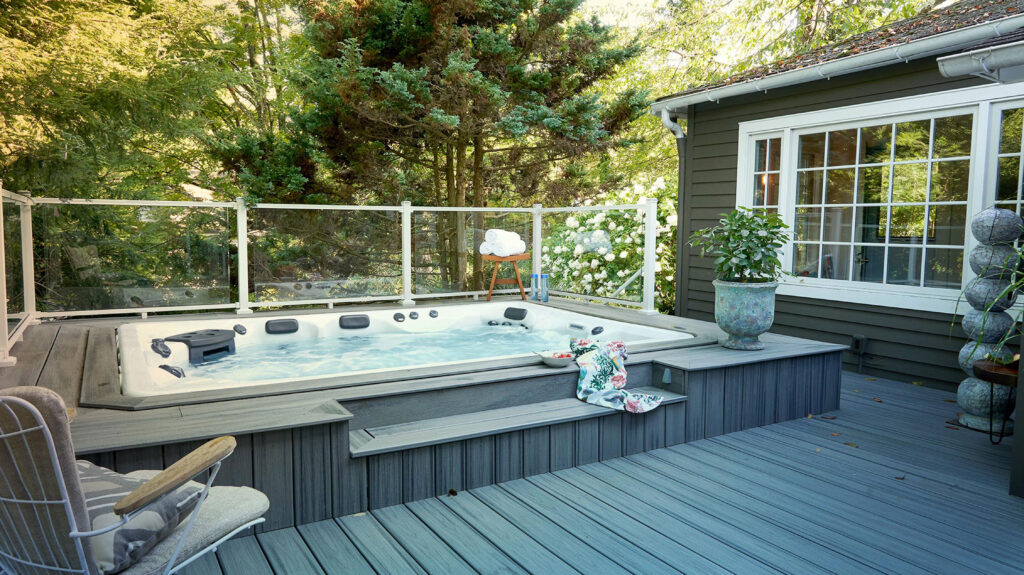 Sustainable and eco-friendly design
Green is a key adjective when it comes to describing your backyard. But backyards are truly growing green as sustainability is a major focus for outdoor living in 2024.
People are more conscious of their environmental impact. A study from Mastercard and the Priceless Planet Coalition found that 58 percent of adults are more mindful of their impact on the environment.
This awareness and desire to reduce one's carbon footprint is being reflected in how people design outdoor spaces. Eco-friendly materials, such as reclaimed wood, recycled plastic, and sustainable landscaping practices, are on the rise. People are also opting for solar-powered lighting, rainwater harvesting systems, and energy-efficient outdoor appliances.
Biophilic design
Biophilic design might sound like a term that you would find on an SAT exam. But this outdoor design trend for 2024 is all about bringing the natural world into your outdoor living area.
As people seek to create spaces that foster a deeper connection with nature, more and more backyard spaces are integrating natural elements and organic shapes while maximizing the views of the surrounding space.
If you want a more biophilic design, you can incorporate elements like living green walls, vertical gardens, natural stone pathways, and plenty of plants. Another biophilic design element is water. Consider incorporating water features, such as fountains or indoor ponds, to introduce the soothing sound of water.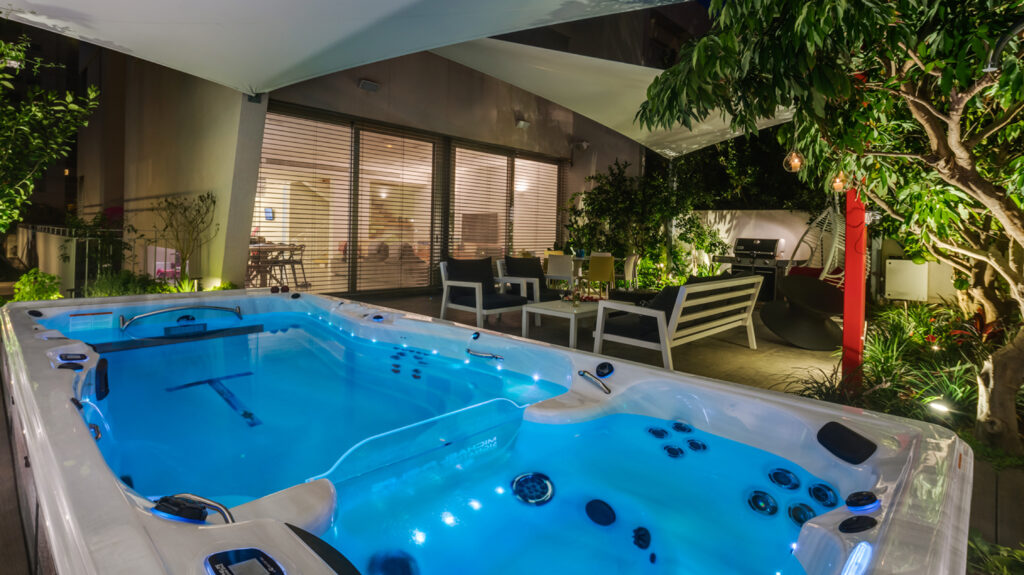 Swimming pool alternative
Traditional swimming pools have long been the go-to choice for homeowners seeking a refreshing way to swim and relax in their backyards. But an in-ground pool is not always practical. In 2024, you can expect to see more homeowners explore alternatives to the traditional in-ground pool.
Swim spas continue to be an innovative solution for people who want to enjoy the benefits of the pool but without the upkeep and cost. The combination of space efficiency, year-round usability, and fitness features positions swim spas as a versatile choice for those looking to create a backyard oasis.
Michael Phelps Signature Swim Spas allow you to swim, exercise, and relax year-round in the convenience and privacy of your backyard. The swim system of Michael Phelps swim spas deliver an endless swimming experience, and you can swim as fast as 54 seconds per 100 meter pace. In addition, you can jog, walk, or exercise against the current. Adjust the pace of the current based on your fitness level.
But a swim spa is more than just swimming. There are hydrotherapy jets for massage and relaxation. There are a variety of jets, providing pulsating, rotating, and kneading motions. These different techniques can help stimulate circulation, reduce muscle soreness, and promote relaxation.
Just like a pool, swim spas require some maintenance to keep the water clean, clear, and safe for swimming. But because a swim spa is smaller and has year-round use, the maintenance requirements are different. Michael Phelps swim spas have a mineral filtration system, which uses elements like copper and zinc to purify the water.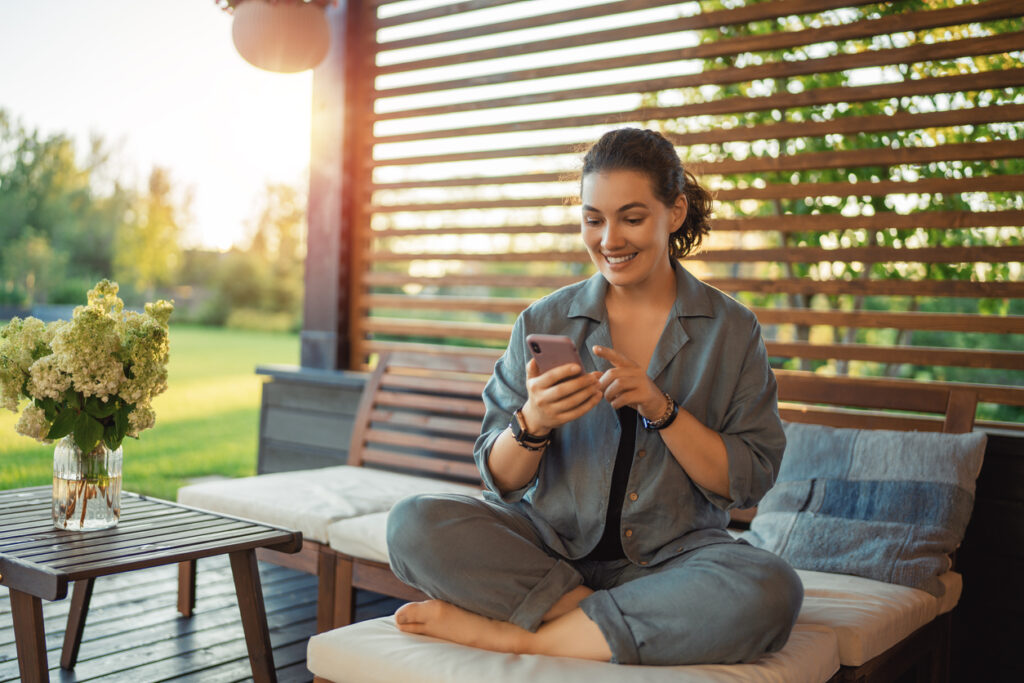 Smart outdoor tech
Have you ever been hanging out in the backyard, reading a book on your Kindle, when the screen goes black? You don't want to go inside but you were also just getting to a really good part in the story.
Technology and smart features, such as outdoor charging stations, are now being incorporated into landscape design. Wireless/internet connectivity, video theaters and stereo systems are among the top 10 backyard projects in a survey from the American Society of Landscape Architects.
Smart lighting, irrigation systems, and outdoor audiovisual systems are also in demand. With smart outdoor lighting, you can control brightness, color, and even set schedules. Smart irrigation systems use real-time weather data and soil moisture levels to tailor watering schedules. There's no forgetting to turn on the hose when you are in the middle of a dry summer nor will you overwater the grass during a particularly rainy week.
Whether you choose to control these features with your smartphone or voice-activated assistants, smart technology makes outdoor living even more convenient and enjoyable.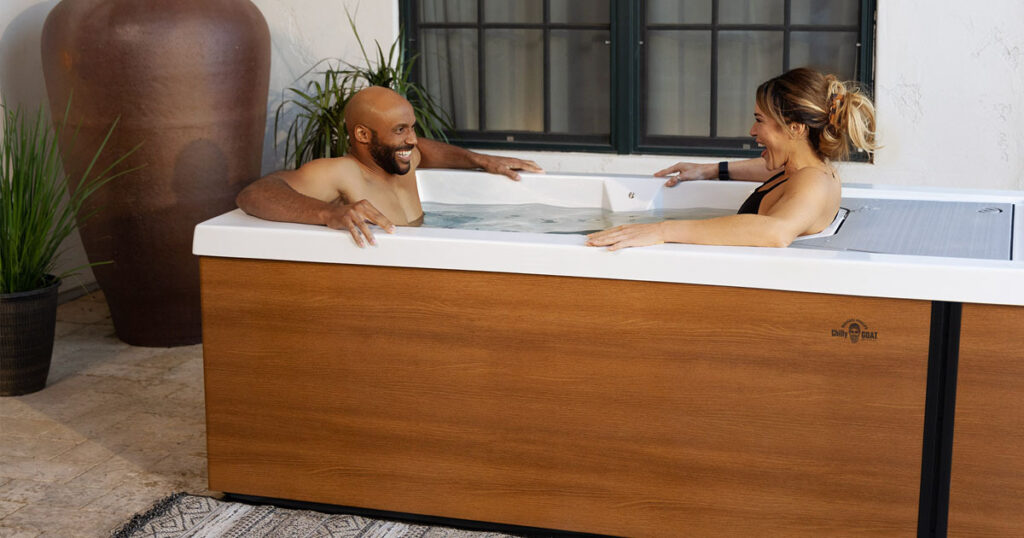 Outdoor wellness room
Outdoor wellness room is a dedicated space in your backyard that is designed to promote relaxation, well-being, and a connection with nature. Designating an outdoor area for wellness can help you connect with nature, prioritize self-care, and promote your physical and mental well-being.
That's why creating an outdoor wellness room has become a popular trend for 2024.
The spaces can feature plants and greenery, comfortable seating, string lights, and even an outdoor sound system. Some people also choose to add a sauna and cold tub for contrast therapy.
Whether you prefer the heat of a sauna or the chilling effect of a Michael Phelps Chilly GOAT Cold Tub by Master Spas, both can help optimize your health. Saunas promote relaxation through heat, while cold tubs can trigger the release of endorphins, creating a sense of well-being.
Featuring a durable, weather-resistant cabinet and full foam insulation, Chilly GOAT Cold Tubs are designed to be installed outdoors. The premium 2.1-horsepower chiller can easily maintain your desired water temperature, and it has a range of 40 degrees to 104 degrees.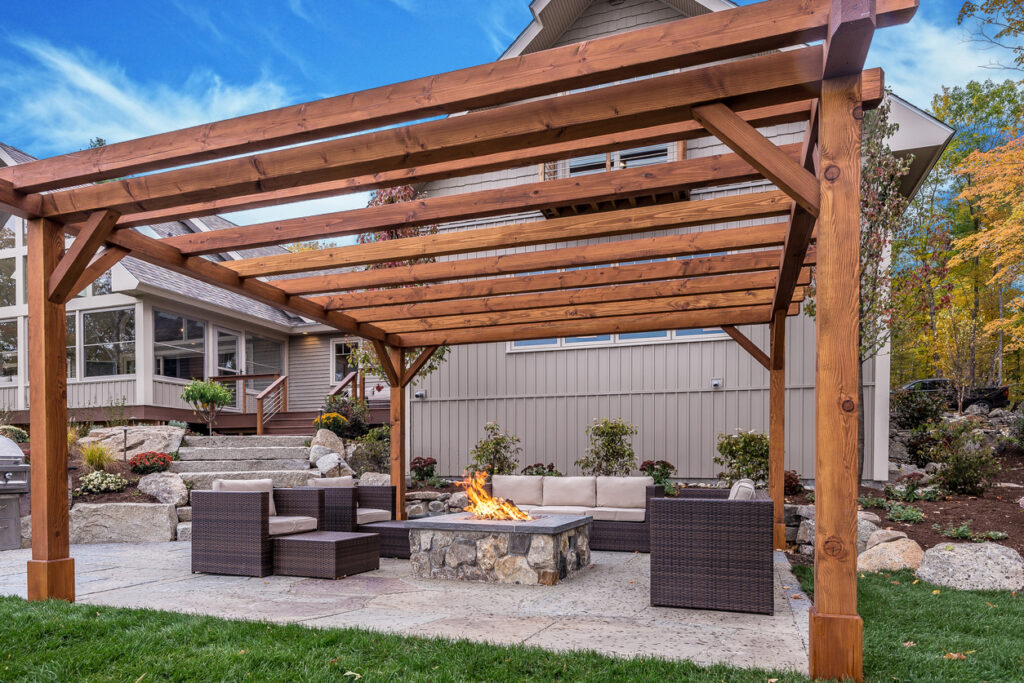 Fire features
Relaxing by a fire is nothing new — humans have been doing it for millenia. However, fire pits and other features continue to be among the top outdoor features on homeowners' lists. According to a survey conducted by the American Society of Landscape Architects, fire pits and fire features were among the most popular design elements, consistently ranking in the top three.
But fire features have come a long way since we began building fires with kindling and sticks we find in nature. Fire features can be customized to match your outdoor design style, whether it's modern, rustic, or traditional. Fire tables combine the look of a coffee table and the comfort of a fire, and they come in a variety of materials. There are gas and propane options, too, and even smokeless fire features.
They not only provide warmth and extend the usability of your outdoor space into the evening but also create a cozy and inviting atmosphere.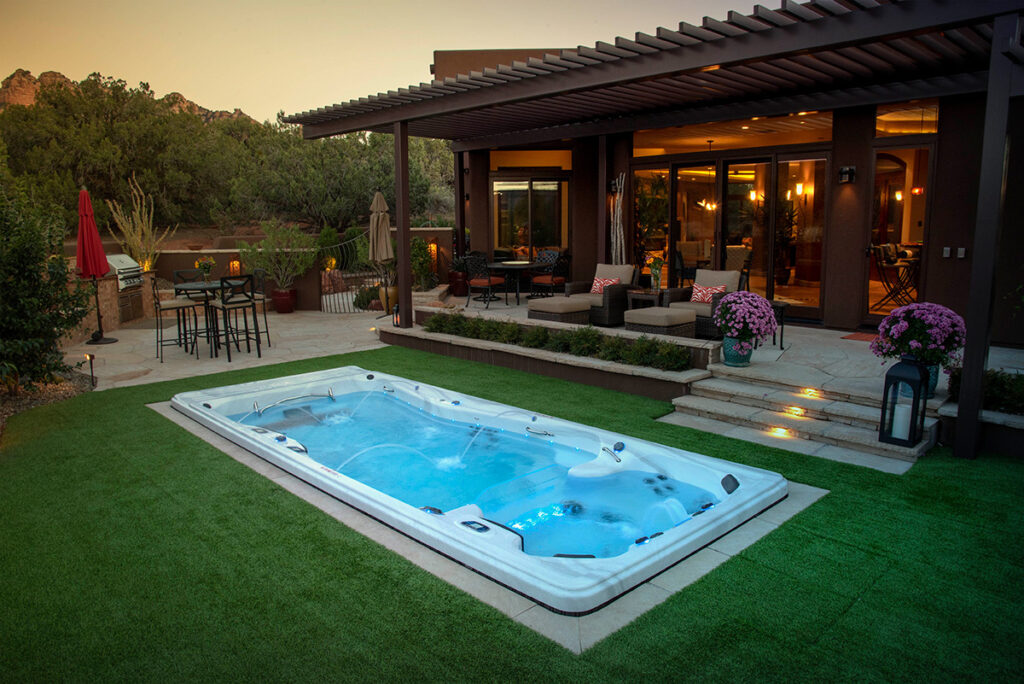 How to buy a Michael Phelps Signature Swim Spa
Do you want to be able to swim, exercise, and relax at home? Having a Michael Phelps Signature Swim Spa allows you to swim on your schedule while adding a fun factor to your backyard. You can click here to find out more about the benefits of hydrotherapy and relaxing in a hot tub. Or, contact your local Master Spas retailer to learn more about swim spa ownership. Wondering how much a swim spa costs? You can request a quote here.