Do you want to be able to swim, splash, and relax in the comfort of your own backyard? A pool is a fun addition to your outdoor living space.
However, it might not be the year-round retreat that you are longing for. Your ability to enjoy a backyard pool can be limited by the seasons, your available space, and budget.
A Michael Phelps Signature Swim Spa is easier to install than an in-ground or lap swimming pool and is designed to be used year-round. The best swim spas will allow you to enjoy the benefits of a backyard pool, with the added therapy of a hot tub.
There are myriad models with a price range but the best swim spas will have ample space for you to swim, splash, and hang out with family or friends.
These are our picks for the best swim spas for 2023, whether you just want a fun addition to your backyard or want a place to elevate your swim training.  
What is a swim spa?
A swim spa is like a swimming pool, offering space for swimming and recreation. But, for some, that might be where the similarities end.
First, there's also a system to create a water current that's ideal for stationary swimming. You can adjust the speed of the water current based on your skill level and what you want out of your training session.
Michael Phelps Signature Swim Spas feature a propulsion system called the WaveXP Pro. You choose a speed from zero to 100, with the max speed the equivalent of a 54-second per 100-meter pace.
The current of water produced by the WaveXP Pro system is smooth and has less turbulence compared to other jetted swim spa brands
But you can use this water current for more than just swimming. You can use it for aqua jogging, water walking, and other exercise. The swim spa has Soft Tread non-slip flooring so you can exercise comfortably without the fear of slipping.
Swim spas are also insulated and have jets like a hot tub. You can adjust the temperature of the water, whether you want to set in the mid-80s for swimming and cooling off in the summer. You can turn up the temperature for aquatic exercise and hydrotherapy.
Other features include LED lighting and waterfalls.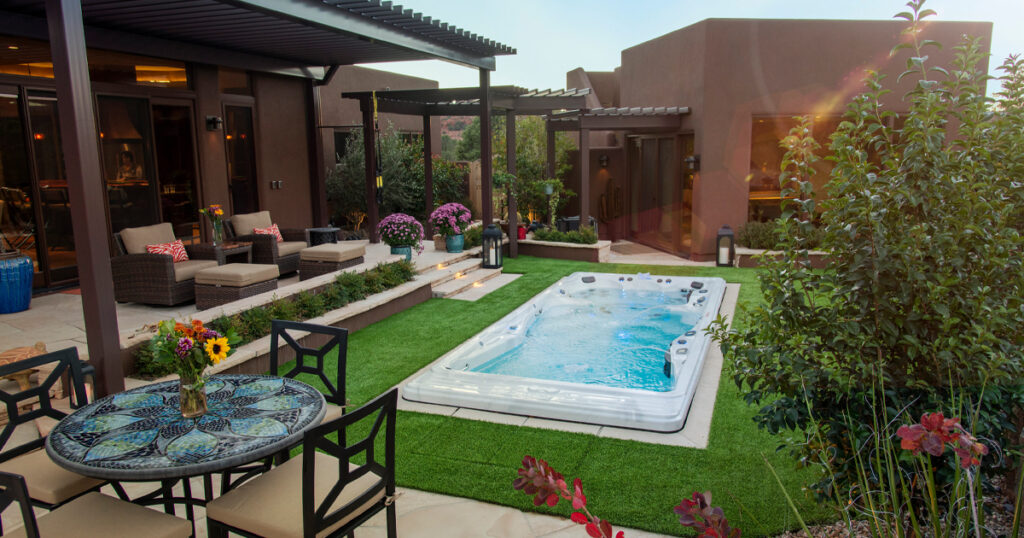 Best swim spas for 2023
Homeowners choose to invest in a swim spa for myriad reasons. They might want to be able to swim at home without having to book a lap lane or going to an open water swimming spot. Some families are looking for a spot to enjoy quality time, while others want to be able to do aqua therapy exercises.
The best swim spas are versatile and can be used for the reasons you bought them — and more.
MP Momentum Deep
The MP Momentum Deep is included among the best swim spas for 2023 because it offers homeowners the best of a pool and a hot tub. An acrylic divider separates two bodies of water — a swim area and a hot tub side.There are two sides of this pool-spa combo each have their own control panels. You can heat the water on the hydrotherapy side to a comfortable temperature, up to 104 degrees. The swim side can be kept at a lower temperature that is ideal for swimming, exercise, and recreation.
Among the features of this swim spa are the Xtreme Therapy Cove, which is a unique pattern of jets that targets your hips, thighs, and calves as you stand near the wall of the swim spa. On the hot tub side, there's four seats with thoughtfully placed jets. You can relieve pressure in your neck and shoulders or find that sweet spot for your low back.
This 19-foot swim spa is easy to maintain, too, thanks to the mineral filtration system. Natural occurring minerals, including copper and zinc, purify your water with fewer chemicals.
---
MP Signature Deep
This 18-foot spa might be made for more than just swimming but it's the best swim spa for serious swimmers. Featuring the largest swim area of any Michael Phelps spa, swimmers of all levels will be able to practice all four strokes.
In addition, the MP Signature Deep combines the benefits of aquatic exercise and hydrotherapy. The expanded swim area offers a generous space for water running and walking, as well as other aqua aerobics. Take advantage of the hot tub seating to ease muscle aches or simply relax.
---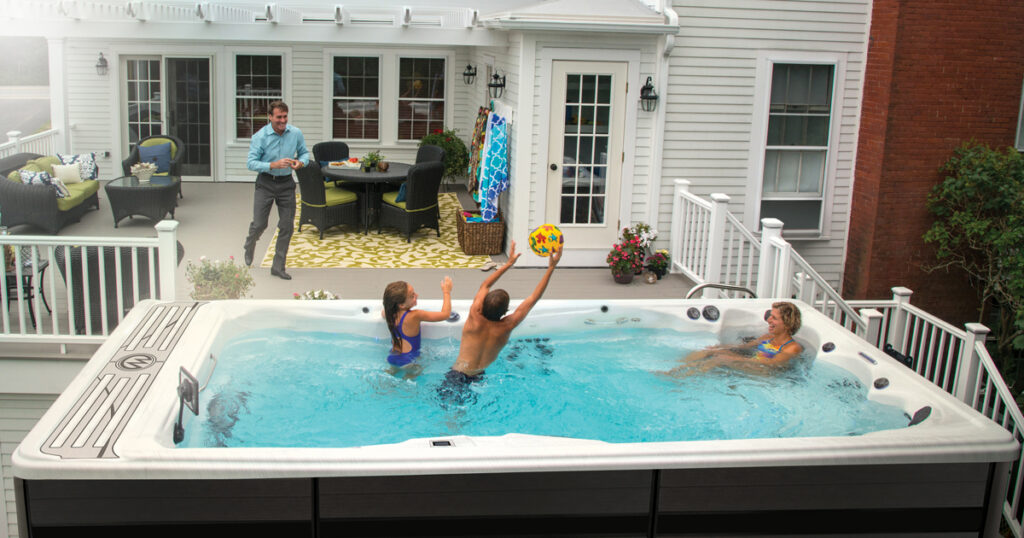 MP Force Deep
Size and available backyard space are among the popular reasons people choose a swim spa over a lap swimming pool. The MP Force Deep is among the best swim spas for 2023 for that reason. It has a smaller footprint but all of the amenities of larger spas. This 17-foot swim spa is ideal for endless swimming, water exercise, hydrotherapy, and family fun. There are 39 hydrotherapy jets for relaxation and recovery.
Customer reviews
"The Michael Phelps swim spa has everything I could ask for and more. Our family has everything we now need at home and are much more together. It is outside and we use it daily, year round. It is perfect for my therapeutic workout that I need for my MS and arthritis. I can use the propulsion for endless swimming. I can exercise with the equipment included. There is enough room for my pre-teen daughter to play around. For relaxation, my husband and I can sit in the hot tub with the enormous amount of jets. We kick back, relax and watch the beautiful sunset then turn on the colorful pool lights while looking up and see the stars. What an awesome experience!"
— Mary Ann, Oklahoma
"I swam in six different swim spas before choosing the MP Signature. It had the best current with the best system for adjusting it. The size was good (I'm 6'2"), and the salesman was knowledgeable. Maintenance is easy."
— Phil, Nevada
"Dream come true. I can swim anytime, on my own terms, not worrying about scheduling, cleanliness of public pools, and can use it for way longer than just two summer months. The swim is smooth, the display is easy to operate, and the jets are very powerful. Whole family loves it!"
— Vesna, Ontario
How much does a swim spa cost in 2023?
Are you ready to invest in one of these top swim spas for 2023? A Michael Phelps Signature Swim Spa is an all-season pool alternative that you can not just this year but for many years to come. You can click here to learn about how you create a backyard oasis with a Michael Phelps Signature Swim Spa. Or, contact your local Master Spas retailer to learn more about swim spa ownership. Wondering how much a Michael Phelps swim spa costs? You can request a quote here.