The sparkling blue water, the bubbles coming from the jets, an eye-catching design. The pool-spa combo is the backyard oasis that you have been longing for. But a custom pool-spa build is a big project with an even bigger price tag.
There is a way, though, to create a stunning sanctuary in your own backyard without the expense and hassle of an in-ground pool. Dual-zone swim spas marry the best of a pool and a hot tub in one unit.
Dual-zone swim spas, which are also referred to as dual-temperature units, have unique areas for recreation and relaxation. Swim, exercise, splash and more in the swim area. Or, sit back and take advantage of the massage jets in the hot tub side.
Whether you are starting a backyard transformation or want to upgrade your old hot tub, a dual-zone swim spa can be the centerpiece of your outdoor living area. The MP Momentum Deep from Master Spas is a dual zone swim spa that is designed to create your own backyard oasis.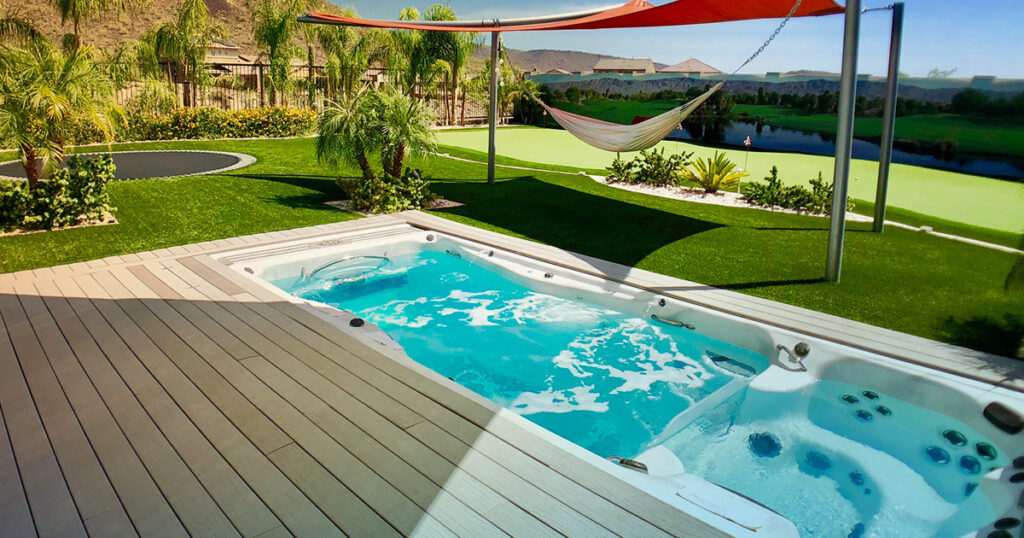 Dual zone swim spa facts
A swim spa is a single-unit that was designed so that you can swim in place. Whether it's a propulsion system or jets, a current of water is created so that you can swim …. and swim …. and swim without ever hitting a wall. While an in-ground pool also provides a space to swim, the swim spa is designed for recreational and competitive swimmers to train at home.
But we want to let you in on a secret. A swim spa is about so much more than swimming. It's about having a place to unwind at the end of the day, creating opportunities to spend time with family, and prioritizing your fitness and overall well-being.
What sets a dual zone swim spa apart from other models? A dual zone swim spa has two areas of water, often separated by an acrylic divider. One area is used for recreation and exercise, the other features hydrotherapy jets. Each has its own temperature controls for comfort and functionality.
Compared to other models, dual-temp units are typically larger than traditional swim spas. The MP Momentum Deep is 19 feet long and 8 feet wide, compared to the 18-foot MP Signature Deep and the 17-foot MP Force Deep swim spa.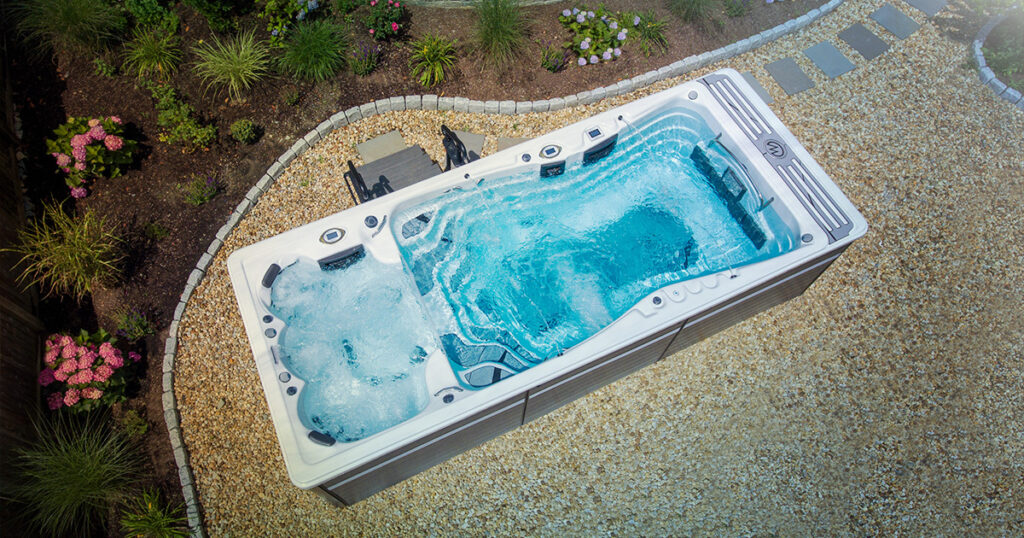 Dual temperature swim spa advantages
You've always wanted a swimming pool but love the therapy of a hot tub. When planning your backyard project, it can sometimes feel like you have to choose between the two.
However, with a dual-zone swim spa, you get the advantages of a pool and hot tub.
An in-ground swimming pool and hot tub combo, though, can require significant outdoor space. A small fiberglass pool might be 22 by 11, with larger models as long as 40 feet. These pool dimensions do not include the surrounding decking and a built-in spa.
While these in-ground pools have larger dimensions than a dual-zone swim spa, they are often too small to use as an at-home lap pool. These pools are primarily for recreation and an outdoor feature.
If you want to swim at home, as well as enjoy having a backyard water feature, a dual-zone swim spa is the perfect alternative to a lap pool and hot tub.
Dual-temperature swim spa advantages:
At-home exercise pool and hot tub in one
Modern, elegant design
Two temperature settings so you can exercise in cooler water and warm up in the hot tub without waiting.
Energy-efficient design and year-round use
Holds fewer gallons of water, making swim spa water care easier than a pool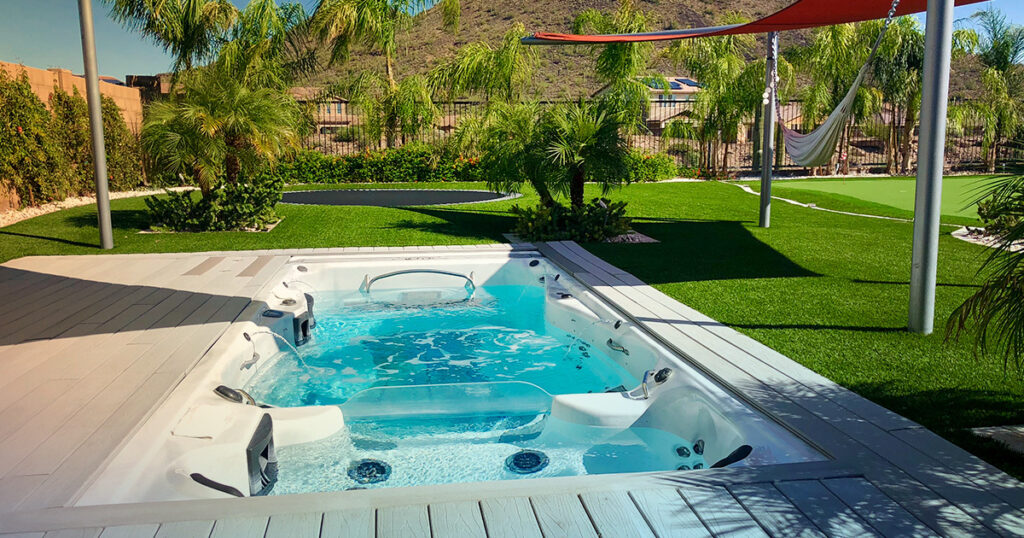 Other considerations
There are plenty of benefits to a dual-zone swim spa. But if you are considering investing in a dual unit, there are some things to keep in mind when you are shopping.
Swim area. While the overall dimensions of a dual temp swim spa are bigger, it does not have the largest swim area when compared to the MP Signature Deep. Someone who is taller (over 6-foot-2) or is focused on swimming might prefer a different model. 
Hot tub size. Master Spas hot tubs come in a variety of seating arrangements and sizes to fit most backyards. People who plan to have more than three to four people in the hot tub area of the MP Momentum Deep might prefer a separate hot tub.
Electrical requirements. The MP Momentum Deep will require 130 amps of power, compared to 100 amps for the MP Force Deep. (Most Master Spas H2X Fitness Swim Spas require 50 amps of power for comparison.)
An option to consider is having a swim spa and hot tub so that you can have the space and performance that you want.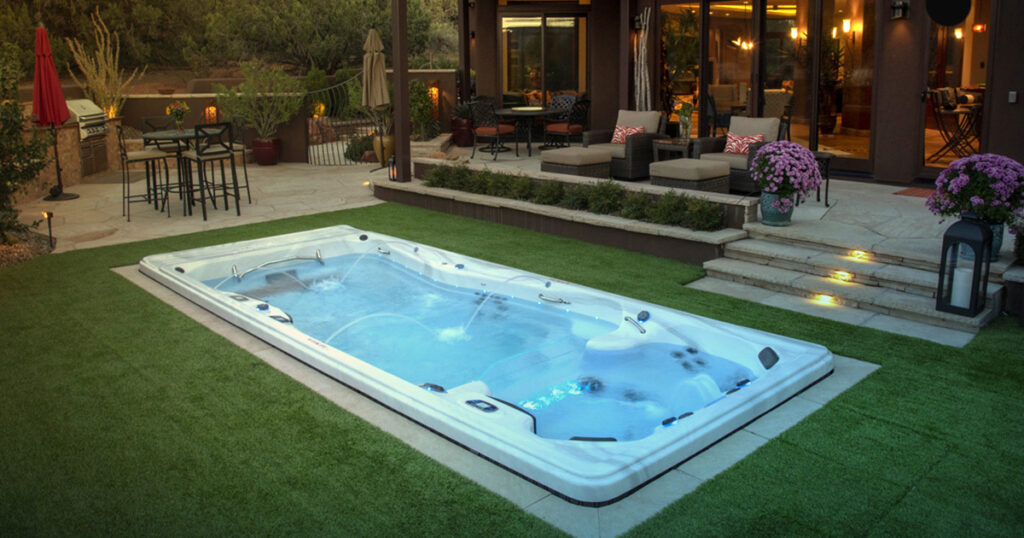 Best Dual Zone Swim Spa
MP Momentum Deep
A 19-foot swim spa, the MP Momentum Deep has two bodies of water. A clear acrylic divider is as functional as it is pleasing to the eye, separating the spaces while the water looks seamless. The entire family can have fun, relax, and get in a few "laps."
Michael Phelps Signature Swim Spas come standard with the Wave XP Pro Propulsion System. The propulsion system creates a smooth flow of water at the front of the swima area, and it has a maximum pace that is equivalent to 54 seconds per 100 meters.
The entire Michael Phelps line was designed with serious athletes in mind. You can use it as a complement to traditional pool training, or you can use it as the centerpiece of your routine. The pace, or speed of the current, can be easily adjusted on the touchscreen panel and settings go from zero to 100.
In addition, the hot tub area of this dual temp swim spa features four seats with multiple jet arrangements. Lie back and relax in the Xtreme Therapy Seat, which creates a whirlpool effect for total relaxation. Or, treat your feet to a soothing massage with the MasterBlaster jets, which have 14 individual nozzles each.
Additional features of this swim spa include the Xtreme Therapy Cove, SoftTread Nonslip, Comfort Floor System, LED lighting and water features.
Are you ready to start planning your backyard oasis? Contact your local Master Spas retailer.
How to buy a pool-spa combo
Are you ready to realize the benefits of water exercise and hydrotherapy? A pool-spa combo from Michael Phelps Signature Swim Spas allows you to enjoy a water feature in your backyard year-round, no matter where you live. You can click here to learn more about water fitness in a Michael Phelps Signature Swim Spa. Or, contact your local Master Spas retailer to learn more about spa ownership. Wondering how much a pool-spa combo costs? You can request a quote here.