Lush gardens and cozy corners with seating. A modern space with a geometric lap pool. A wooded space that's as rustic as it is relaxing. A backyard oasis looks different for everyone. But when you have a small backyard, you might feel like the dimensions will be your downfall.
But this small backyard makeover shows that no matter the size, your space is full of potential.
A contrast to the modern concrete home, this striking backyard offers the feel of a luxe resort. There's a space to dine al fresco and a cozy egg chair, perfect for reading a book.
For many, a water feature can make any space a sanctuary. A fountain or small pond can add a soothing element to the design. But in this small backyard, the homeowner chose a dual zone swim spa from the Michael Phelps swim spa line from Master Spas. Ideal for relaxation and exercise, the MP Momentum Deep allows the homeowners to enjoy the benefits of an in-ground pool.
This modern backyard shows that there are no design limits when you are making over your patio and small outdoor space.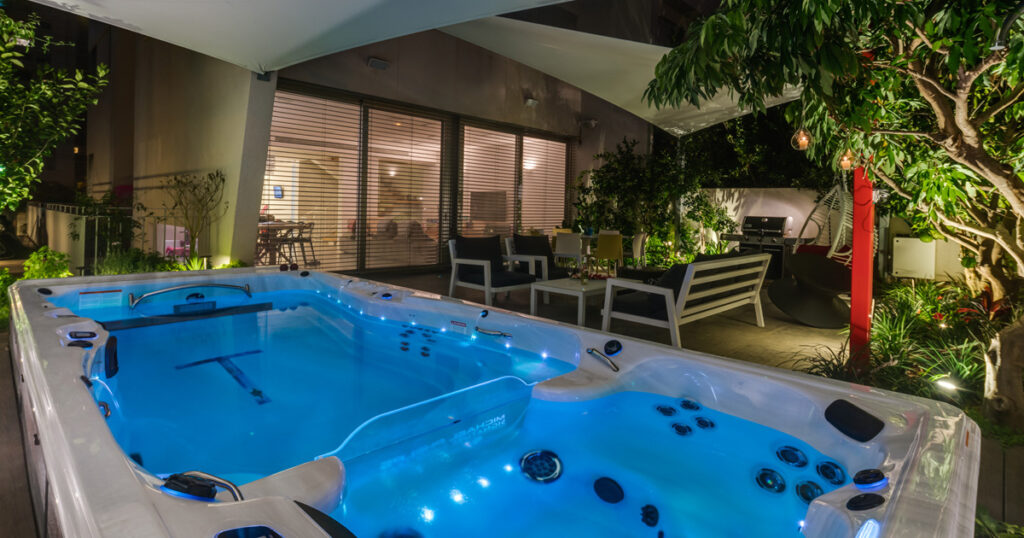 Patio design ideas for small backyards
Small pool alternative for a small space
Traditional swimming pools are not always a possibility when you are taking on a small backyard makeover. A pool alternative, a Master Spas swim spa can be installed in many backyards — whether you choose above-ground installation or in the ground. Or, to create a more custom look like these homeowners, choose a semi-recessed installation.
The MP Momentum Deep is a dual-temperature swim spa that has separate spaces for relaxation and exercise. There are separate controls so that the water temperature can be a therapeutic 102 degrees in the hot tub, and a comfortable 85 for exercise in the swim area.
But it's not just about the water. The swim spa features a sleek design, modern acrylic divider, and LED lighting. These design elements complement the overall look of this modern backyard.
Grass isn't always greener
A backyard can still be a backyard even if you don't have a lawn to mow. For this small backyard, the designer went all in and ditched the grass. Instead, oversized patio pavers were used to create a contemporary look. This style is growing in popularity as homeowners gravitate toward clean, sharp lines.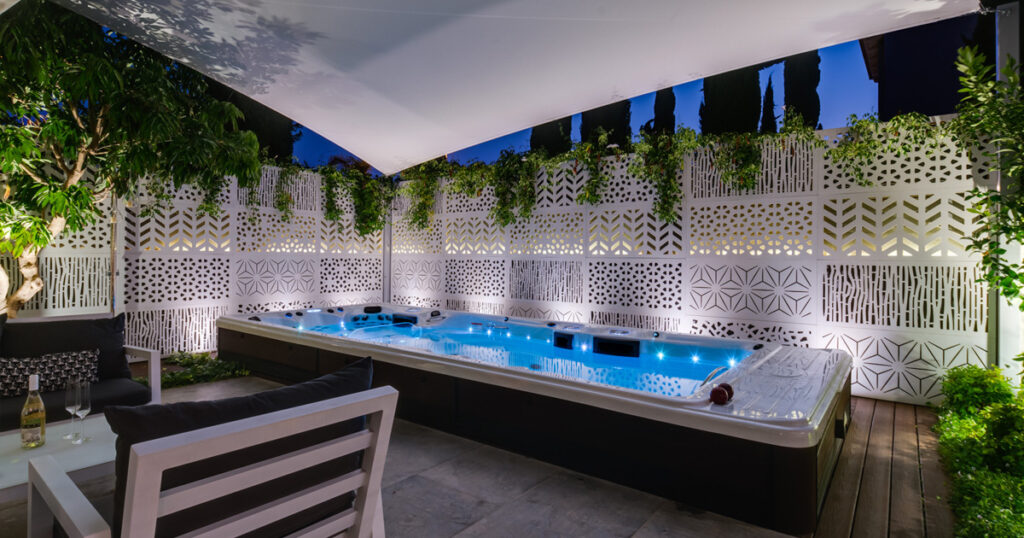 Garden walls
Privacy fence panels and screens are not just about what you are keeping out. It's about what they can bring in. This small backyard makeover features a series of modern privacy panels that add character while allowing natural light to filter through.
Set sail
Traditional patio umbrellas offer shade and protection from the heat. But they can also be heavy and cumbersome for homeowners who try to maneuver them through a space. And, for homeowners with small spaces, they take up valuable real estate. Shade sails are a way to filter UV light and protect your guests from the elements. They come in a variety of sizes and colors but for this backyard, a white, crisp triangle complements the sophisticated feel. The canopy also covers the MP Momentum Deep, adding to the enjoyment of this dual-zone swim spa from Master Spas.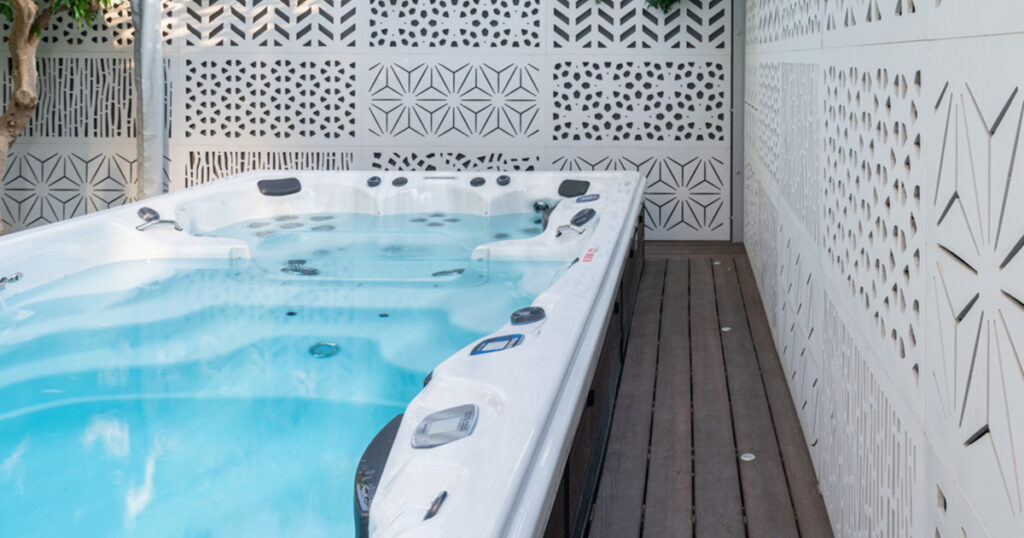 Design on deck
A deck might overwhelm a small backyard design. But in this case, it offers dimension and adds a way to get in and out of the partially-recessed swim spa. The homeowner also chose to have lighting built into the deck, adding to the ambiance.
Comfort and conversation
Sleek furniture is comfortable yet maximizes the space so that the homeowners can relax or dine alfresco. When you are taking on a small backyard makeover, balance is key when it comes to furniture. You want to have a space to hang out with friends but it can't be the only feature of the backyard. A love set and matching chairs are arranged so that you can easily snack on a charcuterie board and chat.
Crack the design code
Egg chairs, whether indoors or out, are a popular addition to your decor. Featuring a mid-century modern feel, these chairs are perfect for curling up with a book or enjoying the fresh air. They are more structured than a hammock but still have that cozy feeling. In addition, depending on the design, an egg chair can make the space feel more open since many don't have "legs" like a typical piece of patio furniture.
Border Garden
While the patio is the focal point, lush greenery, trees, and flowers bring the space to life. The landscape design features plants in a variety of heights to lift the space and make it appear taller. And by focusing on plants that grow up, you can incorporate more variety and texture into your overall landscape.
Smart splash of color
A subtle way to add color is to mix-and-match patio dining chairs. This backyard adds a ray of sunshine with pale yellow chairs around the patio table. The chairs feature a slim profile — thin legs, no arms — making room for more seats at the table. They can also be easily stacked and stowed away to "add" space to the patio.
Begin your swim spa journey
Are you ready to transform your backyard into your favorite destination? A Michael Phelps Signature Swim Spa is an all-season pool alternative that you can enjoy no matter the temperature. You can download our Backyard Planning Guide to learn more the requirements for a Michael Phelps Signature Swim Spa. Or, contact your local Master Spas retailer to learn more about swim spa ownership. Wondering how much a Michael Phelps swim spa costs? You can request a quote here.