When it comes to the Ironman event, the swim is the leg of the race that causes the most anxiety, even if it is the shortest part of the day.
But why?
As opposed to running or riding a bike, swimming isn't something that comes naturally to most people. For most of us, childhood didn't include swimming laps in a pool – but we could run around and ride a bike for hours. Learning to swim properly and training to compete isn't easy when most of your in-the-water experience has included a foam pool noodle. Not to mention, swimming in a pool and swimming in open water are two completely different things.
Swimming in a Pool vs. Swimming in Open Water
It's fairly difficult to train for open water swimming in a standard pool. When you're swimming in open water, you do not have to do flip turns or stop at the end of the lane to turn around like you would in a pool – and every time you flip or turn your heart rate slows down. When you're training in open water or competing in a triathlon event, you typically don't want to slow your pace and thus your heart rate remains steady.
So, what is the best way to train for open water swimming?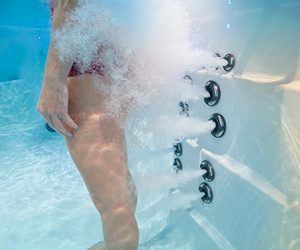 ANSWER: Michael Phelps Signature Swim Spas by Master Spas
Simulating an open water swim is much more accurate in a swim spa than a pool because you are able to replicate the pace and heart rate of training in open waters or competing in an event. Another bonus of having a Michael Phelps Swim Spa is the ability to train in any climate and at your own home.
With the Michael Phelps Swim Spa, you can also pre-program your workout using our SNAPP app. With the app, you can simulate various open water swimming conditions by programming intervals into your training session – and you never need to stop swimming to adjust the speed during the workout or hold a remote while training to swim while still trying to maintain proper form.
The design of the Michael Phelps Swim Spa also develops its users into more efficient swimmers, as it forces the core to engage more in order to remain in a streamline position. This design strengthens athletes in ways a pool cannot, and it makes for a faster swimmer in open water on race day.