When an athlete is training to compete in a marathon, they have to be incredibly disciplined. Athletes train steadily for months and months to run a full marathon – this training often includes an intense workout regimen, a strict diet, and a lot of willpower.
When an athlete is training to compete in an IRONMAN event, they must train for a full marathon while also training for the open water swimming and biking legs of the race. One of the best ways to train for these events, is by doing your running in water.
But what are the benefits of training in water?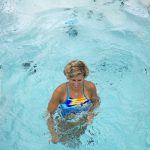 It might seem strange to prepare for a marathon or triathlon by running in water, but there are several benefits to training in water. Running in water can reduce the impact on your joints and muscles by up to 80%, making it easier to run harder and for a longer period of time.
In addition, using a swim spa for running recovery is very effective. A swim spa can be used to rehabilitate and recover leg muscles and enable the legs to be stronger for outdoor training runs.
Because of the low impact on joints and muscles, an athlete that is at a high risk for a running injury, or is currently injured, can benefit from water running in a swim spa because it enables the athlete to maintain fitness without losing any training volume or time. Ironman certified coach Mari Cuticelli says, "I fractured my foot during the training for my first Ironman race, and was forced to do all of my runs in the water, which was an effective way to continue my run training without any impact! I was still able to complete my long runs in the water and finished the race successfully even though I did not have as many road miles as I did water miles."
Resistance Training with SNAPP
By using the SNAPP app, an athlete can pre-program an aquatic run workout based on the speed or heart rate of their outdoor run, and the speed of the water current will automatically adjust to the athlete's program. Doing so would allow the athlete to keep up with their run volume, without increasing the injury or risk of injury by running full impact on the pavement. Not to mention, running in a swim spa means the ability to run whenever you'd like, not just on the days that are weather permitting.
The Michael Phelps Signature Swim Spa is a vital tool for any athlete, whether for training, recovery, or both!
Contributions to this article made by Ironman Certified Coaches, Mari Cuticelli and Ben Gilliam.