Find Your Balance in Training: Intensity vs. Enjoyability.
When it comes to most people, the words "high-intensity workout" can cause people to fear for their life. (OK, maybe not that serious. But still, for most of us that doesn't sound like a fun time.) For athletes training for a marathon or triathlon, it is vital to train with low-intensity and high-intensity workouts – all while trying to maintain energy, motivation and passion for the sport.
Why is high-intensity training important?
Although many of the training sessions are completed at low-to-moderate intensity, there are weekly sessions that require high-intensity and calculated speed intervals for swimming, biking, and running. These workouts are meant to increase the athlete's speed and VO2 max (the maximum amount of oxygen the body can use during a specified period of usually intense exercise), which will improve efficiency on race day and beyond.
Another benefit of including high-intensity training sessions is to prepare the body for the stress of race day. It's extremely important to include high-intensity training sessions in all three disciplines to be fully prepared.
How does a swim spa help?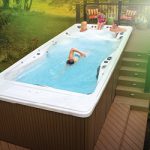 With the Michael Phelps Swim Spa by Master Spas, the athlete has the ability to train at all levels of intensity in any climate and at any time of day. The athlete can program the swim spa to increase speed to match his or her desired intensity at any time within a workout session. Speed intervals can be adjusted in 1% increments to perfectly fit the needs of each individual athlete. At the highest speed, the Michael Phelps Swim Spa by Master Spas can push 2,200 gallons a minute, which would be equivalent to swimming 100 meters in about 55 seconds. That's intense!
Training in water also dramatically decreases the amount of strain put on the athlete's joints and muscles, making even the highest-intensity workouts feel more like low-to-moderate intensity workouts. After your workout, you can soothe your achy muscles with the Michael Phelps Swim Spa's aquatic massage therapy features.
"As triathletes, we tend to get wrapped up in the training and always striving for continual improvement, but we need to find ways to balance out that drive with why we first started triathlons…because they're fun! There is a time to be intense and a time to just enjoy the sport and have a great time. The Michael Phelps Swim Spa by Master Spas can help with that too! Although training in the swim spa gives athletes the opportunity to train hard and train to be intense, it also is just plain fun to train in a swim spa! Finding that balance is key for longevity and happiness in the sport." – Ironman Certified Coach Ben Gilliam
Contributions to this article made by Ironman Certified Coaches, Mari Cuticelli and Ben Gilliam.