Create Your Custom Workout in a SNAPP!
If you're anything like me, you probably find yourself being more productive when you have a 'game plan' of what needs to get done and when. Most people would agree that it's easier to accomplish your goals when you have a set plan to follow so you are able to stay on task and hold yourself accountable. With our Swim Number app, also known as SNAPP, you can pre-program individualized workouts (swim, run, resistance training, etc.) for swim spa training, then simply press start and begin the workout.
How does SNAPP work?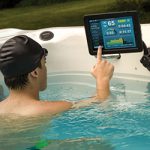 Picture this: you simply push "start" and the app will take over the speed of the water current while you are swimming or exercising, to range from high-impact training conditions to slow cool-down speeds. (It's a similar process to preprogrammed workouts on a treadmill.) Workouts can be programmed to match individual's needs, goals, and fitness desires.
Then, when you want to challenge yourself, or when your body has adapted to a specific speed or resistance, you can easily ramp up your workout in increments as low as 1%! Being able to challenge yourself in this capacity is amazing for an athlete that is training for an Ironman event. There is no other training tool especially for swimming that can be so precise. Being able to increase speed in such small increments allows your body to gradually adjust to become a better, faster, and more efficient swimmer. This is exactly what every triathlete strives for, and the Michael Phelps Swim Spa by Master Spas allows you to challenge yourself to the fullest, while training effectively.
SNAPP is for everyone!
Given that the swim spa can be adjusted from levels 1 to 100, the app is ideal for athletes of any skill level, from beginner to elite. You can challenge yourself by programming speed intervals with timed rests, or by setting the speed of the propulsion at race pace or just above to simulate varying race-day condition and experiences. You are able to push yourself to train harder and faster with the touch of a button. And on the flip side, you can just as easily dial the intensity down for active recovery or long distance, low intensity days.
The Michael Phelps Swim Spa by Master Spas is capable of meeting the needs of all levels of athletes and all stages of their training in preparation for triathlon race day. It is a most amazing tool that will help you to challenge yourself in ways you have never imagined!
Contributions to this article made by Ironman Certified Coaches, Mari Cuticelli and Ben Gilliam.