You just bought a swim spa, and you aren't sure what you are most excited for. With an endless water current for swimming and exercise, you can stop scheduling time to go to the pool and even cancel your membership. You can get out the pool floats and soak up those summer afternoons with your toes in the water. Then there are those cozy fall nights, when you can turn up the temperature and take advantage of the massage jets before going to sleep.
But while the decision to purchase a swim spa is an exciting one, you have been thinking about more than the benefits. You have been wondering about what you need to do while you wait for your swim spa.
As you embark on your swim spa ownership journey, you might have questions about prepping your backyard and what you need to know. Where should I put a swim spa? Do I have to put the spa on a concrete pad? And what about maintaining the water quality?
It's important, though, to not let the questions overwhelm you. These tips will help ensure a smooth and exciting transition from purchase to enjoying your new backyard oasis.
By taking some key steps while you wait for delivery, you'll be able to get off to the best start as a new swim spa owner.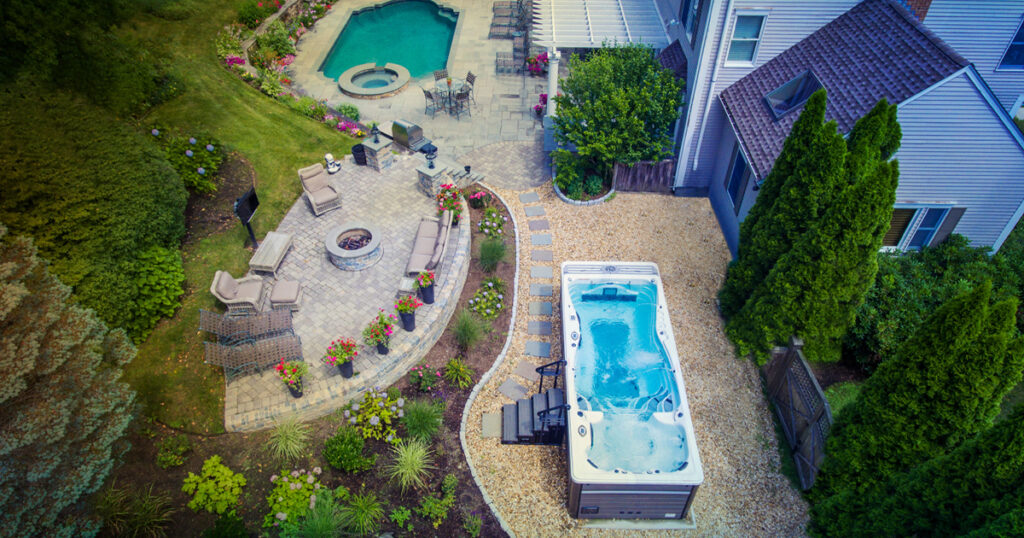 While you wait for your new swim spa
A new swim spa allows you to enjoy everything you love about a pool — without actually installing a full-sized swimming pool. You can swim, walk, or jog against the current of water. You can also perform a range of low-impact water exercises, which is especially beneficial if you want to improve your cardiovascular fitness, build strength, or recover from an injury.
In addition, swim spas are smaller than traditional swimming pools, making them suitable for a wide range of spaces, including smaller yards or indoors. You can also install a swim spa on a deck or in the ground.
But what do you do as you await installation of your new swim spa?
New swim spa owners need to consider the location, power requirements, water source, and maintenance and care.
Choosing the best location
One of the first things to consider is where to install your swim spa. Similar to a hot tub installation, you want to consider the proximity to the house, access to water, wiring the spa, and the size of the swim spa.
But depending on where you live, you might also need to consider setback rules and the requirements of your HOA.
When it comes to the proximity to the house, there are myriad benefits to installing the swim spa closer to your home. Not only are you more likely to incorporate the swim spa into your exercise and relaxation routine but it will be easier to wire and access water.
Michael Phelps Signature Swim Spas come in a range of sizes, from 17 feet long to 19-foot models. You want to make sure that you have room for the swim spa, steps, and 3-feet of access on all sides of the spa.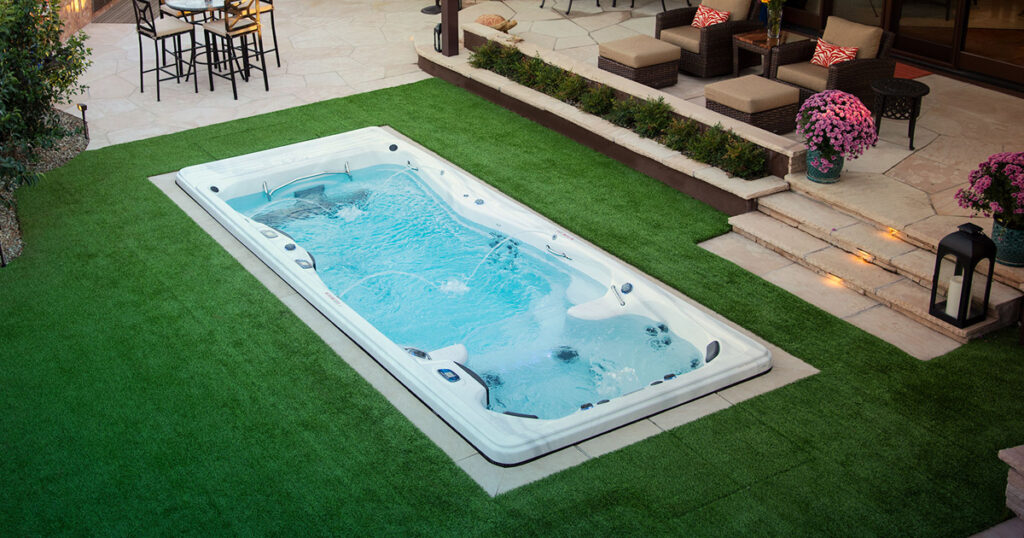 Foundation requirements for swim spas
From a concrete patio to pavers, the right foundation is key to enjoying your new Michael Phelps pool spa. A strong foundation helps support the swim spa, preventing damage and protecting your investment.
Master Spas recommends placing your new spa on a flat, level service that can support the weight. When filled with water, some swim spas can weigh nearly 25,000 pounds. Ideally, you would put your new spa on a 6-inch reinforced concrete pad.
Any surface, though, will need to be properly leveled and prepared. A deck, for example, should be evaluated by a contractor to see whether it needs to be reinforced.
If you do not have an existing patio, be sure to schedule time with a contractor. He can evaluate your space or begin your project to make sure your backyard is ready for a swim spa.
Get plugged in
Michael Phelps swim spas require a dedicated electrical circuit to meet their power needs. What kind of amperage does a swim spa need? MP Force Deep and MP Signature Deep models have a 100-amp power requirement. The MP Momentum Deep, a dual-temperature swim spa, requires a 130-amp system.
Hiring a licensed electrician is crucial to ensure that the electrical work is done correctly, following all safety regulations. They will guide you through the process of installing the proper wiring. Be sure to choose an electrician who is familiar with the hookup for a swim spa.
The electrical diagrams for Master Spas swim spas are available online, and they will prove incredibly useful for your electrician.
Prep your water source
Filling your swim spa with water is a significant step after its delivery. Some homeowners choose to use a garden hose with a pre-filter attached. However, depending on the size of the spa, filling it can take some time. For example, the MP Momentum Deep holds more than 2,300 gallons of water.
If you don't want to wait, you can also arrange a water truck. The water from a truck or pool company is often pre-filtered and pre-treated, making it convenient and quick. It's also an ideal choice if you have well water.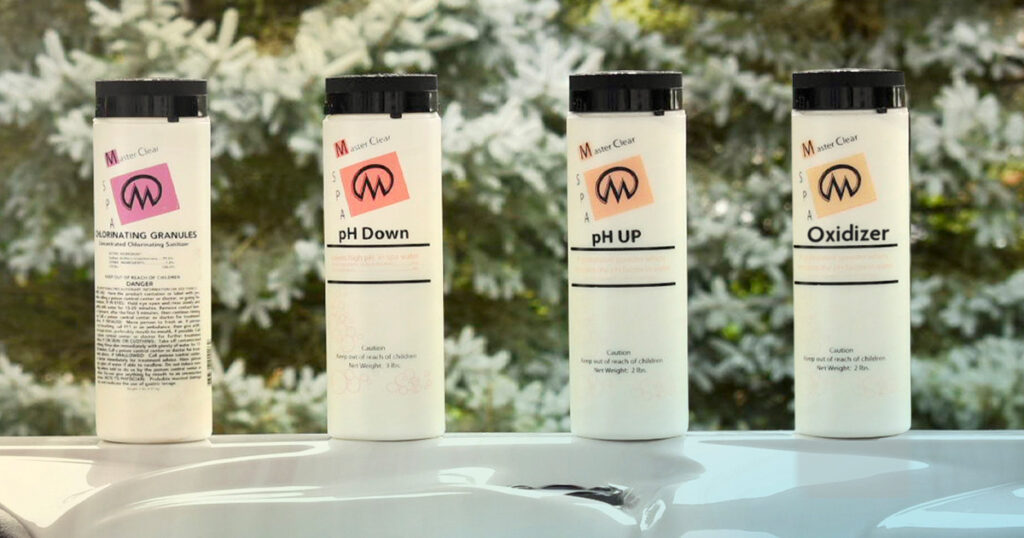 Maintenance and water care
Water care is an essential part of owning a swim spa. You want the water to be clean and clear, as well as keep the spa in top condition. Between purchasing and delivery, take the time to research and learn about water chemistry, filtration, cleaning routines, and any specific maintenance requirements your swim spa might have.
Michael Phelps swim spas feature a mineral filtration system — EcoPur Charge. Utilizing natural elements like copper and zinc, the system helps keep your water clean with fewer chemicals. But you do need to use chemicals in your swim spa, and the water care system works best with chlorine.
As a swim spa owner, you should expect to test the water a few times each week, balancing the chemicals as needed. It's recommended to use a small amount of chlorine after each use and add non-chlorine shock or oxidizer once a week.
Your swim spa will come with a starter kit and your first set of filters. However, you may also want to stock up on some of the essentials such as dichlor granules, non-chlorine oxidizer, filter cleaner, and a back-up set of filters. Other useful tools include a skimmer net and a rechargeable pool vacuum.
Get to know the manual
As a new owner, it's important to understand the safety guidelines and how to operate your swim spa. Your owner's manual will have information specific to your swim spa model, including routine water care and how to troubleshoot common issues.
Master Spas has a YouTube channel with a library of how-to videos and helpful hints for swim spa owners. You can learn how to fill your swim spa or balance the chemicals for the first time.
Must-haves for swim spa owners
A new swim spa can help you create a backyard oasis. And it's important to make the experience fun. So while you are waiting for your swim spa to be delivered, it's also a great time to make sure that you have must-haves.
Consider purchasing essentials like towels, robes, and water testing kits so you can be fully prepared once your swim spa is up and running. Pool floats and inflatable games can be fun for families or if you want to host backyard swim spa parties.
Do you plan to incorporate swimming in the spa into your training schedule? Must-have swimming gear such as a center snorkel, goggles, pull buoy, paddles, and fins can be particularly useful. Ideal for drills, you can incorporate the swim gear into your sets to improve form — one of the advantages of stationary swimming in a Michael Phelps swim spa.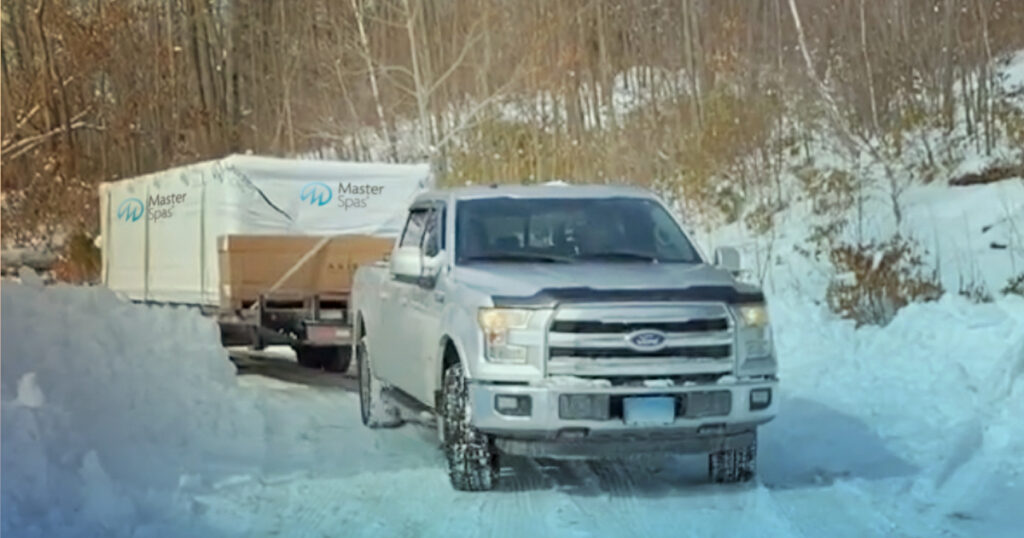 Prepare for delivery
A swim spa can be delivered via forklift or crane, and the delivery method usually depends on access to your backyard. Before scheduling delivery, talk with your Master Spas retailer about the final location of the spa and getting it into place.
If the area where you plan to install the swim spa is difficult to reach because of narrow pathways, tight corners, or other obstacles, a crane might be the most practical way to get the spa into position. You want to be sure that you make arrangements with a crane operator ahead of time and plan for any additional costs.
It's also important to walk the delivery path and ensure there are no obstacles in the way. Remove any lawn furniture, barbeques, planters, or other objects that may hinder a smooth entry. By clearing the pathway, you ensure that the professionals handling the delivery can easily bring your Michael Phelps spa to its designated location.
Ensure that your yard is clean and free from any toys, yard equipment, pet waste, and other items. Not only will a clean and prepared yard facilitate the delivery process but also make your overall swim spa experience more enjoyable.
How to buy a Michael Phelps Signature Swim Spa
Do you want to be able to swim, exercise, and relax at home? Having a Michael Phelps Signature Swim Spa allows you to swim on your schedule while adding a fun factor to your backyard. You can click here to find out more about the benefits of hydrotherapy and relaxing in a hot tub. Or, contact your local Master Spas retailer to learn more about swim spa ownership. Wondering how much a swim spa costs? You can request a quote here.