You hop in the swim spa. Put on your swim cap. Adjust your goggles. Choose your speed settings. And then it's just you, the water, and the black lines of the SoftTread NonSlip flooring system.
One of the benefits of Michael Phelps Signature Swim Spa is the ability to swim without going anywhere. Stationary swimming allows you to refine your technique, improve your endurance, and go at your own pace.
However, it can feel like the challenge isn't completing the workout but getting through it without being bored. You are swimming in the same spot … by yourself.
Boredom is something that most swimmers face, whether they are in a pool, open water, or a swim spa. Swimming is often a solitary sport with very little change in scenery.
But there are ways to make swimming more fun. Because, let's be honest, it is fun on its own.
Listening to music while swimming can help you swim faster, farther, and with more enjoyment. From headphones to underwater speakers, new technology makes it easier to find your rhythm and boost your motivation while swimming in a Michael Phelps Signature Swim Spa.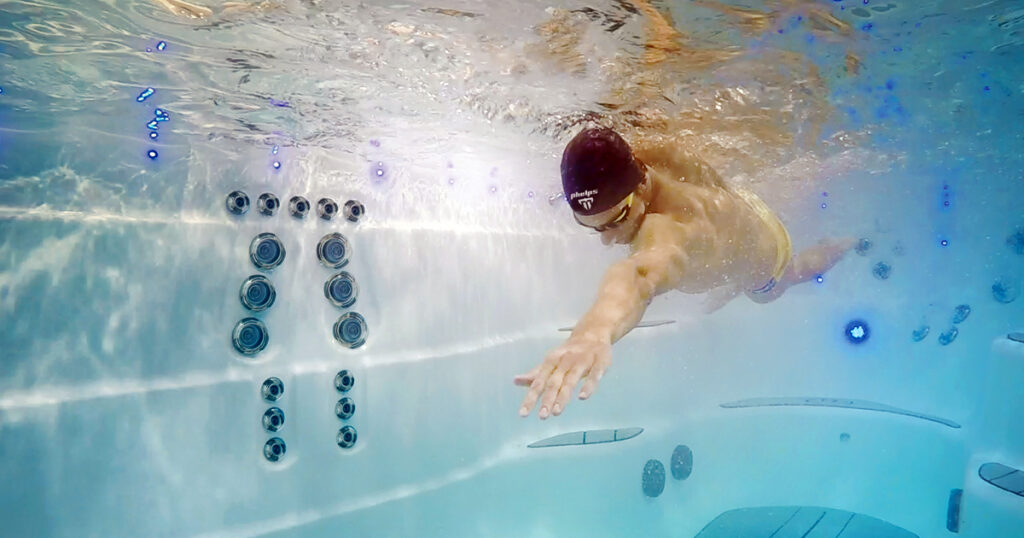 Music for sport
Exercise and sport requires time, dedication, and hard work. But what drives an athlete to show up for workout after workout and do his best?
Motivation to exercise and train can vary from person to person. It might be an outside goal, such as an athletic event. The athlete might want to achieve a personal best or master a new skill. In addition, coaches and peers can be a source of motivation.
However, even with these sources of encouragement, you might need a little more motivation.
In study after study, music has been shown to bolster enjoyment and performance during a workout. When you listen to music that you consider to be motivating, you can work harder and maintain the effort longer.
A 2006 study, for example, found that people who listened to up tempo music while on the treadmill would increase the speed and go farther. These participants also reported being less tired than those who didn't listen to music.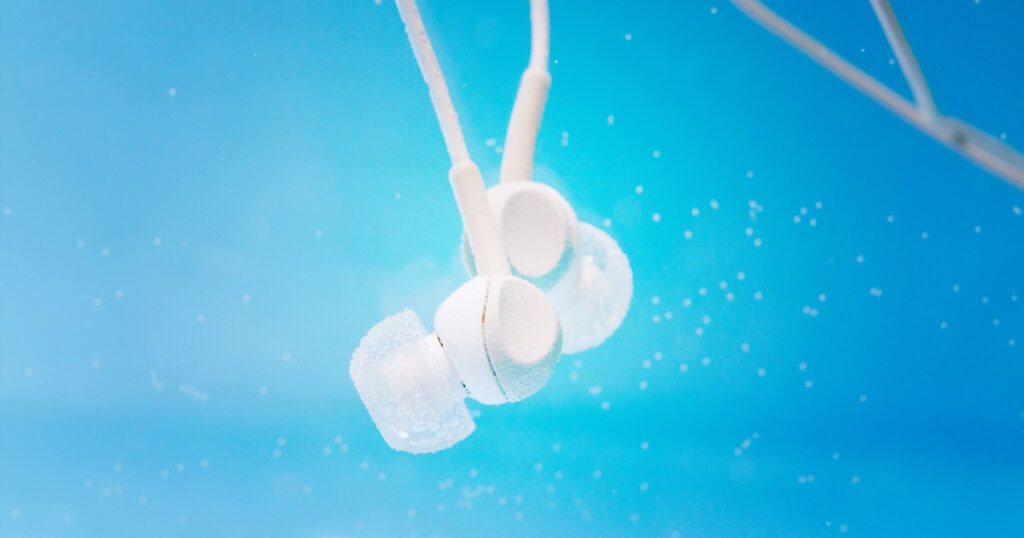 Listening to music while swimming
The 2006 study about the effects of music tempo on exercise also found that the volume affected performance.
But in the water, especially when swimming, it can be challenging to hear the music — no matter how loud it is turned up.
Swimmers, though, can still use music as motivation during their sessions.
In fact, soundwaves can travel through water more easily than in air. How? Water molecules are denser, "allowing sound to travel approximately four times faster than through air."
For Michael Phelps Signature Swim Spas, swimmers have two options for streaming their favorite playlists — portable underwater speakers and underwater headphones. However, the latter will likely provide the best sound quality.
The most popular underwater headphones, including FINIS and Aftershokz, use bone conduction technology. The player sits on your jawline, transmitting the to your inner ear and offering clear sound.
Designed so you can stay motivated while swimming, many people report that the sound is better underwater than on land.
One thing to keep in mind with underwater headphones is that you cannot stream music directly for your phone or other device. The playlist (or audio book … or podcast) must be downloaded to the player before you swim.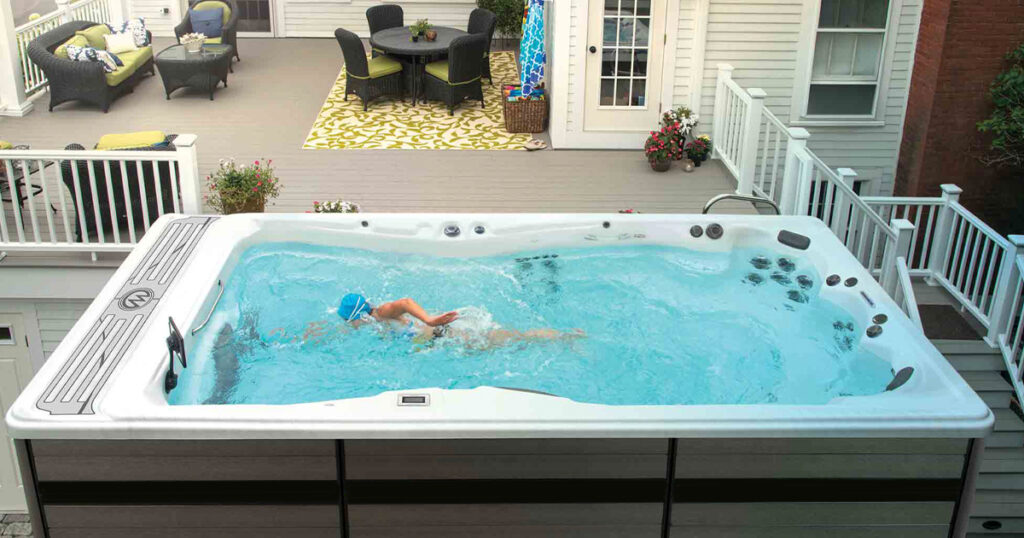 Motivating playlists for swimmers
A Michael Phelps Signature Swim Spa by Master Spas offers space for swimming, exercise, recovery, and relaxation.
But a swim isn't always just a swim. You might be doing hard intervals to work on speed. Another session might be devoted to recovery, with the pace slower and the effort easy.
Pro tip: Michael Phelps swim spas have speed settings from zero to 100, with a top end pace of sub-60 seconds for 100 meters. Using the touchscreen panel, you can find the best pace for what's on your plan.
Depending on the workout, you might want a different playlist. A high tempo, energetic playlist will keep you motivated during your hard swims. A chill playlist can help you keep the pace in check on recovery efforts.
And a relaxing playlist is one we all need. Right? Right!
Uptempo playlist for fast swimming
From classic pump-up hits (we're looking at you "Eye of the Tiger") to alternative favorites, this playlist is perfect to listen to while swimming or completing a tough workout. You will love listening to this music while swimming.
Chill playlist for recovery swims
Your swim might feel like 10,000 hours without this playlist that includes hits from Dan + Shay, Ed Sheeran, and Taylor Swift.
Relaxing playlist for anytime
"How do you sleep?" It's not just a song (although it makes it on this ultimate relaxation playlist). You'll be answering that you sleep better after turning up the temp and hanging out in the hot tub seats of your Michael Phelps swim spa. Other artists featured on this relaxing playlist include Adele, Sade, and Coldplay.
Backyard motivation
What will motivate you to keep swimming? A Michael Phelps Signature Swim Spa makes it convenient to swim so you can focus your energy on your workouts. You can click here to learn more about swimming in a Michael Phelps Signature Swim Spa. Or, contact your local Master Spas retailer to learn more about spa ownership. Wondering how much a Michael Phelps spa costs? You can request a quote here.