With the sun on your face, your toes dipping in the water, time can seem to stop as you relax on a pool float. But the afternoons finding joy in one of summer's favorite pastimes — a backyard pool — are short lived, especially if you live in the Northeast. Summer seems to arrive fashionably late, and fall and winter temperatures sneak up too quickly. The pool season is cut all too short. However, one New Hampshire family found a way to enjoy a backyard pool, season after season.
New Hampshire is known for its beautiful vistas, extensive granite formations, and maple syrup. What better way to enjoy the landscape than from an all-season pool?! But, an all-season pool in a state known for its beautiful fall color might seem like a myth.
It's not, though.
A Michael Phelps Signature Swim Spa is designed to be used year-round. Installed adjacent to an existing deck on a platform, the New Hampshire homeowners were able to swim, exercise, hang out, and simply take advantage of having a backyard water feature.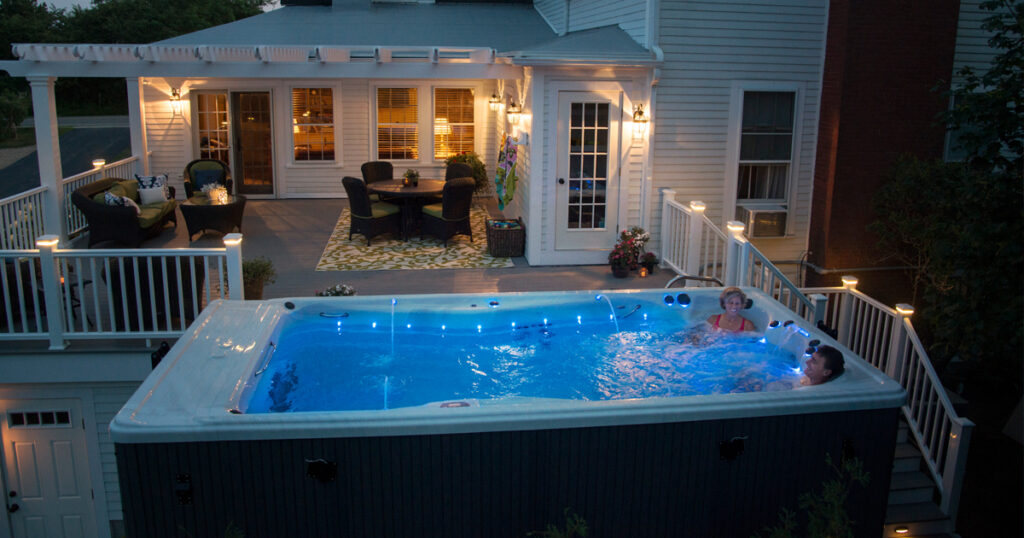 New Hampshire backyard inspiration
In-ground swimming pool? Michael Phelps swim spa? Master Spas hot tub? When you are planning to add a water feature to your backyard, you should first ask yourself, "How do I want to use this space?"
From exercise to relaxation to entertaining family, you want to think about the different uses for your backyard. The homeowners wanted a place where they could enjoy time together with family, including children and grandchildren.
But one of the challenges the homeowners faced was the house was built into a hill. There was a deck off the living space but, from the outside, it looked like a second-story structure. The extreme slope of the property also meant that an in-ground swimming pool would not be an option.
Pergola over deck
A pergola is a way to enjoy a summer afternoon on the deck without being overwhelmed by the heat of the sun. In the winter, it can provide some protection from the elements so you can make your deck an all-season space.
When it comes to backyard design, a pergola draws the eye to the space and creates a destination.
In this backyard, the pergola extends over part of the deck. It offers protection over the outdoor dining space as well as a seating area. The design of the structure perfectly complements the New England home.
Outdoor seating
The options for outdoor furniture are no longer limited to metal chairs or webbed nylon lounges. From mid century modern pieces to sleek modern styling, there are patio furniture pieces that reflect your style. The options and range in prices can make it challenging to choose the perfect furniture for your deck.
The homeowners went for classic comfort, choosing pieces that had a wicker-inspired design and cozy cushions. The dining chairs feature high backs, and the accent chairs are roomy enough to curl up with a book. Strategically placed tables offer a solid surface for resting a cool drink in the summer or a hot cider in the winter
Michael Phelps swim spa
A Michael Phelps Signature Swim Spa adds more than just water to the space. It creates a destination in your backyard, drawing people out of the house and into the water.
The swim spa was installed on a platform to make it feel like it was a part of the deck. Children can splash and play as the adults supervise from a seat on the deck.
The MP Force Deep is a 17-foot swim spa that combines the benefits of a swim spa with a smaller footprint. Ideal for swimming and hydrotherapy, it has 39 massaging spa jets and a therapy cove.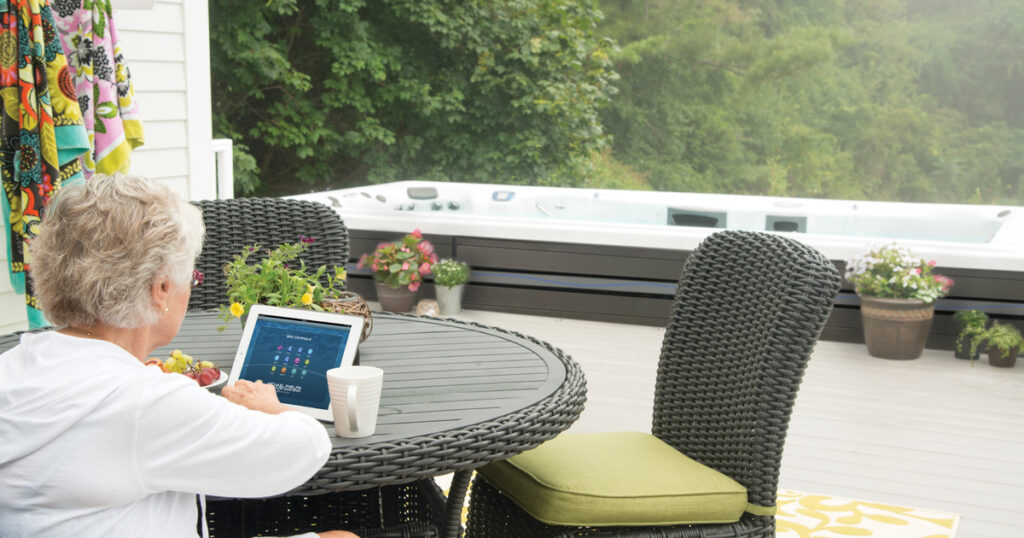 Clever storage
Traditional storage options, though, can take up valuable space on the deck. The homeowners decided to keep things simple and use baskets. Not only do the baskets complement the wicker look of the furniture, they are perfect for storing pool toys. Hooks were also added to the side of the house so towels can be hung.
Landscaping
The layout of the home and extreme slope of the yard don't allow for traditional flower beds. However, the homeowners found ways to add color and texture to their outdoor living space. Mature trees offer privacy and shade while the family enjoys the swim spa. There are also planters in a variety of sizes placed around the deck. Annuals can be changed throughout the season so that the colors are always vibrant.
Need more backyard ideas? Download our Backyard Planning Guide and get started on your backyard makeover.
Your best backyard awaits
Are you ready to transform your outdoor living space? Having a Michael Phelps Signature Swim Spa at home allows you to get away without getting away. You can swim, exercise, relax, and hangout in the convenience of your backyard. You can click here to get more about the benefits of exercising in a Michael Phelps Signature Swim Spa. Or, contact your local Master Spas retailer to learn more about swim spa ownership. Wondering how much a Michael Phelps swim spa costs? You can request a quote here.