A Master Spas swim spa offers endless enjoyment, from summer nights splashing around to the satisfaction of getting in an early morning swim. You can relax in the comfort of your backyard or host family and friends on the weekends. However, there's one thing that you absolutely need to enjoy your spa — a safe environment.
Owning a swim spa comes with the responsibility of water safety. Master Spas swim spas have many safety features built-in. However, owners can take additional steps to ensure a safe experience.
From balancing chemicals to securing the cover, these water safety tips will help you create a safe space.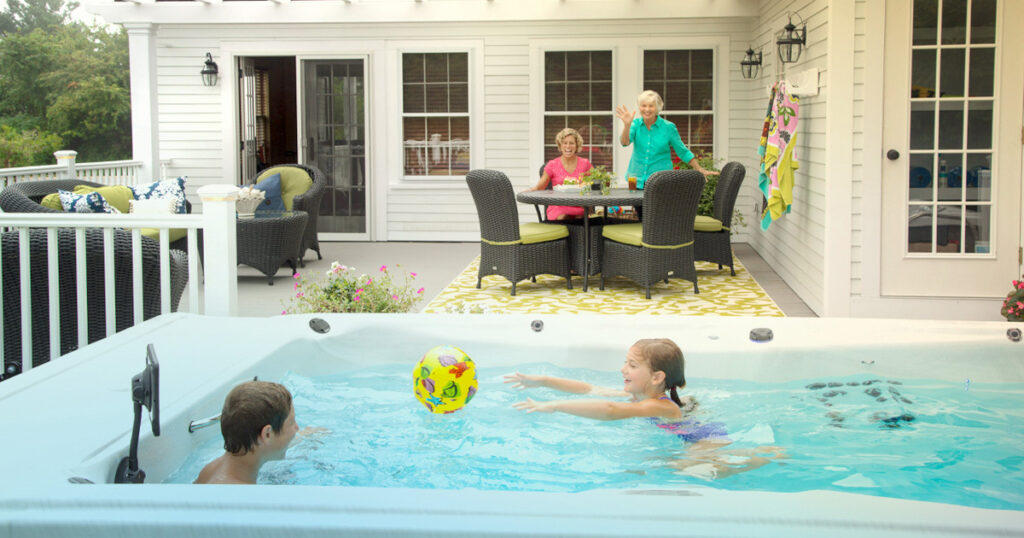 Swim spa safety rules
Swim spa safety does not mean taking the fun away. When you make safety a priority, you get peace of mind that the memories you make will be good.
But what are the must-follow safety rules for swim spa owners?
These guidelines will help you prioritize the health and happiness for everyone who uses the spa.
Safe entry and exit
A swim spa can be 60 inches tall, and you will need to be able to get in and out of the spa. Unless you choose an in-ground installation, you will need a set of spa steps. Steps specifically designed for Master Spas swim spas will ensure that people can enter and exit the water safely. Swim spa steps are designed to be non-slip, and many have handrail to help with balance.
There's more to consider, though, than just spa steps. Water is sure to splash out of the spa as you swim and play. You want to make sure that someone will not slip on the deck or patio. Brushed concrete will have traction. However, you can also add a non-slip rug or mat near the steps to enhance the safety factor.
Safe play
The swim area of a Master Spas swim spa is spacious but not intimidating. Many children who might have a fear of the water can build confidence and have fun playing in the water. However, it is not deep enough for anyone to safely dive. Remind your children and any guests that the swim spa is not designed for diving, jumping, or sliding.
Give your deck (or patio) the all-clear
Do you want the all-clear to have fun around the swim spa? An important safety tip is to make sure that the area around the spa is clear of any tripping hazards and other obstacles.
You also want to make sure that your spa chemicals are stored properly and out of the way. Master Spas recommends that any chemicals and other spa supplies should be kept in a cool, dry location that has good ventilation.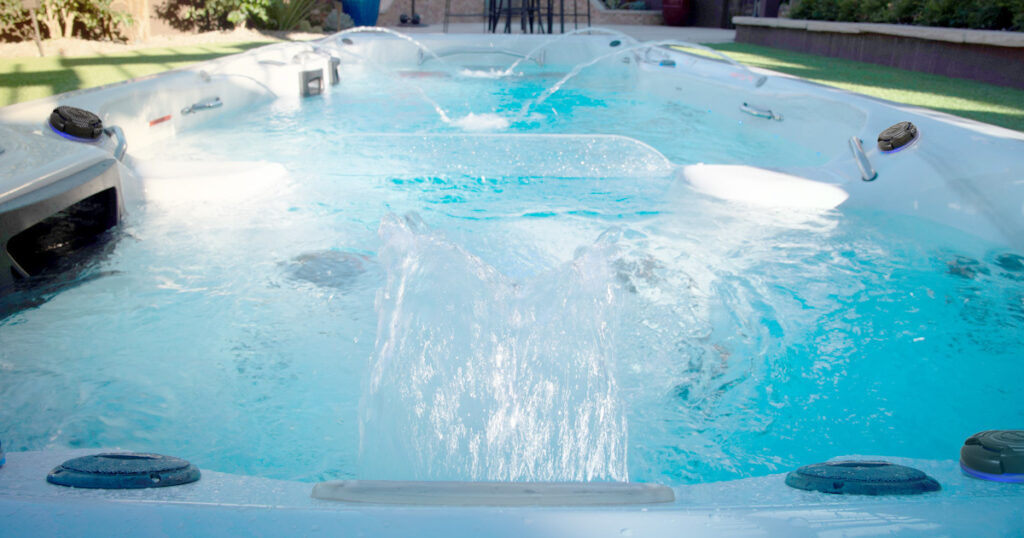 Clean, clear water
Spa safety guidelines go beyond how you use the swim-in-place pool. You also want to focus on what's in the spa, specifically the water.
When it comes to swim spa safety, balanced (and treated) water is critical. Spa chemicals help kill algae, bacteria, and other organics. When you don't add chemicals, the water can become unsafe to use.
It's good practice to do a three-step check of the water before getting in — look, smell test.
First, you want to look to make sure that the water is clear. Cloudy water can indicate the you need to adjust chemical levels. Alternately, you might need to rinse or clean the filters.
Second, you want to make sure that the water does not have a chemical odor. Spa water should smell fresh and clean. If the water smells like chlorine, you might need to add a shock treatment.
Lastly, testing the water is the best way to make sure that all chemicals are in the proper range. Add any necessary products, starting with alkalinity, being mindful to follow the manufacturer's directions.
Swim spa cover … secured!
Your cover might be the most important swim spa accessory. Not only does it lock in heat and help reduce energy costs, it prevents evaporation and makes it easier to keep your water clean. The swim spa cover is also an important safety feature.
Master Spas swim spa covers have latches that lock. The cover will prevent people, especially children, from getting in the spa without proper supervision.
Stay hydrated
We all know that drinking water and staying hydrated is important. However, when you are hanging out in the swim spa, you might forget to drink up. Even if your water is set to a lower temperature, say 85 degrees, you can still sweat.
Be sure to have cool, refreshing beverages on hand. But make sure you use plastic cups or water bottles! A broken glass, while an accident, could mean big trouble. It's hard to spot in the water, and everyone would have to clear out while you drained the spa.
Talk about safety
A Master Spas swim spa is exciting. However, it's important to make sure that everyone understands that water safety is important. Be sure to talk about how to safely use the swim spa, whether it's with your own family or guests.
Basic safety rules include:
Children should not use the spa when an adult is not present.
No pushing and shoving in or around the spa
No diving, sliding, or jumping
No glass in or around the swim spa
By following these water safety guidelines, you're helping to protect those you love most.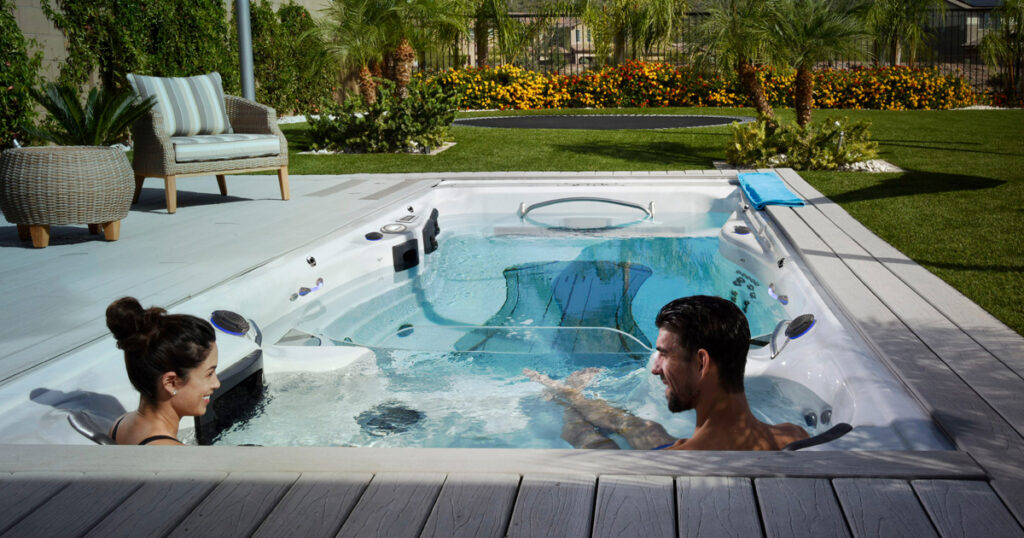 How to buy a swim spa
Are you ready to enjoy the benefits of swimming, recreation, and relaxation year-round? Having a Michael Phelps Signature Swim Spa at home allows you to enjoy the benefits of a pool without the maintenance. You can click here to get more backyard ideas and picture what a Michael Phelps Signature Swim Spa would look like in your space. Or, contact your local Master Spas retailer to learn more about swim spa ownership. Wondering how much a Michael Phelps swim spa costs? You can request a quote here.