If you're anything like me, you put a lot of pressure on yourself to perform well. When you have a race mindset, every training second counts – but so should your recovery time! Often, we let the stress of races and life in general build up in our bodies, which can wreak havoc on our necks and shoulders. For some of us, even just thinking about things that are stressing us out can cause our shoulders to tense up! Most of the time, we aren't even aware of how much tension is building until the pain makes it almost unbearable to move certain muscles.
Training hard for a triathlon is essential, but adequate recovery from training reduces the risk of injury and leads to greater success.
Did you know that getting into water immediately following a difficult training session can significantly reduce lactic acid buildup and improve recovery speed? Muscle soreness is an inevitable aspect of training, but proper recovery can help provide relief for those achy muscles! Performing active recovery through gentle, low-impact swimming, running and stretching helps to improve blood flow to muscles, which promotes healing and improves flexibility.
Get the Relief You Deserve
Nearly all of the Michael Phelps Signature Swim Spas by Master Spas feature an incredible therapeutic seat with out-of-water neck and shoulder jets that will give you an amazing, stress-relieving massage everyday – right at your own home!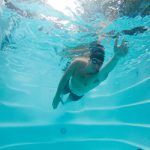 With these swim spas, you can create a custom massage in order to pinpoint areas that need some extra TLC. The jets in the neck and shoulder seat are completely interchangeable – providing you with a personalized stress-relieving massage perfect for targeting troubled areas. The ergonomic design of the reverse-molded panel provides a restorative massage for all athletes and non-athletes alike.
In a Michael Phelps Signature Swim Spa by Master Spas, you can train hard and know that customized recovery is just a few feet away at the other end of your swim spa – any time of day, no appointment needed, year-round in your own backyard.
Contributions to this article made by Ironman Certified Coaches, Mari Cuticelli and Ben Gilliam.