Joint pain can make it difficult to move through life. You feel stiff and move slowly when you get up in the morning. Your knees might hurt when you climb a flight of stairs. It might hurt to do things that you love, whether it's walking in the park or gardening. And when it is uncomfortable to do daily activities, it can feel disheartening to start an exercise routine.
However, regular exercise can improve your joint pain. Other benefits of exercise for stiffness include improved range of motion and flexibility.
You don't have to hit start on the treadmill or hop on a bike to realize the benefits of exercise for joint pain. Experts agree that water fitness can help improve symptoms and combat fatigue.
Exercising in a warm water pool is ideal if you have arthritis or a similar condition. The temperature of the water relaxes the muscles while the buoyancy of the water supports the joints.
A Michael Phelps Signature Swim Spa makes it convenient and comfortable to take advantage of the benefits of water fitness for joint pain. A swim spa is an all-season pool alternative that allows you to exercise safely in the comfort of your backyard. The spas feature an endless current of water that allows you to swim in place, water walk, jog, and enjoy having a water feature in your backyard.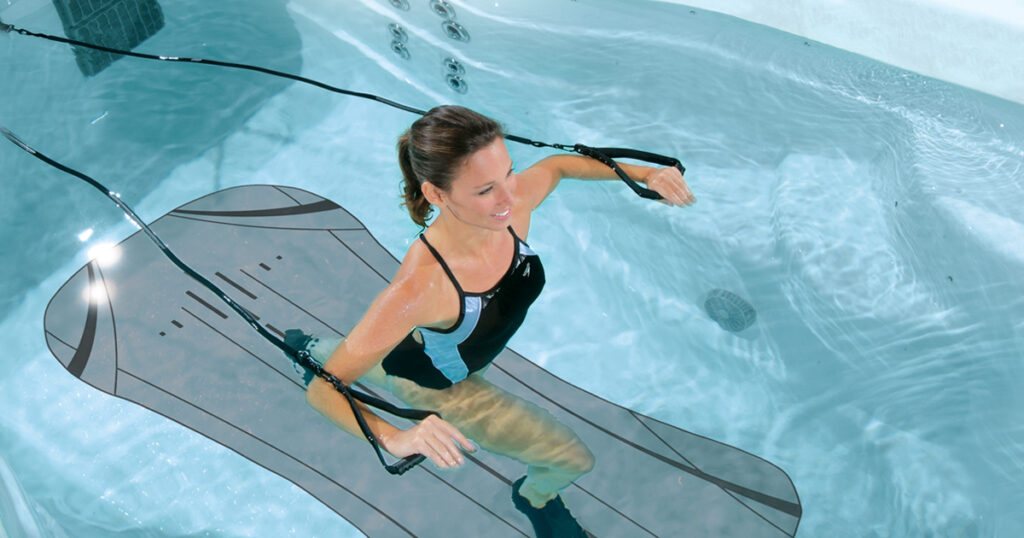 Benefits of aqua fitness for joint pain
Research shows that people who exercise are healthier and happy. The same is true for people who live with joint pain and stiffness. Yet, arthritis and similar conditions are among the reasons that people do not exercise.
But inactivity can cause weak muscles, poor balance, and decreased pain tolerance. When you don't exercise or move regularly, the joint stiffness can worsen and increase your risk of other chronic conditions such as Type II diabetes and osteoporosis.
That's why experts often recommend water exercise for pain and stiffness. The buoyancy and resistance of water can help you realize the benefits of physical activity without the stress on your joints.
Michael Phelps swim spas are 60 inches tall, with a water depth of about 51 inches. The added buoyancy can relieve about 90 percent of your body weight.
Among the benefits of regular exercise for people with arthritis and similar conditions:
Build strength and balance
Increase energy levels
Improve sleep quality
Weight control
Improve quality of life
But exercising in warm water can increase blood flow, relax muscles, and ease stress and anxiety. The buoyancy helps to relieve stress on the joints, reducing a person's weight by up to 90 percent. The SoftTread flooring system, which is standard on Michael Phelps Signature Swim Spas, provides traction and comfort. The flooring can help you balance and stabilize as you move in the water.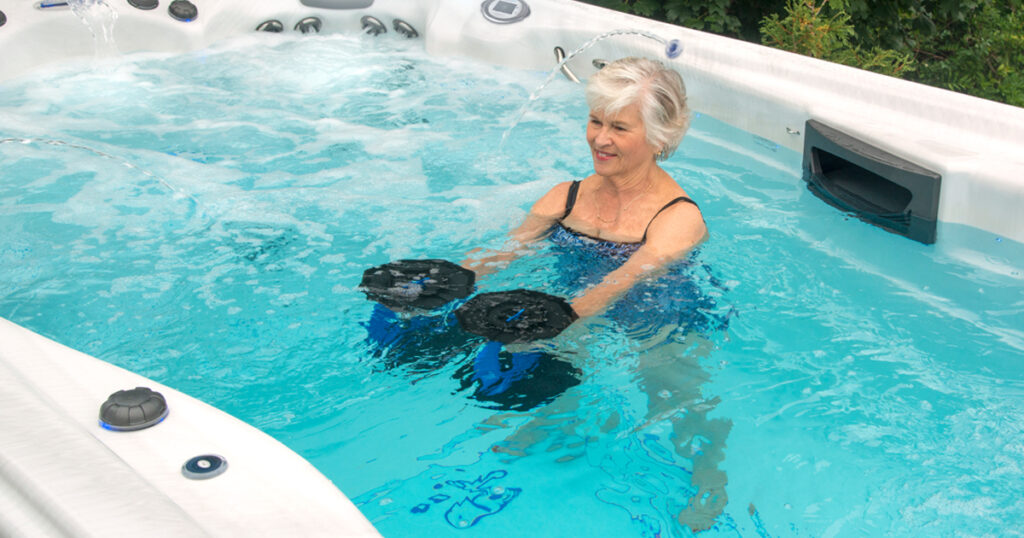 Beginner water fitness exercises
Nearly 1 in 4 adults in the United States are affected by joint pain and stiffness. According to a 2021 CDC report, about 58.5 million people have arthritis, gout, lupus or fibromyalgia. These conditions affect the joints and can make land-based exercise difficult.
But warm water exercise in a Michael Phelps Signature Swim Spa can take the pressure off.
If you are new to aqua aerobics, these tips and beginner exercises can help you get moving.

Water walking
Walking is one of the best exercises but you don't have to travel to the local park to log miles. Water walking is a low-impact exercise that's ideal for people with conditions like arthritis and gout. In a swim spa, you can turn on the Wave XP Pro system to a gentle setting and walk against the current.
It's important to keep a tall posture and keep your core engaged. As you walk against the current, keep a long stride and swing your arms.
Michael Phelps swim spas feature the SoftTread NonSlip Flooring System, which offers traction. You can walk with peace of mind and without a fear of slipping.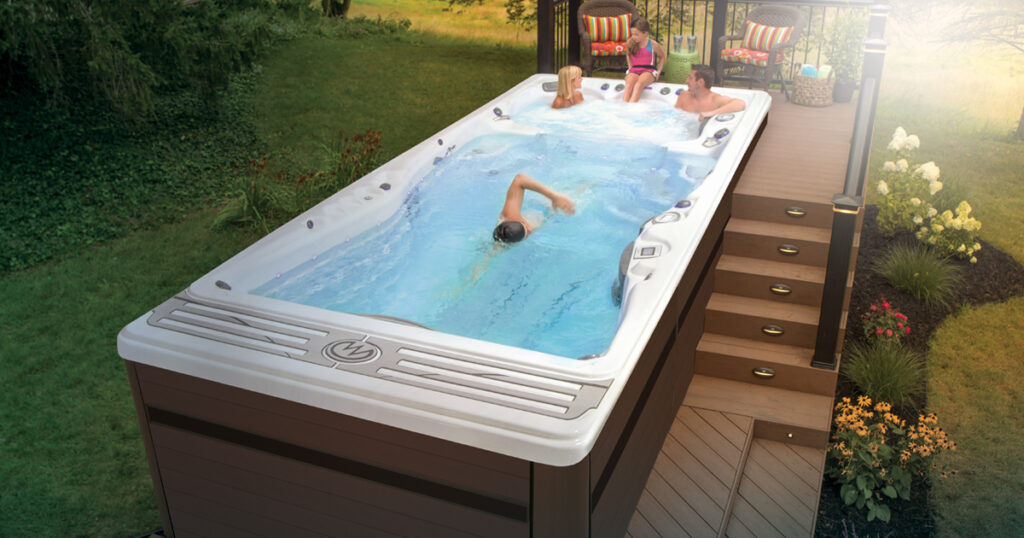 Lap swimming
Swimming is a popular low-impact exercise. Not only is it a way to work on your cardiovascular fitness, but it can strengthen and lengthen muscles. Stationary swimming in a swim spa is a great exercise for people with joint stiffness.
Find your The Wave XP Pro system can be easily adjusted so that you can find the best pace.
If you want to swim for fitness, keep in mind that the ideal temperature is below 90 degrees. When the water is too warm, it can cause you to overheat and become exhausted.
Work with a physical therapist
Many physical therapists find it beneficial to incorporate hydrotherapy and warm water exercise into programs. If you are new to exercise or recovering from joint replacement surgery, it might be beneficial to work with a physical therapist. The therapist can prescribe the best exercises for your condition and make sure that you feel confident performing them. It's also important to learn good form and how to balance workouts with joint pain.
Take advantage of resources
It can feel overwhelming to start an exercise program, especially if you are living with pain. However, there are resources available to help you get started with aqua aerobics.
Michael Phelps swim spas come with water exercise equipment, as well as the H2Xercise book. This resource shows you effective water exercises that can help you improve your balance, strength, and mobility. The book was written by aquatic exercise expert Dr. Rick McAvoy.
In addition, Master Spas has a library of videos that highlight the benefits of using a swim spa. Originally aired as a Facebook Live event, there are swim spa exercise demonstrations and programs available for viewers.
For more information about warm water exercise for joint pain, download the water exercise program for arthritis relief.
Water fitness guidelines
Ready to trade your gym shorts for a pair of swim trunks? Before you hop in the swim spa for a workout, it's important to familiarize yourself with water fitness guidelines.
According to the Arthritis Foundation, you should follow these rules when doing water aerobics for joint pain:
Begin and end with a warm-up and cool down, which involves gentle exercises
Slowly move the joints and try to go through the full range of motion, if possible
Stop if you experience pain during the movements
Check with your doctor before starting an exercise program, especially if you have had joint replacement surgery or severe joint damage
Do three to eight repetitions as tolerated
When you are starting a water exercise program, it's also important to remember to work your way up. You can start with 15 minutes of exercise (or less!), with the focus on just moving through the water. As you get stronger, you can transition to a more traditional water exercise program and increase the duration.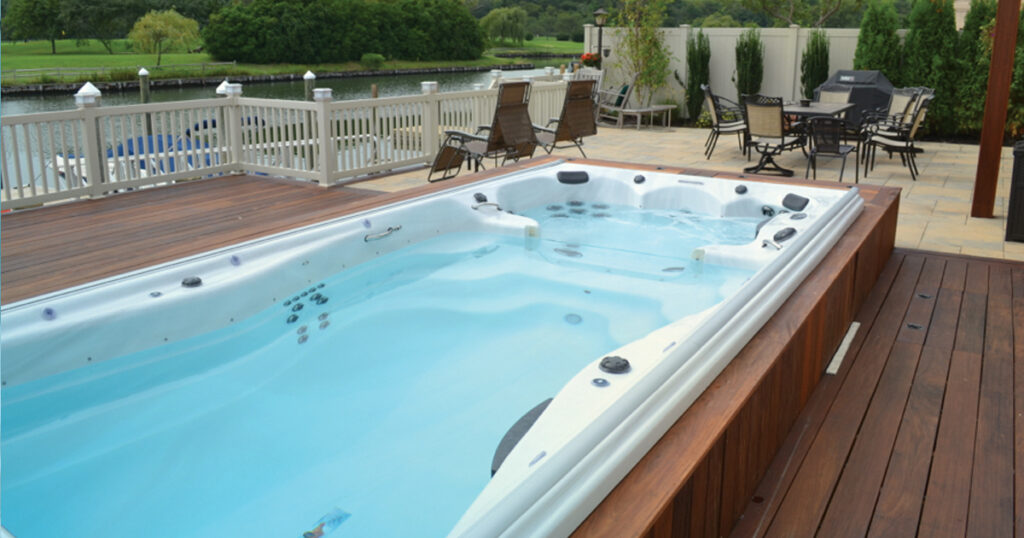 How to buy a swim spa
Are you ready to begin incorporating low-impact exercise that relieves pain and improves your quality of life? Having a Michael Phelps Signature Swim Spa at home makes it convenient and fun to incorporate water exercise into daily routine. You can click here to find out more about the benefits of water fitness and hydrotherapy. Or, contact your local Master Spas retailer to learn more about swim spa ownership. Wondering how much a Michael Phelps swim spa costs? You can request a quote here.