There's a chill in the air and a blanket of snow outside. As your friends and neighbors with in-ground pools retreat to the comfort of their home, you are looking out to your backyard. Waiting. Because you're anticipating something —a Michael Phelps Signature Swim Spa that's on order.
The good news is that your swim spa is finished and ready for delivery. However, you have some questions about the delivery. Like, can a Michael Phelps swim spa actually be installed in the winter?
The answer? Yes. There is one caveat, though. Your space needs to be prepared and ready for the swim spa.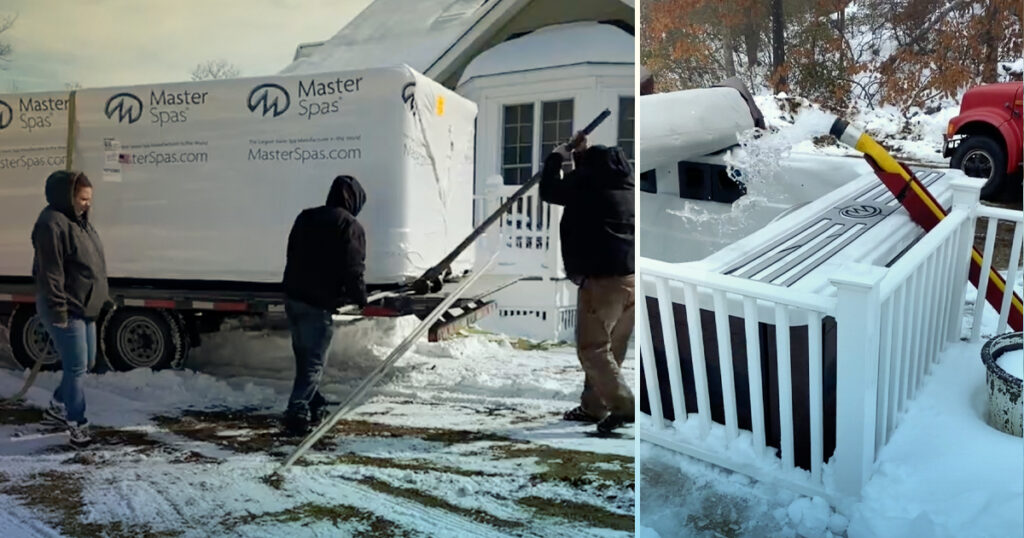 Preparing your backyard for a spa
What's more important than your swim spa? Choosing the best place to put your new spa.
The place to put a swim spa is one that will not only look good but be close to the house. The shorter the walk to the spa, the more likely you are to use it. In addition, the proximity to the house will affect the cost to run electrical to the spa.
The distance you have to travel to and from your swim spa is especially important to consider if you live in an area with snowy winters. You will need to clear a path when it snows and stay warm to and from the spa.
For site preparation, Master Spas recommends putting your swim spa on a reinforced concrete pad, preferably 6 inches thick. But your spa foundation needs to be poured and ready before you get the call from the retailer to schedule delivery.
Weather conditions, such as bitter cold temperatures or heavy snowfall, can make it near impossible to pour concrete. The contract or landscape designer might not be able to break ground for the pad. Or, the concrete might not be able to cure when it's that cold.
The good news is that you can have your site prepped and ready in the fall. Concrete gets stronger over time. Whether your swim spa is delivered in winter or early spring, your backyard will be ready.
Swim spa delivery day
Your Michael Phelps Signature Swim Spa can be delivered and installed in less than a day. Depending on your space, the delivery team might use a forklift or crane.
But no matter the install, there are a few things that you can do to make sure the process goes according to plan.
Follow the delivery path. Whether it's spring, summer, fall, or winter, the delivery route needs to be clear of any obstacles. Lawn furniture should be stowed or out of the way. In the winter, make sure to shovel any snow and make sure that walkways are salted. Gates should be working and not iced over.
In addition, if you anticipate that a fence panel will need to be removed, do that before the crew arrives.
Sweep the site. Your swim spa foundation needs to be clear and dry. You can use a push broom to sweep the concrete, even a dusting of snow.
Schedule your electrician. A certified electrician needs to connect your spa to the dedicated breaker, and it will need to be hooked up before filling the spa. Depending on the swim spa you ordered, you will need a 130-amp or 100-amp hook-up.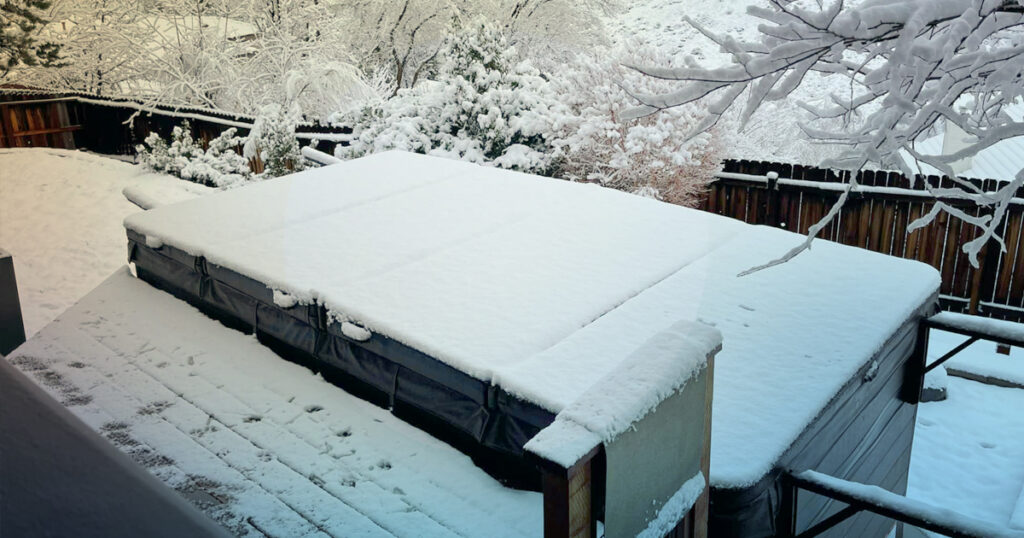 Filling a swim spa in winter
The air might be cold but in a day or two, the water in your swim spa will be perfect.
But, first, you need to get water in the spa.
You can fill your swim spa in the winter but keep in mind that it will take several hours, maybe more, depending on your water source. If you choose to fill from an outside spigot, be sure to check the hose and connection. You want to ensure that it's not frozen and there's a good flow of water.
If you are filling your swim spa with a hose, you will need to keep a watch on it to make sure there are no issues.
Availability by area might vary but a water truck is an option for filling your swim spa. The truck arrives and, using a large hose, it can fill your swim spa in less than 15 minutes.
No matter how you fill your swim spa, here a few basics to follow:
Check the fittings of your swim spa
If you are using a hose, attach a prefilter
Add a metal gone or sequestering agent after you fill
Master Spas' library of videos has easy-to-follow tutorials to make swim spa care easy.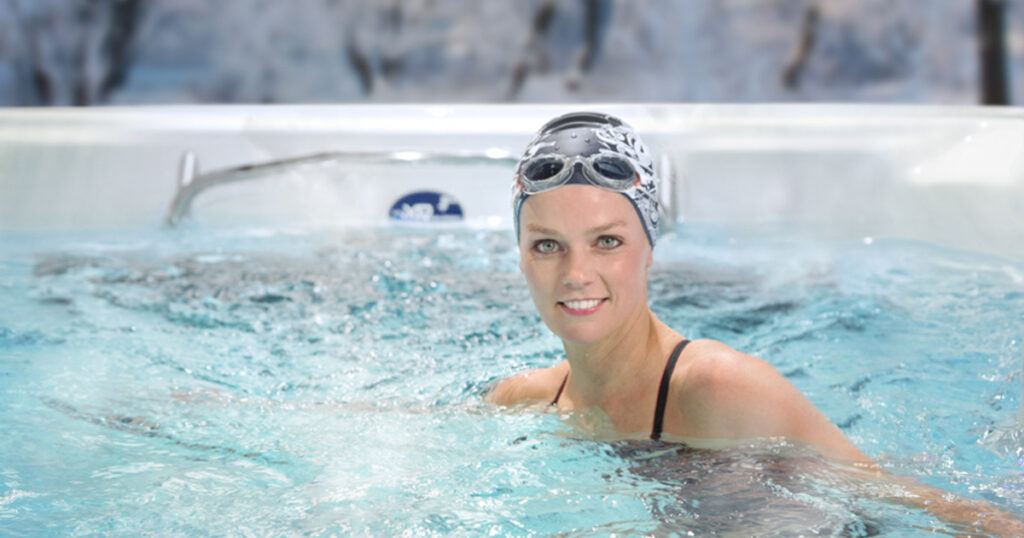 Maintaining the perfect temperature
The plumbing and interior cabinet of Michael Phelps swim spas feature full foam insulation. The design protects the components while the spa maintains your set temperature. A 5-inch foam cover helps lock in heat and keep snow out.
But what happens in the event of a storm or prolonged power outage? Some swim spa owners worry about the water freezing and damage to the spa.
However, your best course of action is to keep the cover on and secured, leaving it be.
Looking for another solution? You might find it under your desk or in your garage.
You can put a small ceramic heater in your swim spa — the cabinet, not the water — to prevent water from freezing in the plumbing. The heater can be powered by a small generator in the event of a power outage.
Don't have a space heater? You can use a drop light to generate heat. Using 100-watt incandescent light bulbs will keep your hot tub warm enough to avoid a freeze up.
If using a drop light, open the cabinet of the swim spa and put it near the plumbing.
All-season pool alternative
Are you ready to enjoy the benefits of swimming, recreation, and relaxation year-round? Having a Michael Phelps Signature Swim Spa at home makes it convenient and fun to incorporate water exercise into daily routine. You can click here to get more backyard ideas and picture what a Michael Phelps Signature Swim Spa would look like in your space. Or, contact your local Master Spas retailer to learn more about swim spa ownership. Wondering how much a Michael Phelps swim spa costs? You can request a quote here.