Are you looking for the must-have backyard accessory? Then look no farther than the slips at the marina. Sails have been rising in popularity as a way to provide shade in residential backyards, whether you live on the coast or in the Midwest.
Shade sails are a way to create a canopy without a building permit or contract. Homeowners are opting for sun sails, as they are sometimes called, instead of cumbersome umbrellas or expensive pergolas.
But more than that, they offer a stylish way to protect you from the sun's rays while spending time in your Michael Phelps Signature Swim Spa.
A shade sail can be suspended over the swim spa at your preferred height, adding protection and appeal to your backyard.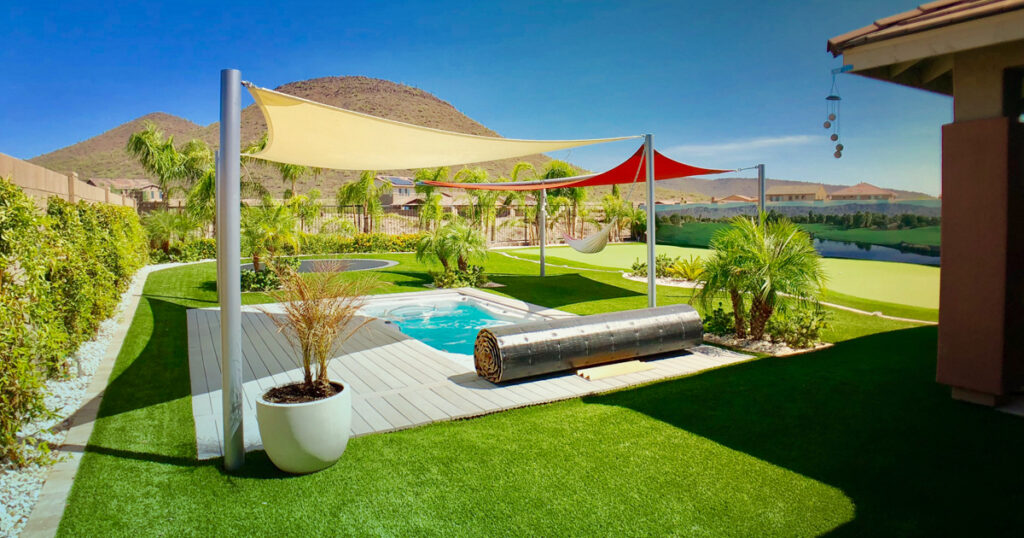 Are shade sails a good idea?
Do you want to have the coolest backyard on the block? If you do, you need to think beyond the landscaping features like a fire pit and an outdoor kitchen. After all, you won't be able to enjoy all that your outdoor living space if the sunny summer days are unrelenting.
It's important to include areas of shade so that you can beat the heat or cool off after a dip in your Michael Phelps Signature Swim Spa.
Mature trees, pergolas, and other structures can provide the shade you seek in your backyard. However, trees take time to grow and structures are often more than a weekend project.
Shade sails can be installed by most any homeowner on a pleasant afternoon. And that's one of the many reasons homeowners think shade sails are a good idea.
These sails can be installed almost anywhere you want shade in your backyard, as long as there is a place for the anchors.
Benefits of shade sails
UV ray protection. One of the greatest summer joys is basking in the summer sun. And while we all need a good dose of vitamin D, it's important to protect yourself from harmful UV rays. One of the reasons shade sails are a good idea is the UV protection that they offer. Many sails are made from UV-resistant material that makes it hard for the sun's rays to pass through.
Cooling power. One benefit of sun sails is their cooling power. The breathable fabric can lower the temperature between 10 and 20 degrees in a given area. Shade sails are able to cool areas of your backyard by enabling the hot air to rise while filtering sunlight.
Design feature. There are plenty of ways to add shade to your backyard. However, when you are investing in your space, you want it to be inviting. Shade sails are a way to add a design element to your outdoor living space. They are available in myriad colors and a variety of shapes, with the floating design adding a light, airy look.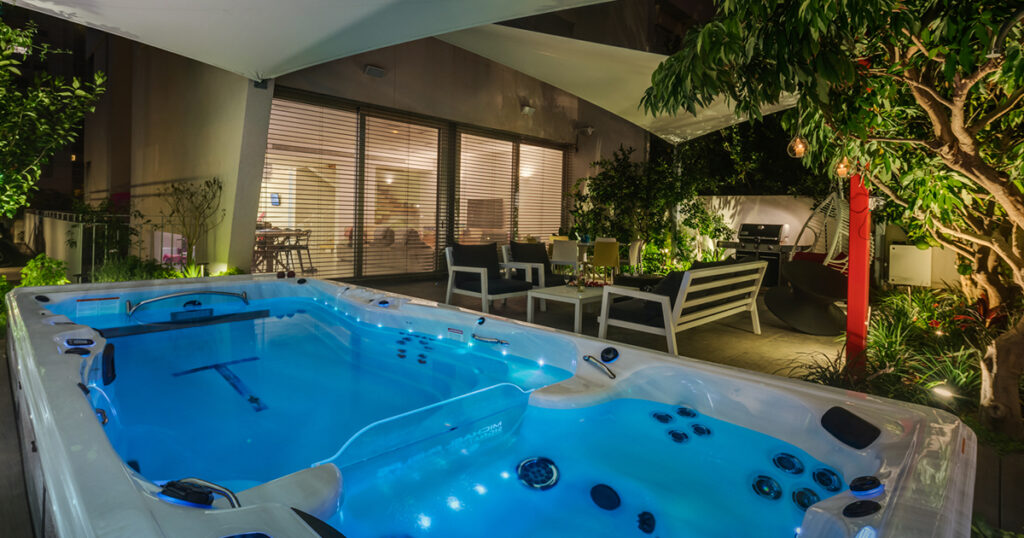 Shade sails for pools and swim spas
For Michael Phelps swim spa owners, the sails can also help you increase your comfort as you swim, exercise, and hang out in the water.
Temperature control. On hot summer days, it can help you manage the water temperature of your swim spa. Professional triathlete (and Master Spas brand ambassador!) Ben Hoffman installed shade sails over his 18-foot swim spa. The sails provide respite from the hot Arizona sun and help keep the water temperature comfortable.
Water quality. For spa owners, a surprising benefit might be making it easier to keep your water clean. The sails will help keep out leaves, twigs, and other natural elements. Not only do these natural elements feel like a nuisance but they can force your sanitizer to work harder.
Sun protection. Body lotions, including sunscreen, can make your spa water cloudy. But how do you protect your skin when you're spending the afternoon in the Michael Phelps spa? Sun sails have a high UV rating and will protect your skin as you soak.
Privacy. The most popular sail installation is the canopy style. However, sails can be installed vertically to create a privacy wall. Acting like a screen screen, they will filter the light and block the neighbors' view.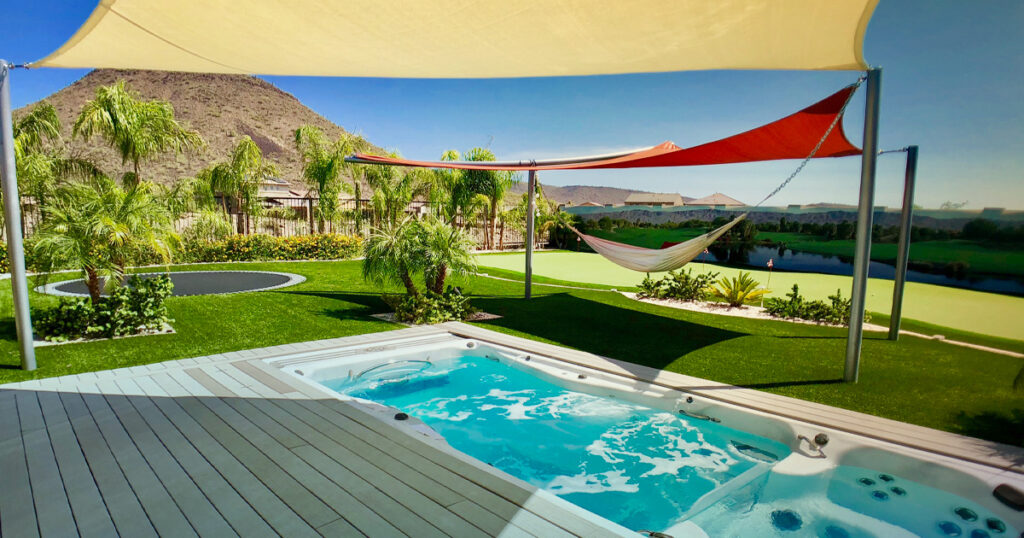 How to choose sun sail
Shade sails come in a variety of sizes to fit most any backyard, from 8-foot by 10-foot to 20-foot by 16-foot.
While there are a lot of options, you do not need to feel overwhelmed. This checklist will help you choose the best shade sail for your outdoor living space.
What shape do you like? The sails come in three shapes — rectangle, square, and triangle. The best shape will depend on the layout of your backyard and design preferences.
Do you want more than one? While many designs feature just one sail, a bold look is to mount several sails at varying heights, creating an overlapping effect.
How big is your backyard? Measure your space and decide how much shade you want.
Where do you want shade? After you decide where to put the sail, choose where the anchors will be installed. Do you have trees or will you need posts?
What is the UV rating? The protection or rating might vary from manufacturer to manufacturer. Consider your climate and how much shade you need.
Sail into spa ownership
Are you ready to be able to swim on hot summer days and soak on a fall afternoon? A Michael Phelps Signature Swim Spa is an all-season pool alternative that you can enjoy no matter the temperature. You can click here to learn about how you create a backyard oasis with a Michael Phelps Signature Swim Spa. Or, contact your local Master Spas retailer to learn more about swim spa ownership. Wondering how much a Michael Phelps swim spa costs? You can request a quote here.