Your doctor wants you to exercise, advising that moving your body will help you regain mobility. There's just one problem, though. It hurts. An injury, surgery, or chronic condition can change the way you move. The things that you once did without thinking twice — walking, climbing steps — are now painful. Some activities of daily life might even feel impossible. While you know exercise and physical therapy can help, you worry that those activities might just add to your pain.
You might be surprised to find out that you can increase your mobility without discomfort. Working in a heated aquatic therapy pool can help you decrease your pain and regain your sense of self.
Aquatic therapy is a clinical approach to working out in the water, often under the instruction of a physical therapist. These sessions can improve your strength and mobility while allowing you to recover with less pain.
But what do you do if you want to exercise in the water outside your aquatic therapy sessions? Facility hours and limitations might make it challenging to get in a warm water pool and focus on your recovery.
An at-home aquatic therapy pool, like a Michael Phelps Signature Swim Spa, can help you exercise pain-free, from the comfort and privacy of your backyard.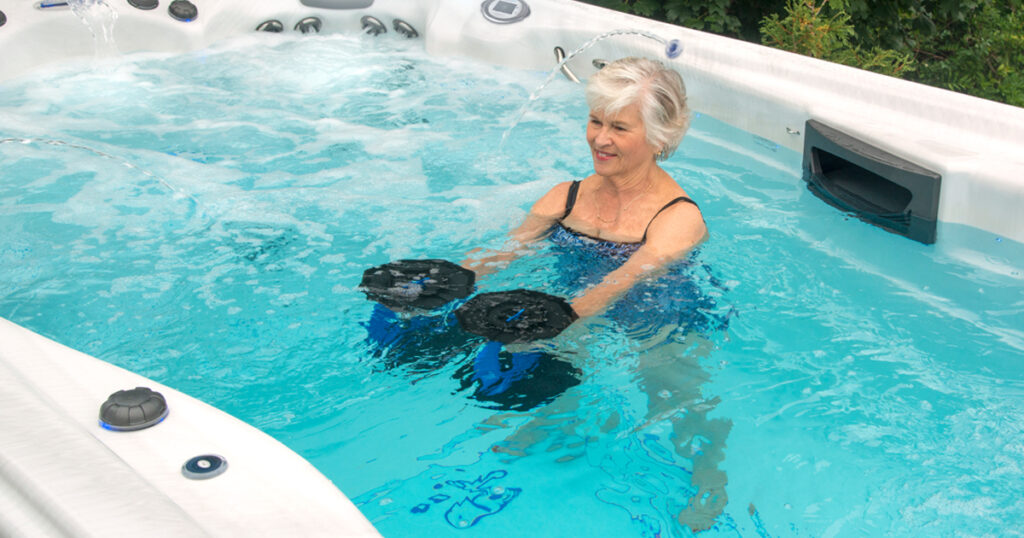 How aquatic therapy works
Two things often come to mind when you think about water exercise — swimming and the aqua aerobics class at your local pool. Both swimming and water classes take advantage of water's natural properties to help you get in a great workout. However, aquatic therapy is different — even if some of the exercises look familiar.
An aquatic therapy program is tailored by a certified therapist to help you meet specific goals. The movements in your program will target strength and balance in specific areas, while moving at your pace.
How does this differ from a traditional physical therapy program? Water — specifically warm water — offers the support you need to improve balance, strength, and range of motion.
Buoyancy, one of the natural properties of water, eases the stress on joints, relieving the pressure of gravity. This difference in gravity "reduces" your weight by up to 90 percent, depending on the depth. The resistance of water, which is hundreds times more than air, helps you build strength. Any movement in a pool is more effective than it would be on land because you are working against the water.
The temperature of the water is also important. Aqua therapy pools are typically heated to between 92 and 94 degrees. The warmer temperature helps improve blood flow to your muscles, easing stiffness and discomfort.
How can you find aquatic therapy near you? Some hospitals, sports medicine clinics and outpatient rehabilitation clinics might have warm water pools ideal for therapy. However, your access to these facilities might be limited to a set number of sessions based on your insurance and recovery process.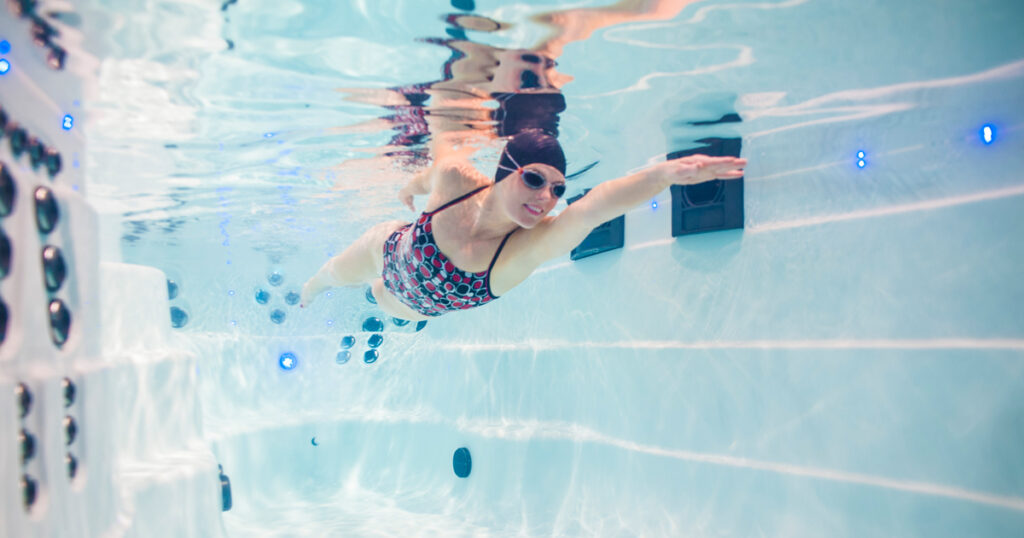 Benefits of water exercise and therapy
Land-based exercise can be intimidating when you are living with pain or can't move the way you want. However, when you get in the water, you might be surprised that something is missing — discomfort.
Aquatic therapy has been shown to increase program adherence for that reason: Participants aren't in pain.
But what are the benefits of aquatic therapy?
Better range of motion. By taking gravity out of the equation (to an extent), you will be able to better move your joints. The warm water will relax your muscles, making it easier to move, too. As you are able to improve how you move in the water, you will experience better flexibility throughout the rest of your day.
Reduced pain. Immersion in warm water increases an individual's comfort, by increasing blood supply to sore muscles and promoting relaxation. Weight relief to weakened body structures also creates additional comfort.
More balance. Water is three-dimensional, providing uniform pressure on the body. What does that mean? You get resistance in every direction that you move, allowing you to exercise without the fear of falling. You can focus on exercises that target muscular imbalances, which can lead to unsteady feet. But it's not just improving balance in the water. Strengthening these muscles, ligaments, and tendons can help you reduce your fall risk.
In addition, people who have decreased tone due to a neurological injury might notice a change. The increased water temperature, along with guidance from a therapist, can help with spasticity and rigidity.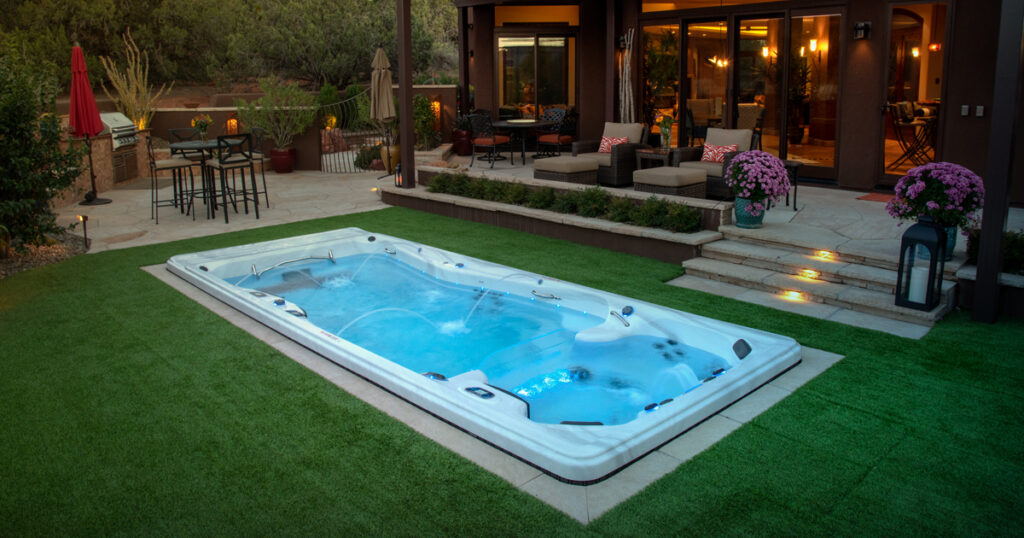 Home therapy pools
The relief seems almost instantaneous. You step into the warm water pool, and the pain seems to lift. Those aquatic therapy sessions? You begin to looking forward to them. The only thing is that you just wish that you could find that same relief at home. 
Home therapy pools are a way that you can focus on your recovery and overall well-being without booking time at a local facility. Those who face chronic pain can benefit from using their home therapy pools consistently.
But home therapy pools are different from in-ground swimming pools.
A key element to the therapy is the temperature of the water, and it's important to choose a physical therapy pool that's heated. In addition, you want a pool that you can use year-round rather than just in the warmer months.
A Michael Phelps Signature Swim Spa brings home the benefits of aquatic therapy, offering extensive options for swimming and exercise. In addition, you can enjoy the benefits of hot tub therapy. Every Michael Phelps swim spa has hot tub seats, massage jets, and other relaxing features like LED lighting.
Swim spa therapy
There are many unique advantages to a Michael Phelps swim spa and using it as a home therapy pool. Not only does the water offer a low-impact environment for exercise, homeowners have the opportunity to adjust the water temperature.
Michael Phelps swim spas have a spacious swim area for swimming, yes, but also water walking, running, and aqua aerobics. There's a propulsion system that generates a current of water, adding resistance to the workout.
Keep in mind that you should start at a low resistance, paying attention to proper form and good posture. As you progress through your therapy program, you can increase the water flow to provide additional resistance.
Among the therapy exercises that you can do in the swim spa are slow marching, kicks, and backward walking. These might be difficult at first, especially if you struggle with balance.
However, one of the advantages of a swim spa as a home therapy pool is the size. Michael Phelps swim spas are eight feet wide. You can hold on to the side of the swim spa as you exercise, helping you stay steady and build confidence.
SoftTread flooring
Do you have a fear of falling while exercising? When you are using a home therapy pool, you want to be able to get in and out safely.
Michael Phelps swim spas feature SoftTread flooring, which is applied to each entry and exit step as well as the large floor area. This flooring system provides safety and comfort, making aquatic therapy exercises easier and more comfortable.
Hydrotherapy
When you are healing after a surgery or managing a chronic condition, there's more to your recovery than just exercise. Stretching and massage are other elements that aid in your recovery.
Michael Phelps swim spas are just that — spas. There are therapy seats, with a variety of jet arrangements, so the entire family can benefit from hydrotherapy. Adjust the pressure of the water from the jets so you can get the massage that you need.
Some people like to use the jets after a workout while others prefer to enjoy them later in the day.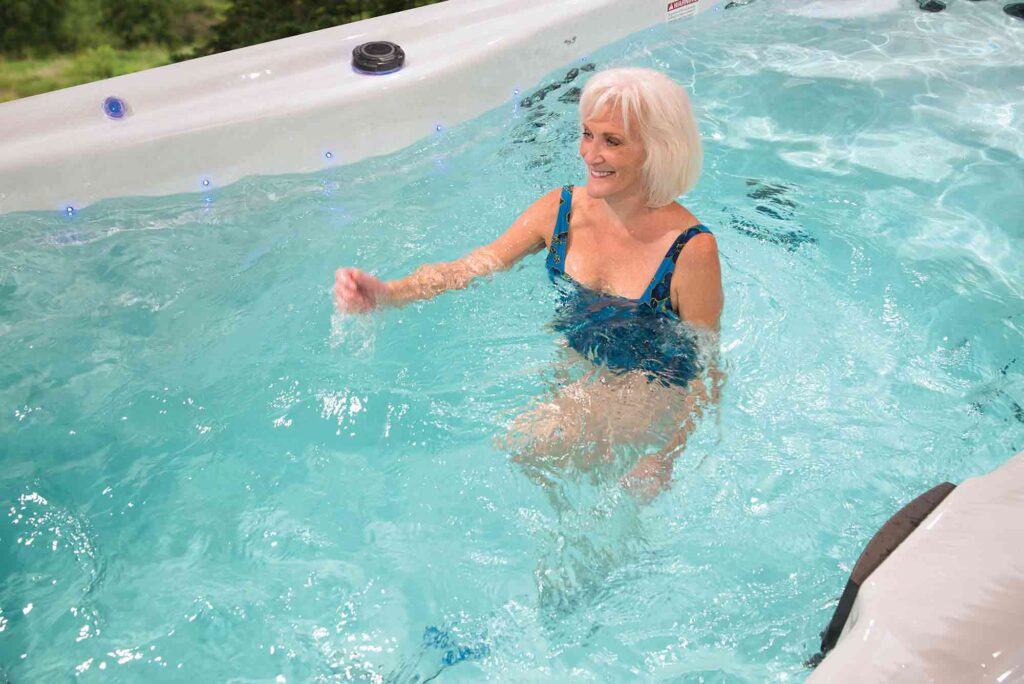 How to buy a home aquatic therapy pool
Are you ready to install a home therapy pool alternative? Having a Michael Phelps Signature Swim Spa makes it convenient and safe to incorporate therapy exercise into daily routine. You can click here to find out more about the benefits of water fitness and hydrotherapy. Or, contact your local Master Spas retailer to learn more about swim spa ownership. Wondering how much a Michael Phelps swim spa costs? You can request a quote here.