Summer is just around the corner, and we can already feel the excitement building up. It's time to trade our sweaters for swimsuits, and our hot cocoa for cold lemonade. But before you dive into the refreshing waters, let's talk about safety. Because nothing ruins a day at the beach or pool like an accident.
Did you know that every year, there are over 8,000 non-fatal drownings in the United States? That's a staggering number! And the CDC numbers show that it's not just kids who are at risk — adults can also have accidents in the water.
May is National Water Safety Month, a time to raise awareness about the importance of staying safe in and around water.
A Michael Phelps Signature Swim Spa is the perfect space for families to teach kids about water safety and create a safe environment for swimming. Michael Phelps swim spas feature an adjustable swim current, allowing for a customized swim experience that's perfect for both beginners and advanced swimmers. They also offer ample space for practicing swimming strokes and other aquatic activities, all while providing the peace of mind that comes with a safe and controlled environment.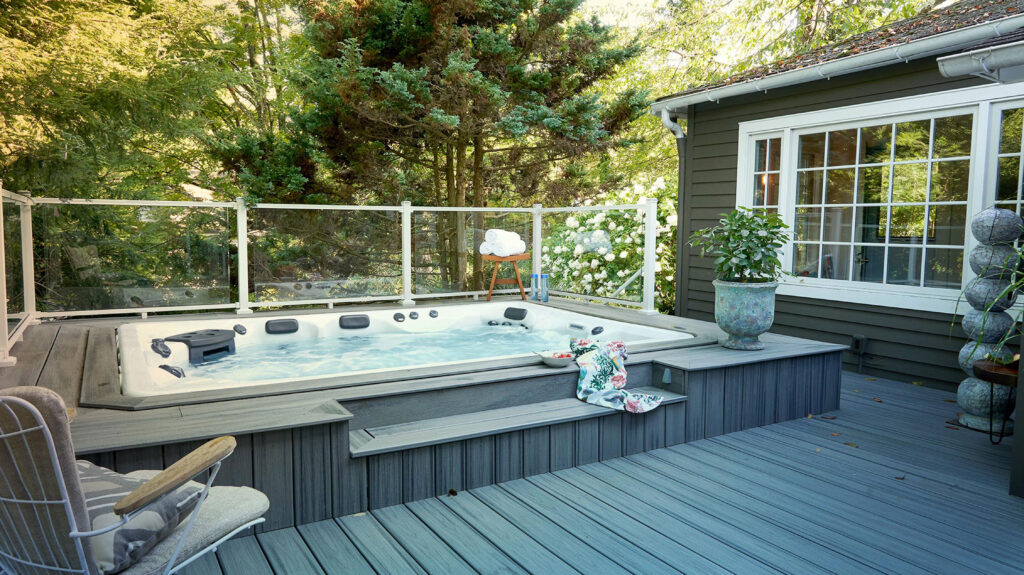 National Water Safety Month
With summer approaching, it's important to know the risks associated with water and how to stay safe while enjoying it.
National Water Safety Month is a joint effort by the American Red Cross, the National Recreation and Park Association, the Pool & Hot Tub Alliance, and the World Waterpark Association, aimed at educating the public on how to stay safe while enjoying aquatic activities.
Learning to swim is one of the most effective ways to reduce the risk of drowning. In fact, the American Red Cross reports that children who don't learn to swim are eight times more likely to drown. Swimming lessons not only teach children how to swim but also how to be safe around water and how to react in case of an emergency.
Master Spas is proud to support National Water Safety Month. A part of its May 2023 global sale, Master Spas will donate a portion of sales to the Michael Phelps Foundation. The Michael Phelps Foundation  aims to foster a love for swimming, promote water safety, and empower young athletes to achieve their full potential.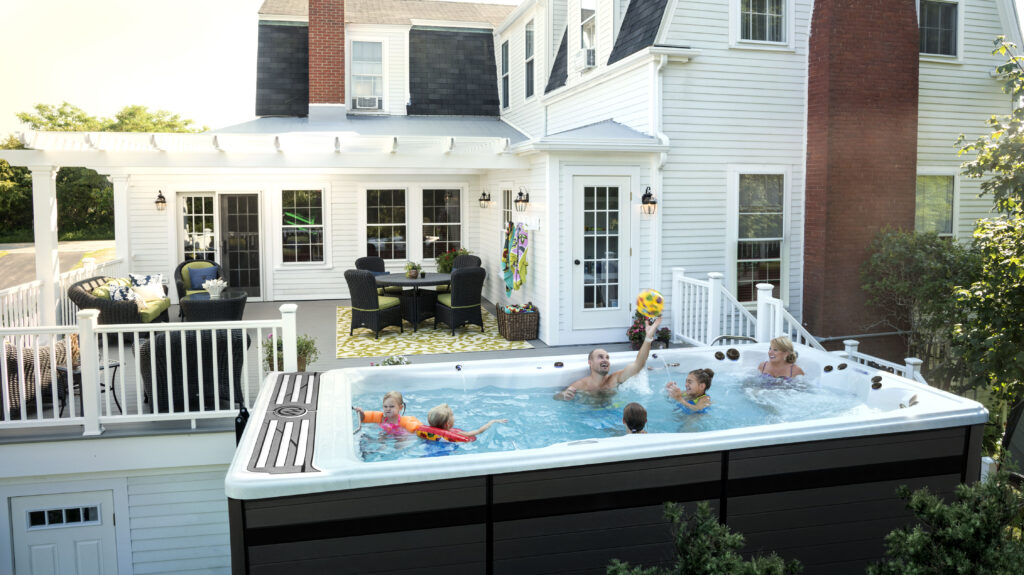 7 water safety tips for children and families
Swimming is a great way to get exercise, build muscle and stay healthy. It's also an excellent opportunity for you and your kids to spend time together. You can teach them about the water, their bodies and other people in a safe space where there are no cars or bikes around.
To maintain the fun vibe, safety is key. Parents should teach their children essential safety skills to prevent accidents in the water.
Practice swimming with your kids early and often
Swim lessons not only improve a child's proficiency in the water but their comfort and respect. The American Academy of Pediatrics advises that children as young as 1 year old can begin taking lessons.
However, don't expect those sessions with an instructor to turn your toddler into Michael Phelps. Lessons for children between 1 and 4 build swim readiness and good water safety. The benefit, though, is that research shows toddler swim lessons lower the rate of drowning.
For children ages 4 and older, swim lessons are highly recommended. Children learn to float, kick their feet, blow bubbles, and even the swim strokes. Even more so, the benefit of childhood lessons is that they make swimming a lifelong sport.
It's important, though, to find the right kind of swim lessons for your child. While group sessions can be enjoyable for some children who enjoy spending time with friends, private swim lessons might be a better option for others. Private swim lessons offer personalized attention and a one-on-one approach, which can be beneficial for children who learn better in this type of setting. For instance, children with special needs, those who are afraid of the water, or those who need to take their swimming skills to the next level may benefit from private lessons.
However, not everyone has access to private swim lessons. With a Michael Phelps swim spa in your backyard, you and your family can learn to swim in the comfort and privacy of your own home. This can be especially beneficial for children who feel intimidated by swimming in public spaces or who thrive in a familiar environment.
Never leave children unsupervised in water
One of the most important water safety rules is to never leave children alone in the water. Even if the water is shallow, children should always be supervised. It only takes one second for a child to fall into the water and drown.
As a swim spa owner, too, it's crucial to be aware of what's going on around your spa so that you can quickly intervene if necessary.
Make sure your swim spa is secured
A Michael Phelps swim spa is the perfect spot to cool off on a hot day or just lounge on a float. It's also a great way to incorporate swimming and water exercise into your regular routine.
Safety, though, should be a top priority for any owner.
Fencing, covers, and pool alarms are often key safety devices for in-ground pool owners. However, Michael Phelps swim spas have safety built in.
The cover can be secured and locked, and it acts as a barrier to people who want to use the swim spa without permission. In addition, most children will not be able to open the cover on their own. This prevents unsupervised access and reduces the risk of accidents or drowning.
In addition, Michael Phelps swim spas have other safety features, such as grab bars and non-slip surfaces, which help to prevent falls and injuries.
Keep a phone nearby when in the swim spa
More often than not, when you are spending your day by the water, a phone is the perfect way to capture precious moments.
But if there's an accident, having a phone nearby will make it easier for someone else to call 911 and get help on their way quickly.
You should also have a friend or neighbor on speed dial who knows how to use 911 and your local emergency number (in case you need help while they're away from home), as well as what steps to take if someone is choking.
Never leave water toys unattended
Pool toys are meant for, well, playing. And when your child sees dive rings, floaties, and other games, they see an invitation to get in the water.
Even if you are not there to supervise.
You should encourage children (and adults) to put all water toys away before heading inside. Not only will this make sure the toys are in good condition but it keeps kids from trying to get in the water.
Choose brightly colored swimwear
From floral one-pieces to solid-colored swim trunks, there are a range of stylish options for the summer. But swimwear is more than just fashion. Choosing the right pieces can help you keep your children safe in the water.
While your child might be feeling blue or green, these colors can actually blend into the water, making it harder to spot a child who is struggling. White swimsuits might look cute for an afternoon on the lake. However, the lighter hues can look like reflections of clouds on the water.
Encourage your children to choose brightly colored swimwear with high contrast, like yellow, orange, or pink. These hues will help them stand out more and make it easier to spot them in need.
No diving 
Looking to perfect your swan dive? Want to challenge your friends to a cannonball competition?
Making a memorable entry into the water might be a fun way to spend an afternoon at the pool. However, the American Red Cross recommends that the water is 9 feet deep before trying a flip, twist, or pike.
And, just in case you were wondering, the water depth of a Michael Phelps swim spa is 51 inches. Other at-home pool options are likely not deep enough to safely dive, either.
Be sure to stress to anyone using your at-home pool spa that diving is not allowed. Children should also be shown how to use the spa's steps or ladder to enter and exit safely.
And remind everyone: Diving might not be cool but there are endless ways to have fun in the swim spa.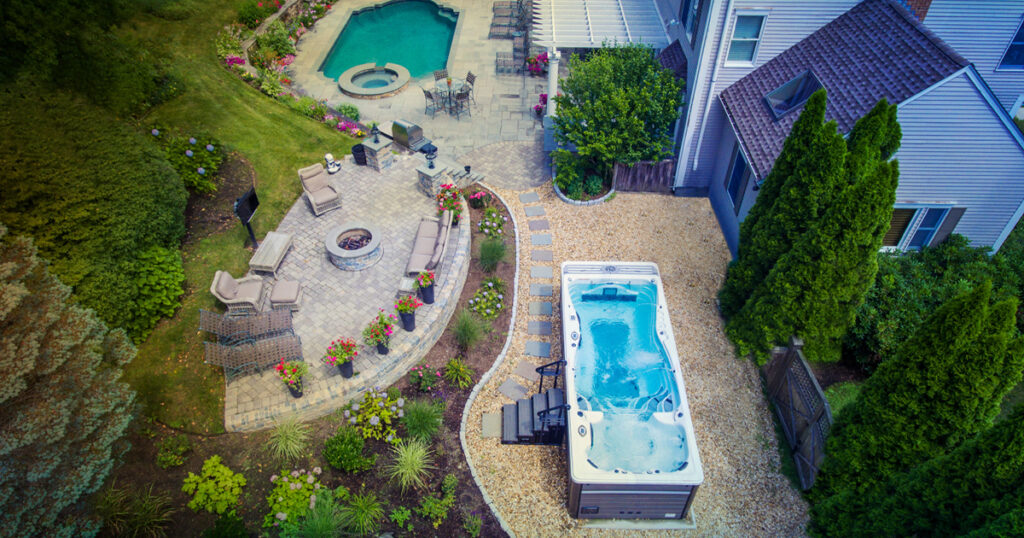 How to buy a swim spa
Do you want to be able to swim, exercise, and relax at home? Having a Michael Phelps Signature Swim Spa allows you to swim on your schedule while adding a fun factor to your backyard. You can click here to find out more about the benefits of hydrotherapy and relaxing in a hot tub. Or, contact your local Master Spas retailer to learn more about swim spa ownership. Wondering how much a swim spa costs? You can request a quote here.