The reasons to install an in-ground swimming pool can be as unique as the designs. For some, it's a way to beat the heat and enjoy the outdoors during hot summer months. For others, it's a way to create a fun and relaxing atmosphere for family and friends to gather and socialize. Pools can also provide a great way to entertain, cool off in the summer, and even get in some exercise.
But an in-ground swimming pool is not an option for many homeowners. A plunge or lap pool can be expensive and often require a large backyard. You might not want to give up so many of your resources for something that only has seasonal use.
Homeowners, though, have found an alternative — swim spas.
But what exactly is a swim spa?
A swim spa takes up a fraction of the backyard space while combining the health benefits of water exercise and a hot tub. You have a pool area for swimming but also a seating area with massage jets. And unlike many in-ground pool designs, you can actually swim in a swim spa year-round.
For as versatile as a swim spa is, there are just as many options. You might feel overwhelmed by the choice, features, and range of models. Michael Phelps Signature Swim Spas are designed to meet your needs and lifestyle, whether you want to get fit or want a space that's just for fun.
Swimming spas can be a great addition to your backyard, helping you to create the outdoor oasis you have been longing for.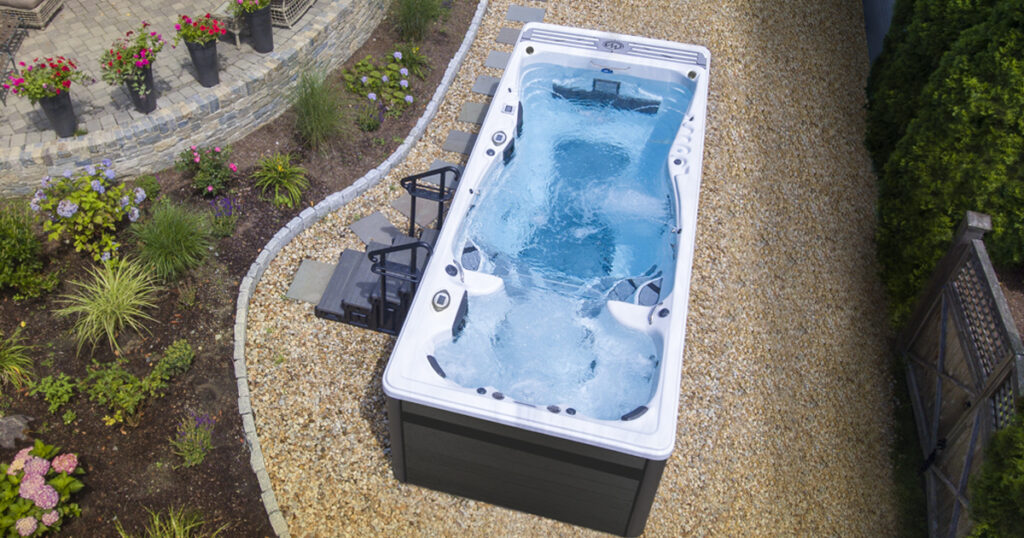 Swim spa basics
If you consider that the idea of swimming can be traced back to ancient Egypt, the concept of stationary swimming is relatively new. It wasn't until the 1980s that the idea of a backyard swimming device that allowed you to swim in place first took hold. And even then, it took decades for the industry to grow, develop, and innovate what we now know as a swim spa.
A swimming spa is a hybrid of a backyard pool and a hot tub. It combines the health benefits of both, offering the relaxing environment of a spa with the exercise benefits of swimming. Swim spas also have a water current that you can swim against for as long as you want. Bonus: No awkward flip turns. When you're finished swimming, you can push back and relax.
How big are pool spas?
Swim spas are available in many different shapes and sizes, so you can find one that fits your backyard space. Michael Phelps swim spas are 8 feet wide and range in length from 17 feet to 19 feet. The water depth is about 51 inches, providing enough space to swim all four strokes comfortably.
How does a swim spa work?
Swim spas have jets or a propulsion system that moves water throughout the spa. The current of water creates resistance that allows you to swim in place, aqua jog, and more. You can adjust the strength of the water current using the touchscreen panel. Michael Phelps swim spas have settings from zero to 100, and you can swim as fast as 54 seconds per 100 meter pace.
There are built-in heating and filtration systems that make sure the water is ready when you are. You can set the water to your preferred temperature, whether you prefer swimming in 82-degree water or soaking in warmer water.
Michael Phelps swim spas feature full foam insulation that helps the spa maintain water temperature, as well as protecting the components. The combination of quality insulation and built-in heating systems allow you to use a swim spa year-round, no matter where you live.
How can you use a swim spa?
Swim spas were originally designed with swimming in mind. But people quickly discovered that they are incredibly versatile.
Exercising in a swim spa allows you to improve your heart health and build strength, without the stress on your joints. You can use a swim spa as an alternative to running on land or for aquatic therapy. Examples of exercises that you can do are rowing, squats, leg lifts, chest press, and dumbbell curls. You can even skip the crunches and work on your six-pack in a Michael Phelps swim spa.
You can also use a swim spa for relaxation and family fun. Lounge on your favorite float on a summer afternoon or play a game of pool basketball. You can also invite friends and family over for a swim or a soak.
Types of swim spas
A swim spa can be a great addition to your backyard, three-season room or pole barn. It can not only provide a space for exercise and swimming but enhance your daily living.
It's key, though, to choose the right model and type of pool spa. There are several types of swims spas, each with unique features and benefits. 
Jetted swim spa: A rectangular pool alternative, jetted spas are the most common. Jets create a stream of water for stationary swimming. Think of it as a water treadmill for swimmers. These swim spas can be used for recreational swimming, aquatic exercise, and relaxation.
Propulsion swim spa: Michael Phelps swim spas have a propulsion system, which moves water throughout the spa. These swim systems do not introduce air into the water stream, which creates a smoother, clearer swimming experience. (The more air in the water, the more turbulent the swimming experience.)
Dual-zone swim spa: Also called hybrid swim spas, these models have two bodies of water. There is a divider that separates the hot tub side from the swim area. Among the benefits of a dual-zone swim spa is the ability to keep the hot tub side at a warmer temperature, up to 104 degrees. The swim area can be kept at a lower temperature, which is ideal for swimming, exercise, and recreation. 

Swimming spa vs swimming pool
Swimming is one of the best exercises that you can do for your body. It is a great way to stay in shape, improve cardiovascular health, and build muscle strength.
But it's not always easy to fit a swim into your schedule. The pool hours might be limited or you have to share a lane. In addition, not everyone has the space or budget to install a backyard pool.
But how does a Michael Phelps swim spa compare to an in-ground swimming pool?
Swimming and water exercise
Most backyard pools are not designed for actually swimming. They are either too small, not heated, or both. Some might not be deep enough to swim all four strokes. A Michael Phelps swim spa is designed for stationary swimming and water exercise. It has a powerful propulsion system that creates a current for you to swim against. This means that you can swim in place and get a great workout without actually moving forward.
Year-round use
One of the biggest advantages of a Michael Phelps swim spa is that you can use it year-round. It has a built-in heating system, so you can use it even in the colder months. In contrast, an in-ground swimming pool is typically only used during the summer months, which means that you are not getting as much use out of it.
Privacy and convenience
One of the benefits of a pool spa is being able to swim, exercise, and relax in the comfort of your own backyard. You don't have to share a lane or try to get in a workout during family swim. Whether you are just starting your exercise journey or training seriously, you will appreciate the privacy of a swim spa and convenience.
Installation and set-up
The time it takes to build a backyard swimming pool can vary depending on several factors such as the size of the pool, the complexity of the design, the materials used, the weather conditions, and the availability of skilled labor.
Typically, the pool building process can take anywhere from 6 to 12 weeks — or even longer in some cases. This timeline includes several stages such as excavation, plumbing and electrical installation, building the pool structure, pouring the concrete, and filling the pool with water. Additionally, unexpected delays can occur due to weather conditions or unforeseen construction issues.
When comparing a pool to a swim spa, a Michael Phelps models takes less time to install.  Once your site is ready, delivery and installation takes less than a day. You don't have to worry about a big construction project, and you can start using it almost immediately after it is installed. 
This is a big advantage for people who want to start swimming, exercising, and relaxing right away.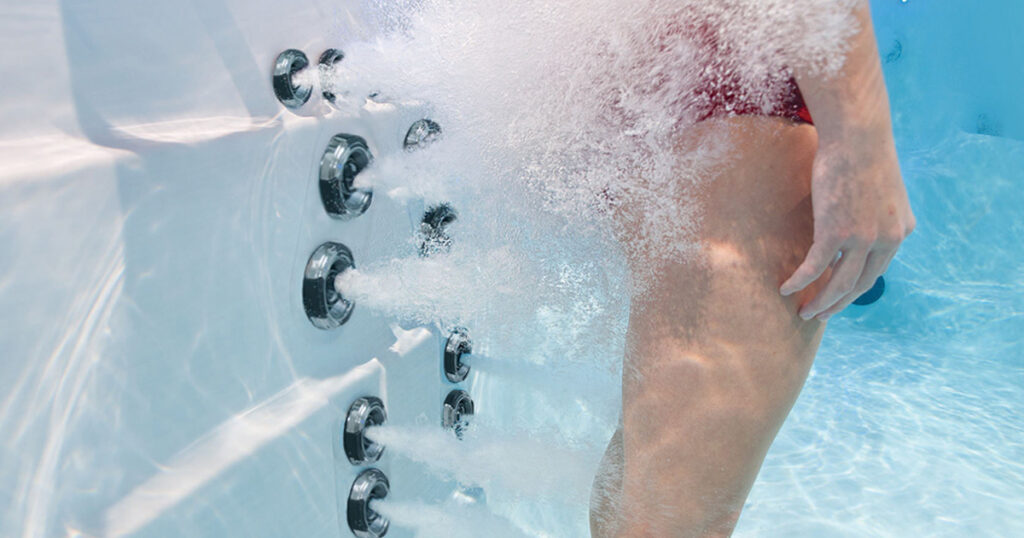 How to buy Michael Phelps swim spa
Do you want to be able to swim, exercise, and relax at home? Having a Michael Phelps Signature Swim Spa allows you to swim on your schedule while adding a fun factor to your backyard. You can click here to find out more about the benefits of hydrotherapy and relaxing in a hot tub. Or, contact your local Master Spas retailer to learn more about swim spa ownership. Wondering how much a swim spa costs? You can request a quote here.