Water exercise at home
Exercising in a Michael Phelps Signature Swim Spa offers the benefits of cardiovascular and resistance training without the impact on joints. Thanks to the natural resistance and buoyancy of water, the body feels supported in a swim spa and you can move with increased range of motion. People who exercise in the water often see improved balance, strength, endurance, and flexibility — as well as less pain.
Michael Phelps Signature Swim Spas feature:
A large, flat floor free of obstacles
Stainless-steel grab bar at the end of the swim spa
Complimentary H2Xercise System
Types of aquatic exercise:
Walking or jogging
Swimming
Yoga
Rowing
Resistance training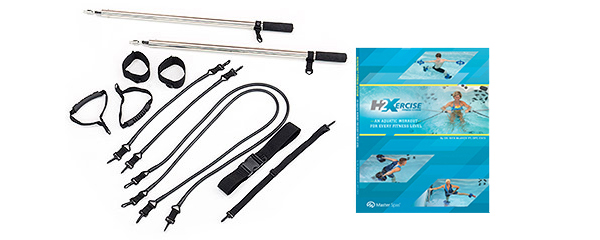 Exercising in a Michael Phelps Signature Swim Spa can improve heart health and build strength, without the impact of land-based training. You can expand your options with aquatic fitness equipment. Every Michael Phelps Signature Swim Spa comes with the H2Xercise Kit, which includes rowing bars, resistance tubing, and an aquatic exercise manual.