Michael Phelps learns how Michael Phelps Swim Spas are made and carves out time to encourage and inspire the next generation of swimmers.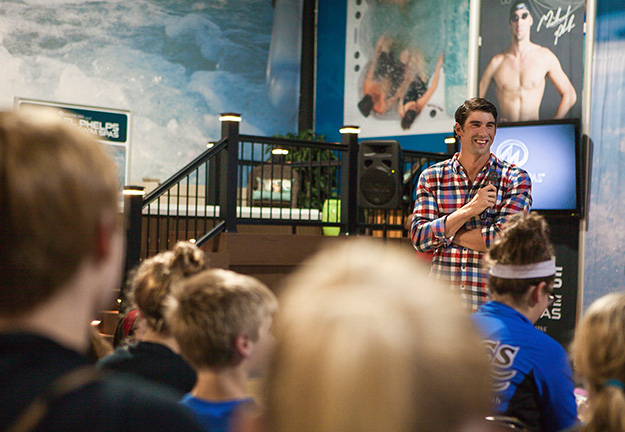 Michael Phelps, the most decorated Olympian in history, visited Fort Wayne today. The purpose of Phelps' visit was to tour the facility where the Michael Phelps Signature Swim Spas line of premium swim and fitness spas are manufactured and meet with the executive team at Master Spas, but he managed to squeeze quite a bit more into his visit.
Michael's whirlwind visit began with a factory tour, where he had an opportunity to see the manufacturing process firsthand and meet the over 300 employees who engineer, build and test the swim spas that bear his name. Michael later told a reporter, "I'm impressed by the operation at Master Spas and amazed at how much goes into the manufacturing process. I had no idea."
Phelps' relationship with Master Spas began over three years ago, and his Signature Swim Spas line continues to be a top seller with individuals and families looking for a combination of training, fitness and relaxation. Master Spas CEO Bob Lauter states, "Michael's impact goes far beyond the name recognition. Both Phelps and his coach were involved in the design of the swim spas and provided valuable input, which has made Michael Phelps Signature Swim Spas a success for us and a boon for our dealers."
Dan Henry, owner of East Coast Spas and a Michael Phelps Signature Swim Spas dealer, had this to say about Michael's association with Master Spas, "Due to the increase in swim spa popularity there are a lot of manufacturers who are rushing inferior products to market in an attempt to capitalize on the opportunity. Master Spas has been manufacturing swim spas for more than 10 years and as a result has a quality product with a better swim experience and more features than any of its competitors. When you couple this with Michael Phelps' name, it's a winning combination. As a dealer, Michael Phelps Signature Swim Spas by Master Spas is a product line that I can sell with confidence and one that continues to have a positive impact on my business."
Michael and his coach incorporated a Michael Phelps Signature Swim Spa into his training prior to the 2012 Olympic games. According to Michael the swim spa, which includes an underwater camera, allowed him to see what he needed to correct and immediately make the necessary adjustments to his stroke and after a rigorous workout he enjoyed the jetted, therapeutic massage seats of the swim spa.
Before heading back to Baltimore, Phelps participated in a private, "Friends and Family" event held at the Master Spas showroom on Lincoln Pkwy. Over 250 people including swimmers from local teams and their families participated in an hour-long question and answer session with both Michael and coach. At the end of the Q&A session each team got a chance to have a group photo taken with Michael and his coach.
After the event, both Phelps and his coach commented about how much they enjoyed talking with the kids and what great questions the kids had asked. While most of the questions were centered on Michael's training, one girl did ask if Michael would be her date to her semi-formal dance. Michael responded by saying, "You'll have to call my other half and ask her."