The Arizona landscape is stunning, from miles of desert to the mountains. There are towering cacti and painted rocks. But while the land can be dry, a water feature can bring a desert backyard to life while embracing the landscape.
A Michael Phelps swim spa offers respite from the desert sun while giving the homeowners a place to relax on cool nights. Plus, the year-round pool alternative is the picture perfect spot to host family gatherings and parties for friends.
If you are looking for backyard inspiration, these Arizona homeowners maximized their small backyard while creating cozy nooks for relaxing and spaces for entertaining. And while many southwestern backyards feature in-ground pools, the centerpiece is a Michael Phelps swim spa with a hot tub. The MP Momentum Deep offers the best of a pool with the added hydrotherapy.
But you don't have to live in the desert to be inspired by this backyard with a Michael Phelps swim spa.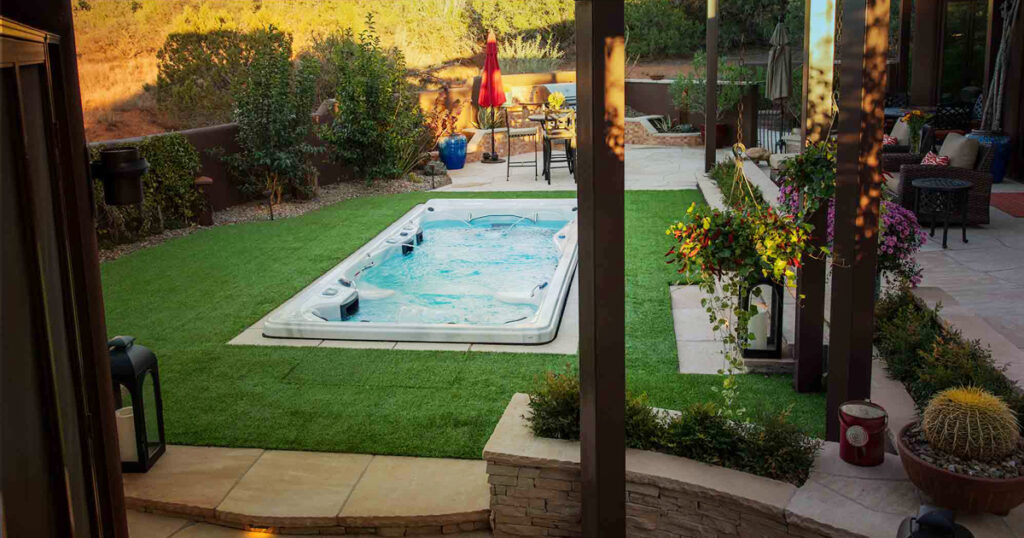 Inspiration from an Arizona backyard
There's beauty in every landscape, and the desert is no exception. The area surrounding this Arizona backyard is picturesque with mountains and forest. What better way to enjoy the area than creating an oasis in your backyard.
In-ground spa
When you enter this Arizona backyard, your eye is immediately drawn to the MP Momentum Deep, a swim spa with a hot tub. The homeowners chose an in-ground installation, creating the effect of an in-ground swimming pool.
But unlike most pools, it did not require a lot of real estate. The dimensions of the swim spa are 19-feet by 8-feet and even as the largest swim spa in the Michael Phelps series, it can fit in many backyards.
Features of the swim spa include the Wave XP Pro system, which allows you to enjoy a smooth swim at your convenience; contoured therapy seats; and premium massage jets.
To create the look of an oasis in the desert, the homeowners had a vault dug. There's a trap door, too, providing access to the equipment.
Artificial grass
Even though the Arizona climate can be dry, you can still enjoy a lush green lawn. These homeowners installed artificial grass. Not only does it look like natural grass but is low maintenance. Afterall, who wants to cut grass when you can go for a relaxing swim in the Michael Phelps spa?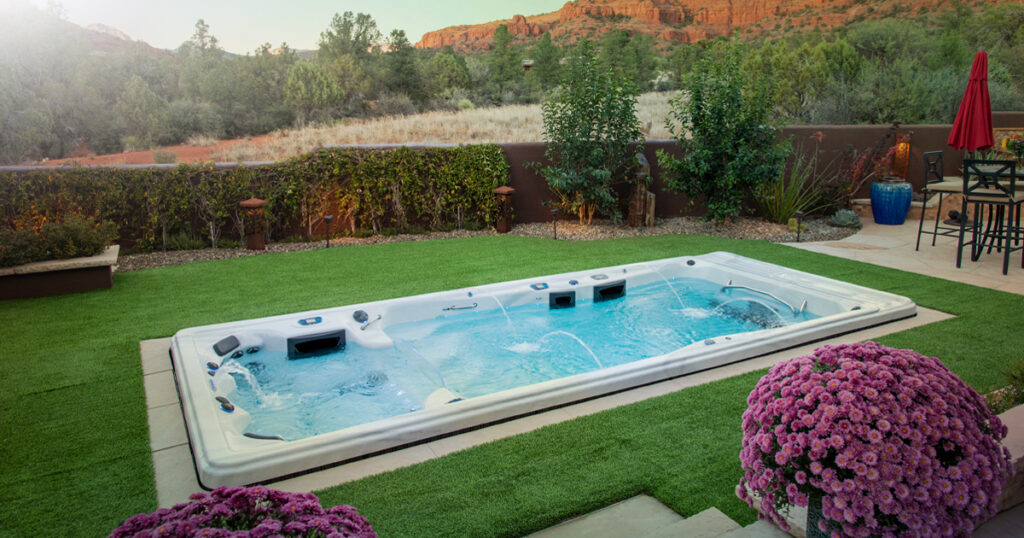 Desert plants
While it might be challenging to grow grass, there are plenty of plants that can thrive in the arid conditions. The homeowners incorporated native plants along their privacy wall. The plants were put into rock beds, which often require less maintenance than traditional landscaping beds.
But the homeowners went beyond rock gardens when incorporating native plants into their backyard design. There are also containers with cacti and hardy flowers in planters.
Keep in mind that a benefit of choosing native plants is that it helps blend your backyard design into the surrounding landscape. The cacti can be seen throughout the desert, while the hardy blooms complement the colors in the mountains.
Creating shade
An important component of any landscape design is incorporating shade elements. But this is especially true when you live in Arizona or other areas of the southwestern United States.
The homeowners incorporated several elements of shade in their Arizona backyard. Multiple patio umbrellas have been strategically placed around the backyard. In addition, a multi-level pergola offers shade and architecture over the patio. The pergola also connects the main outdoor space to the guest/pool house.
If you are looking for inspiration for your Arizona backyard, there are other options for shade including gazebos, shade sails, and ramadas.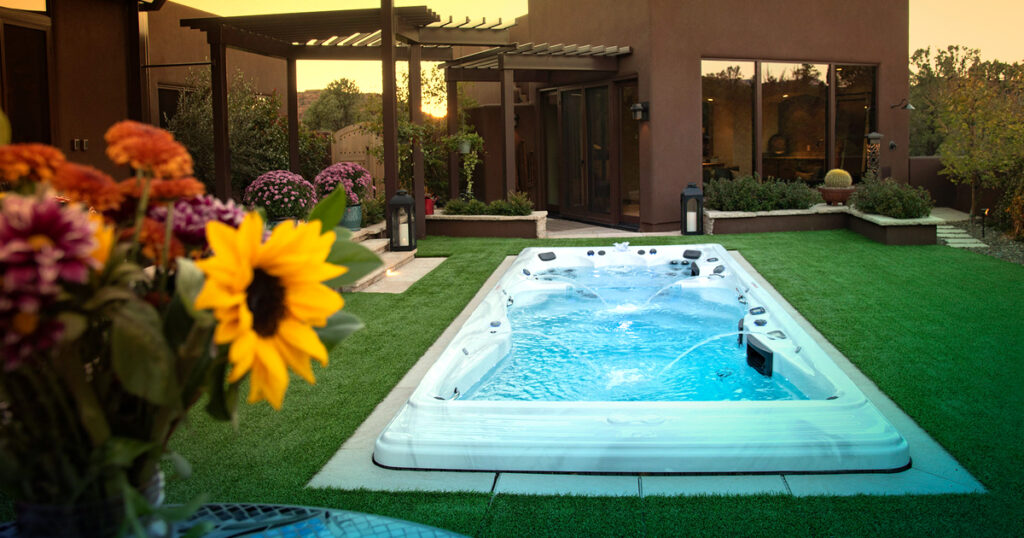 Outdoor lighting choices
Just as shade is important to a backyard design so are lighting features, especially if you want to entertain in the evening. Oversized outdoor lanterns add an amber glow around the patio. Recessed lighting in the stone steps add safety.
Rock the design
Many backyard patios are made from poured concrete. However, the homeowners chose to incorporate stone in more than just the landscaping beds. Large stone pieces were used to create the patio.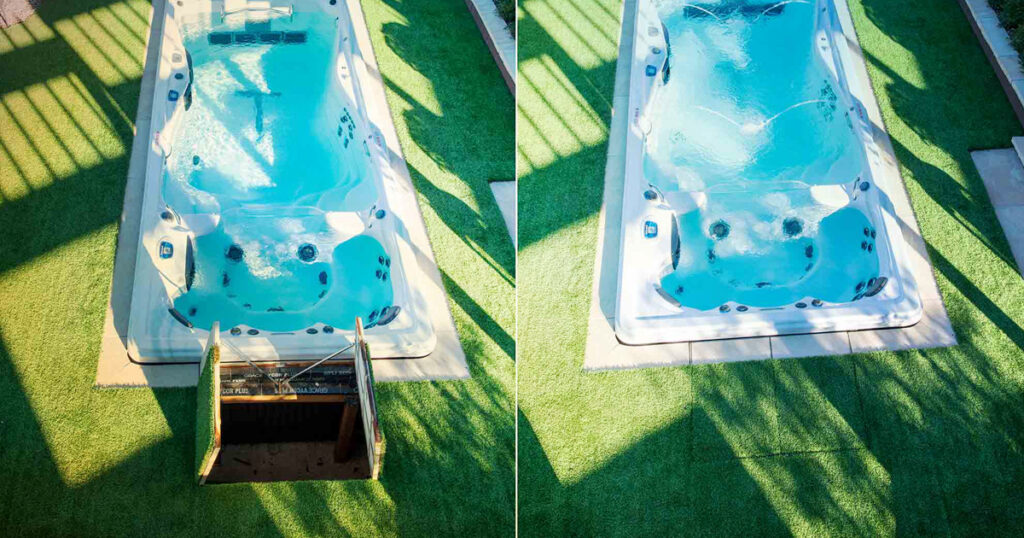 Level up
Another feature of this backyard design is the built-in planters that run the expanse of the backyard. These planters are not only used for bushes and grasses but to separate the patio and lawn spaces.
Do you want to know the secret to creating your own at-home paradise? Download the 5 Secrets to Creating Your Perfect Backyard Oasis.
An oasis in any climate
Are you ready to make the most of your outdoor living space? Having a Michael Phelps Signature Swim Spa at home allows you to transform your backyard, whether you want a place to swim, relax, or entertain. You can click here to learn more about hydrotherapy in a Michael Phelps Signature Swim Spa. Or, contact your local Master Spas retailer to learn more about swim spa ownership. Wondering how much a Michael Phelps swim spa costs? You can request a quote here.