Space conscious … a pool for any yard … perfect for small properties. When you are buying a swim spa, one of the benefits is that they are smaller than traditional in-ground pools. You don't need a sprawling outdoor space to enjoy a backyard water feature
But just because a swim spa does not require a significant amount of real estate does not mean you need a small spa pool. Swim spas come in myriad sizes to fit your needs, lifestyle, and space. You can choose a smaller model if that is best for your space. Or, you can choose a large swim spa and enjoy the added space for swimming, water exercise, and family fun.
Michael Phelps Signature Swim Spas are available in three sizes. The MP Force Deep is a 17-foot swim spa. Eighteen feet long and 8 feet wide, the MP Signature Deep has the largest swim area of the swim spas. The MP Momentum Deep is the largest swim spa in the series, and it is a swim spa with a hot tub.
These large swim spas offer plenty of space for practicing all four swim strokes, exercising, and hanging out with families. But compared to other large swim spas, Michael Phelps Signature Swim Spas feature a performance-based propulsion system and premium hydrotherapy features.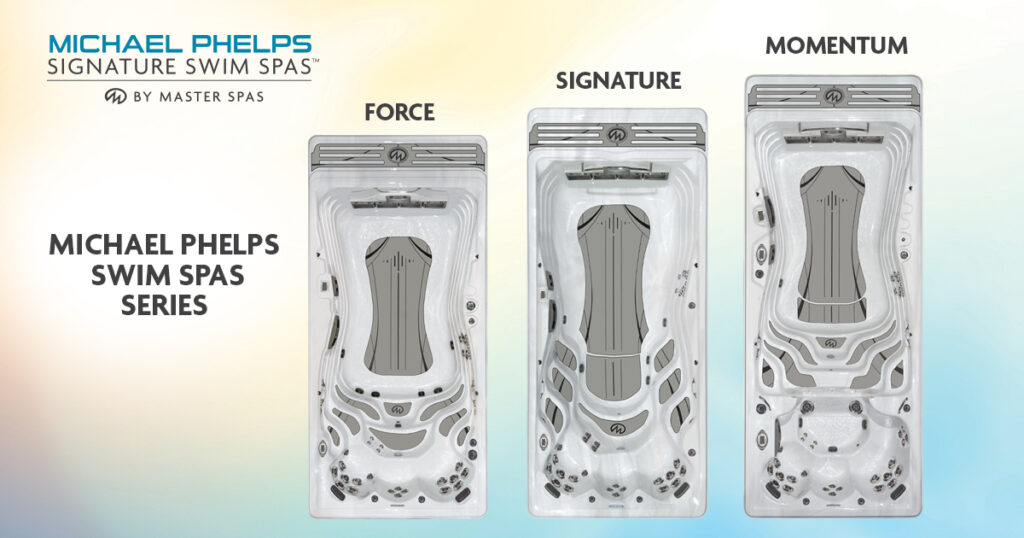 How big is a swim spa?
An in-ground pool is typically 20 to 25 feet long, and the ideal pool size for serious swimmers is at least 40-feet long. However, not everyone has 500 square feet to devote to an in-ground lap pool.
A swim-in-place pool makes it easier to swim and train at home— no huge backyard required. The endless swim experience means that you can take stroke after stroke without having to do a flip turn. In a smaller in-ground pool, you might onlys wim seven or eight strokes before turning around.
The smallest Master Spa swim spa is 11 feet long and 8 feet wide, and it's ideal for aquatic therapy. It's 51 inches tall, with a water depth of about 43 inches.
But if you plan to entertain, have a large family, or exercise regularly, a large swim spa can give you the pace you want.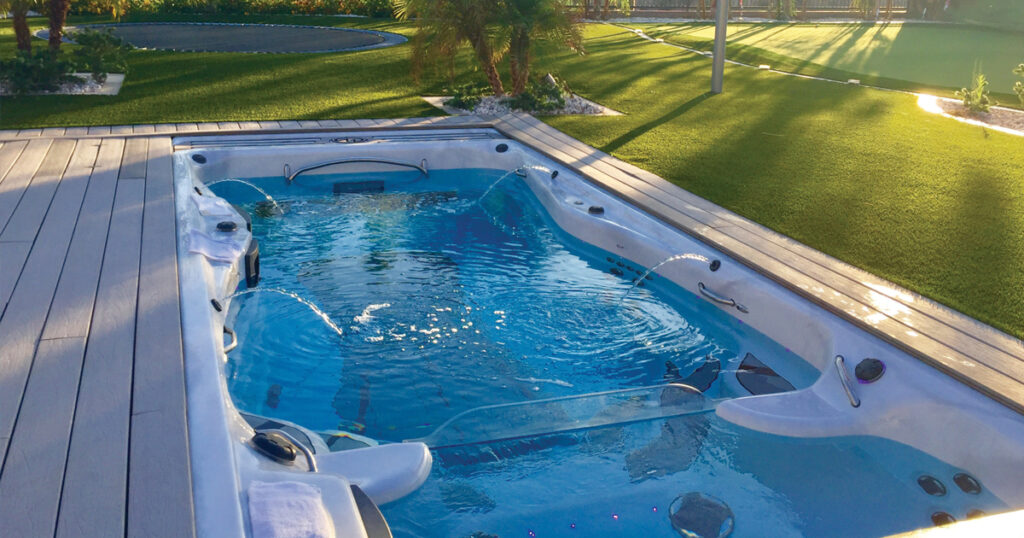 Largest Michael Phelps swim spa
The MP Momentum Deep is the largest swim spa in the Michael Phelps Signature series. It is a swim spa with a hot tub, providing separate spaces for soaking and swimming.
The MP Momentum Deep is 60 inches tall, with a water depth of about 51 inches. It is 19 feet long and 8 feet wide.
About 15-feet long, the exercise area is designed for a smoother swimming experience compared to other spa brands. The walls are curved to maximize the flow of the water in the spa.
The endless current is created by the Wave XP Pro system. The propulsion technology doesn't need air to increase the flow of water, allowing for a more realistic swimming experience. The pace of your swim session can be set with the easy-to-use touchscreen panel, and there are swim speed settings from zero to 100.
How fast can you swim in a Michael Phelps model? The fastest speed is the equivalent of 54 seconds per 100 meters.
When it comes to relaxation, there are 45 jets and two Master Blasters. You can unwind in one of the four therapy seats, including the exclusive Xtreme Therapy Seat. The unique design of the jets creates a whirlpool like effect. The Master Blaster foot jets have 14 individual nozzles to treat your feet.
How big is the hot tub? It's about four feet long and eight feet wide.
Plus, with a swim spa with a hot tub, you can choose the temperature on each side. Set the hot tub side to a therapeutic 104 degrees, while the swim side is in the 80s.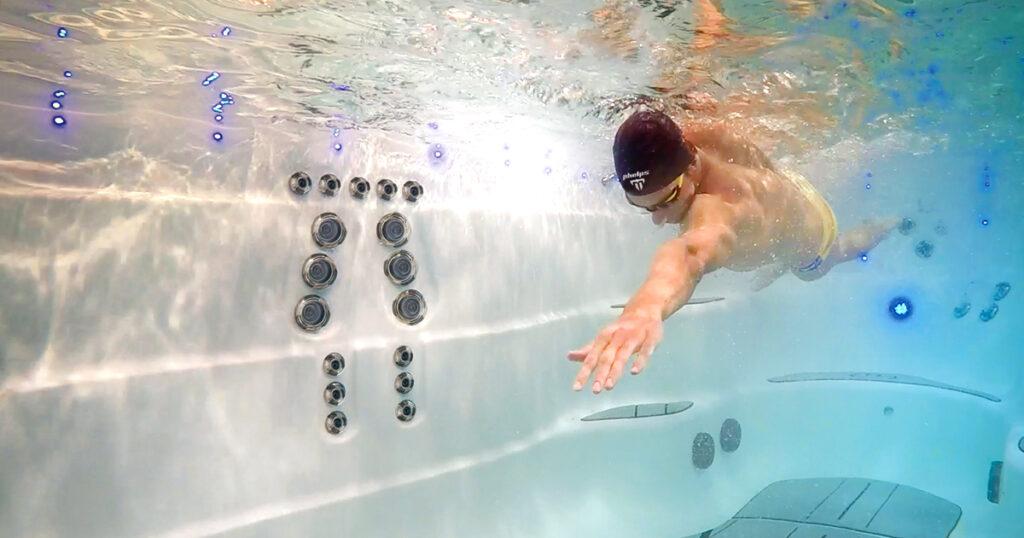 Largest swim spa for swimming
A swim spa with a hot tub is ideal for relaxing and family fun. However, sometimes you want more space for swimming or hosting a "pool" party.
The MP Signature Deep is the largest swim spa with just one body of water. This 18-foot spa is spacious and comfortable, with room for the tallest family members to stretch out.
This model is also 8 feet wide and 60 inches tall.
Versatility is among the benefits of a spa pool. You can walk, jog, and swim against the current. Or, you can use aquatic exercise equipment for a strength workout. Retreat to the therapy seats where massaging spa jets ease muscle aches and deliver maximum relaxation.
But some days, you just want to hang out. And you can do that with the MP Signature Deep. As the largest swim spa, there's plenty of room to relax on a pool float as you dip your toes in the water.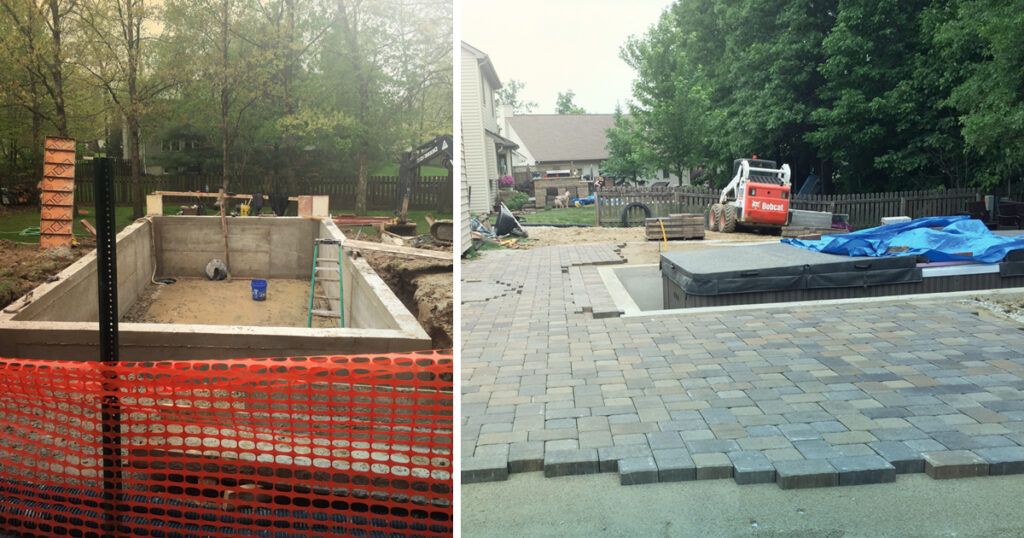 Spa installation tips
An in-ground pool can take weeks, even months to install. The pool has to be dug, the rebar set, plumbing installed, the gunite poured and set. Plus, there's tile work and coping, the concrete patio and plaster.
While it's an exciting process, it can also be long and arduous as you wait for your backyard retreat to be complete.
A Michael Phelps model, even the largest swim spas, are portable units that can be up and running within 24 hours of delivery.
Most people choose to install their swim spas on a reinforced concrete pad. However, there are options to create the custom look that you might expect from an in-ground pool.
Among the options are next to a deck, incorporating it into your outdoor entertaining space. Some homeowners choose to build a vault so that the spa can be put into the ground. If it's a new backyard design, incorporate a new deck with several levels for interest and usability.
These options are available, whether you choose a compact model or the largest swim spa.
For more information about installing a Michael Phelps spa, download our Backyard Planning Guide.
The best stationary swimming pool for you
Are you ready to buy the best swim spa for your backyard? A Michael Phelps Signature Swim Spa brings home the benefits of a pool without the space requirement. You can click here to learn more about how easy it is to maintain a Michael Phelps Signature Swim Spa. Or, contact your local Master Spas retailer to learn more about spa ownership. Wondering how much a Michael Phelps spa costs? You can request a quote here.