Your backyard is more than just a swath of grass and a place to plant flowers. It's an extension of your home, and a space that can become a place to live … to feel alive.
But how do you create a space where you want to be? You want a place that complements your lifestyle and helps you feel balanced and well.
A swim spa can enhance your daily living and support your overall wellness. Not only is it an alternative to a backyard pool but swim spas offer myriad health benefits. You can exercise regularly, relax in the jetted therapy seats, decrease anxiety, and sleep better. A swim spa also invites you to disconnect from work and social media so that you can be present — in the moment, with loved ones.
However, all swim spas are not built the same. If you want to buy a swim spa in 2021 or accept delivery in 2022, it's important to choose the model that will transform your backyard into an oasis.
These pro tips will help you get the most out of your investment and create the backyard you've always wanted.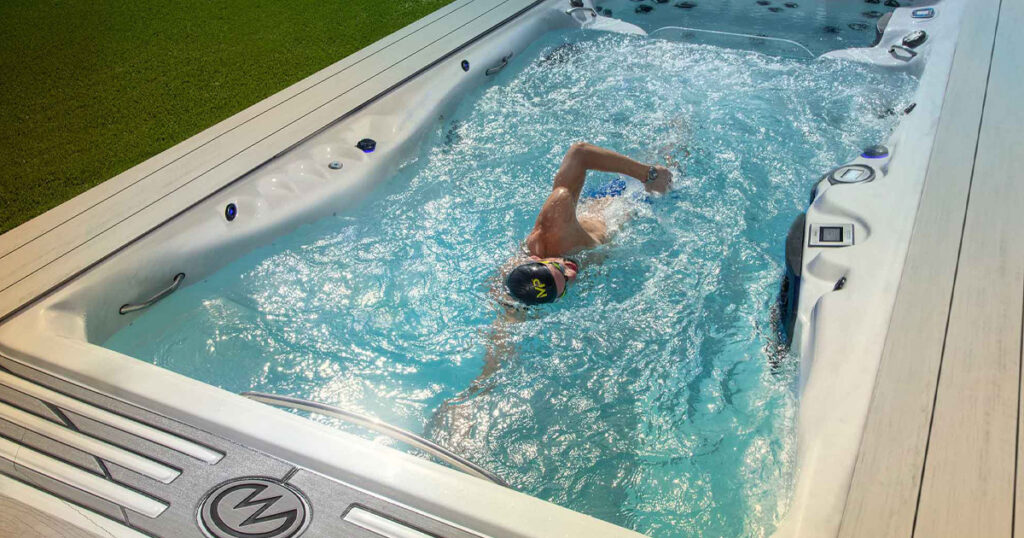 Tips for buying a swim spa
The pool industry saw unprecedented demand after the pandemic. People were canceling vacations and spending more time at home. They wanted to enjoy every part of their property and that meant the backyard. After all, what is more fun than having a water feature just steps from your patio doors?
However, pool companies were not anticipating the demand. Even in 2021, builders were booked a year or more out.
Swim spas are an alternative to a backyard pool, and they can be enjoyed season after season. With full foam insulation and a built-in heater, they can be used year-round. Plus, they have added therapy and lighting features. Choosing a swim spa will not only complement your lifestyle but enhance it.
Here are some factors to consider so you can choose the best swim spa for you.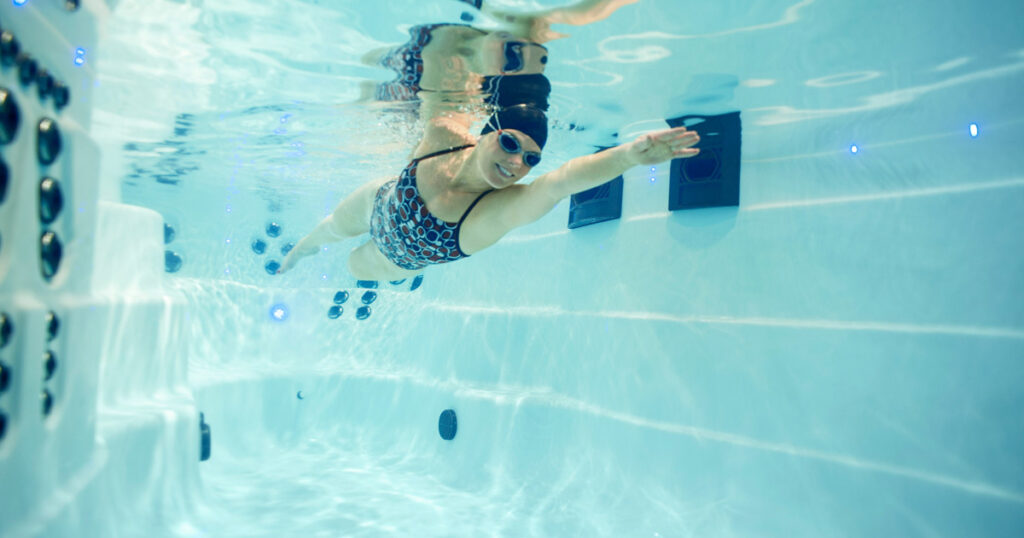 Propulsion versus jets
The main feature of a swim spa is the water current, allowing you to swim in place. Swim spas have either a jet system or a propulsion unit.
For people who want to actually swim in a swim spa, you want to choose a model that can keep up with you.
Michael Phelps Signature Swim Spas have a propulsion unit that creates a smooth, wide current of water. The Wave XP Pro system can create a current that is fast enough for competitive and elite level swimmers. You can swim as fast as a 54-second per 100-meter pace in a Michael Phelps swim spa.
Pro tip: When you are shopping for the best swim spa, ask your retailer about whether you will need a tether for swimming. If you need a tether, it means that the current isn't strong enough for swimming enthusiasts. Or, the water flow is turbulent and makes it hard to get in the groove. With a Michael Phelps swim spa, you will not need a tether.
Swim spa care
Clean, clear water is essential to making the most of your swim spa. But when you are researching the best swim spas, it's more exciting to think about how you will use the spa — not how you will clean it.
A quality water care system is a key feature when you are shopping for swim spas. Michael Phelps swim spas use a mineral filtration system that mimics the way mother nature keeps the water clean. Natural minerals like copper and zinc work with chlorine to remove contaminants from your swim spa water. The EcoPur Charge Filtration System also helps to reduce the amount of chemicals you need when compared to other systems, and the water will smell fresh and clean.
Pro tip: Saltwater pools are popular because you don't have to add chlorine. However, salt is not ideal for swim spas. It can damage the spa's components and build up on the acrylic shell.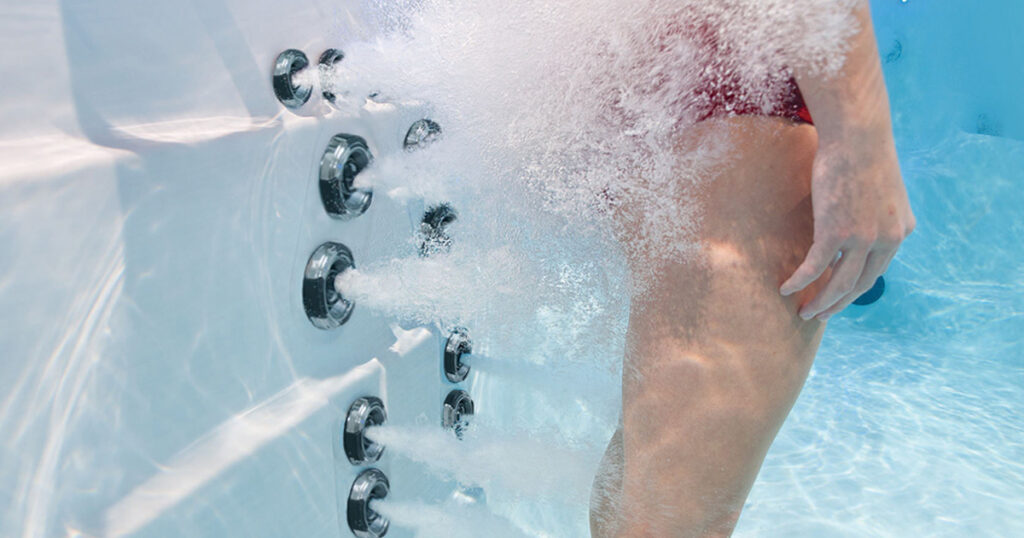 Hydrotherapy options
One of the benefits of a swim spa is that they are more than a place to swim, exercise, and splash around. Swim spas feature massage jets and therapy seating just like a hot tub.
However, the placement, type, and quality of jets will vary between manufacturers.
When you are buying a swim spa, ask about what kind of massage the jets replicate. You can also look at how the jets are arranged.
If you suffer from lower back pain, you might want to enjoy a deep tissue massage. Do you carry a lot of tension in your upper body? Jets that target your neck and shoulders are also ideal.
Michael Phelps Signature Swim Spas have a variety of jets. Some of the jets mimic a deep muscle massage while others offer more targeted therapy. The MP Momentum Deep, a dual zone swim spa, also features the Master Blaster Foot Therapy jets. These unique jets feature 14 individual nozzles that deliver a reflexology-style foot massage.
When compared to hot tubs (and other swim spas), Michael Phelps swim spas have an advantage. The Xtreme Therapy Cove allows you to find the best position for a complete therapeutic massage for your lower back, hips, thighs, and calves.
Pro tip: Ask your retailer how the jets work and whether they can be adjusted? When you want to relax in your backyard oasis, those features do matter.
Size doesn't matter
The typical backyard pool is between 20 feet long and 40 feet long, with the width varying between 10 feet and 20 feet. While a small backyard pool can offer fun and aquatic therapy, it's recommended that it be at least 18 feet wide and 36 feet long to prevent the feeling of it being crowded.
But not everyone has this much space in their backyard, especially if they live in the city.
One of the secrets to creating a backyard oasis with a Michael Phelps swim spa is that you do not need a big backyard. Swim spas are 8 feet wide and vary in length. The MP Force Deep is 17 feet long; the MP Signature Deep is 18 feet long; and the MP Momentum Deep is 19 feet long.
And, with a swim spa, you have the flexibility to install it on a concrete pad or choose a more custom installation that fits your aesthetic. Homeowners have created custom vaults or installed the swim spa next to a deck.
Pro tip: To learn more about the installation requirements for a swim spa, download the Master Spas Backyard Planning Guide.
How to buy a swim spa
Are you ready to buy the best swim spa for your backyard? A Michael Phelps Signature Swim Spa brings home the benefits of a pool without the space requirement. You can contact your local Master Spas retailer to learn more about spa ownership. Wondering how much a Michael Phelps spa costs? You can request a quote here.