A Michael Phelps Signature Swim Spa is a way to swim year-round, whether you live in Canada or California. But there are days when the weather might interfere with your plans to go for a swim or relax in the jets. A patio enclosure can help blur the line between your indoor living space and the outdoors while providing cover for your swim spa.
There are many types of patio enclosures that can protect you — and your Michael Phelps Signature Swim Spa — from the elements. Swim as the rain pitter patters around you. Enjoy a cup of coffee as the wind blows. Hang out in the water on a summer afternoon without worrying about the sun.
A pergola, gazebo, retractable awning, and a three-season room can give you the cover you want while enhancing your overall space.
Are you considering investing in a Michael Phelps swim spa? Check out these Master Spas swim spa enclosures that are sure to inspire your backyard project.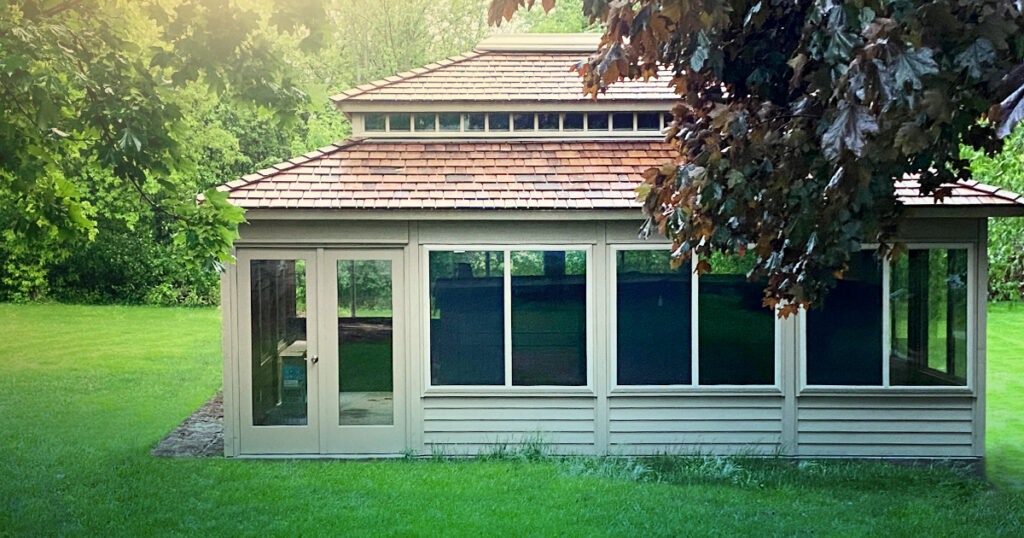 Backyard enclosure options
From DIY to a custom build, there are countless ways to put a patio enclosure around your Michael Phelps Signature Swim Spa. You can choose a seasonal option, such as a canopy or sail shade, or make an architectural statement with a decorative pergola.
There are even igloos that could work for a smaller spa, such as a Michael Phelps Legend Series hot tub. These portable igloos are a fun way to extend your outdoor living space in the colder months.
You want the spa enclosure to complement your landscape design. However, it's important to consider your priorities for a patio enclosure. Do you want to protect the spa from the wind? Or do you want to keep the elements of the water so you can enjoy the spa even during a rainy day? Privacy can also be another benefit of a spa enclosure, and you should factor this into your choice.
Among your options:
Pergolas, which are open air and often feature a decorative roof
Gazebos, which have a complete roof for protection from sun and rain
Canopies, which can be temporary and feature side walls
All-season rooms, which are permanent structures and allow for a controlled climate
Privacy screens, which can be incorporated into a deck to block the view of neighbors
Shade sails, which are often in combination with privacy screens and fencing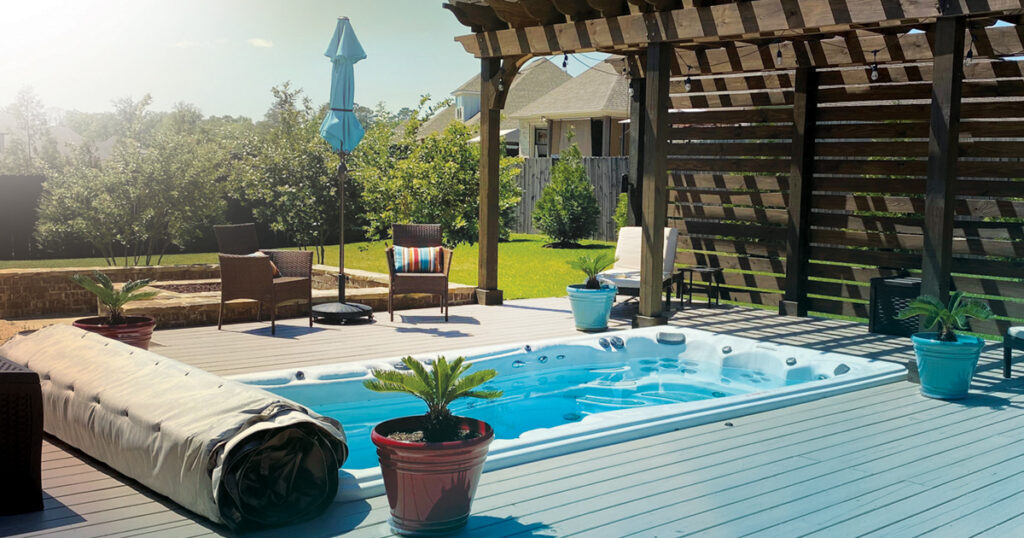 Best swim spa enclosures
In-ground spa with pergola
Have you been dreaming of a backyard oasis but didn't know where to start? This backyard is sure to inspire your swim spa project. The homeowners chose to put their Master Spas swim spa into a vault, creating the appearance of an in-ground swimming pool. There is decking installed around the spa to make it comfortable to walk around, as well as provide space for lounge chairs and an umbrella. The roof of the custom pergola offers shade when relaxing in one of the patio chairs. In addition, the structure provides shade and defines the space.
Other features of this backyard include a built-in fire pit, potted tropical plants, and clever storage solutions.
An advantage of this type of installation is that you can still enjoy the view of your backyard, whether you are lounging in a patio chair or swimming in the spa. It also does not require ventilation or additional drainage. (Please note, though, if you are recessing your swim spa, there will need to be adequate drainage in the vault.)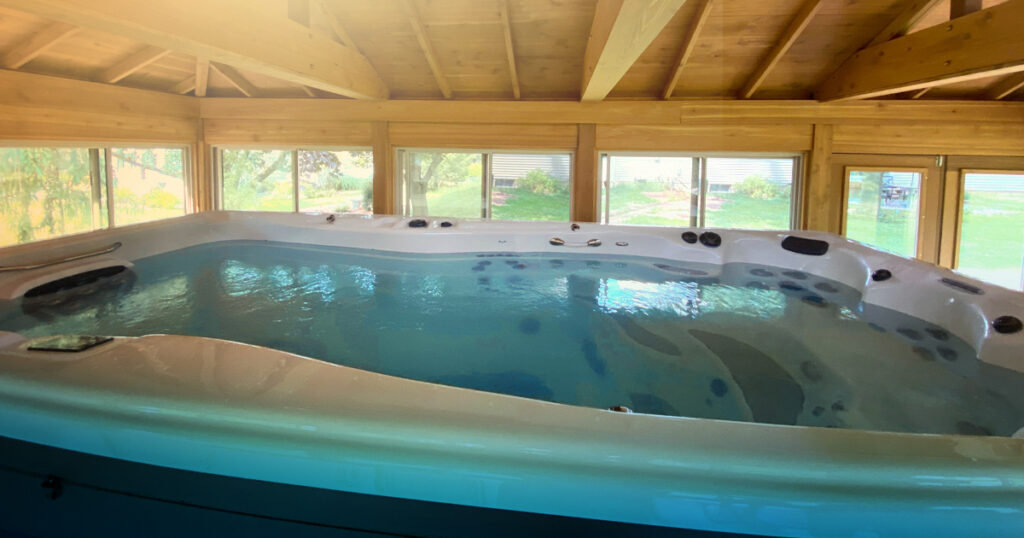 Swim spa house
There are days when you just want to hop in the swim spa without thinking about whether the neighbors are outside or the skies look threatening. A swim spa house or all-season enclosure can give you a way to enjoy your Michael Phelps swim spa any day, in any weather. These homeowners built a custom all-season enclosure for their swim spa. There are screened windows, which offer ventilation and patio doors to easily access the spa. Inside the enclosure, the style is simple — just wood planks that can handle the moisture. There is plenty of height in the enclosure, too, to enjoy the spa.
There are some installation requirements to consider if you want to install a swim spa in an all-season room. The swim spa enclosure will need proper ventilation and drainage. In addition, you might need vapor seals and wall coverings.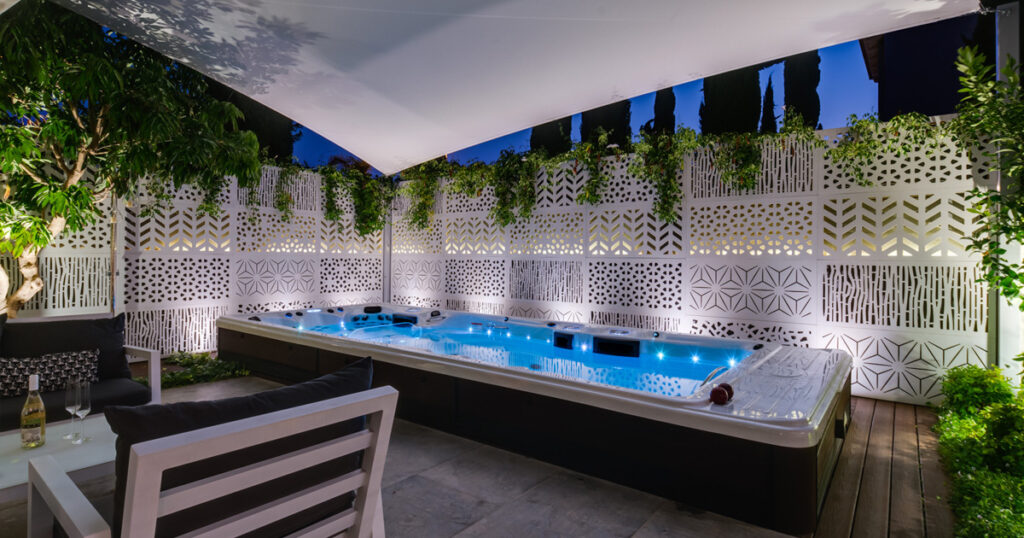 Privacy panels and shade sails
You can create the feeling of a swim spa enclosure without the investment in a physical structure. These homeowners incorporated privacy panels and shade sails into their backyard design. Chic and modern, the overall effect is a private backyard oasis complete with in-ground Micahel Phelps swim spa.
One thing to keep in mind when choosing shade sails is the UV rating. These backyard accessories have different ratings, and the UV protection is key if you plan to spend long afternoons in the swim spa.
Your best backyard awaits
Are you ready to upgrade your backyard? A Michael Phelps Signature Swim Spa will turn your yard into a destination. You can click here to learn about how to create a backyard oasis with a Michael Phelps swim spa. Or, contact your local Master Spas retailer to learn more about swim spa ownership. Wondering how much a Michael Phelps swim spa costs? You can request a quote here.